Don't block steel tariff deal because of Northern Ireland Brexit dispute, No 10 warns US
Wrong to 'conflate' issues, Boris Johnson's spokesman insists – after US official said talks were on hold because of Article 16 fears
Rob Merrick
Deputy Political Editor
Thursday 02 December 2021 17:57 Comments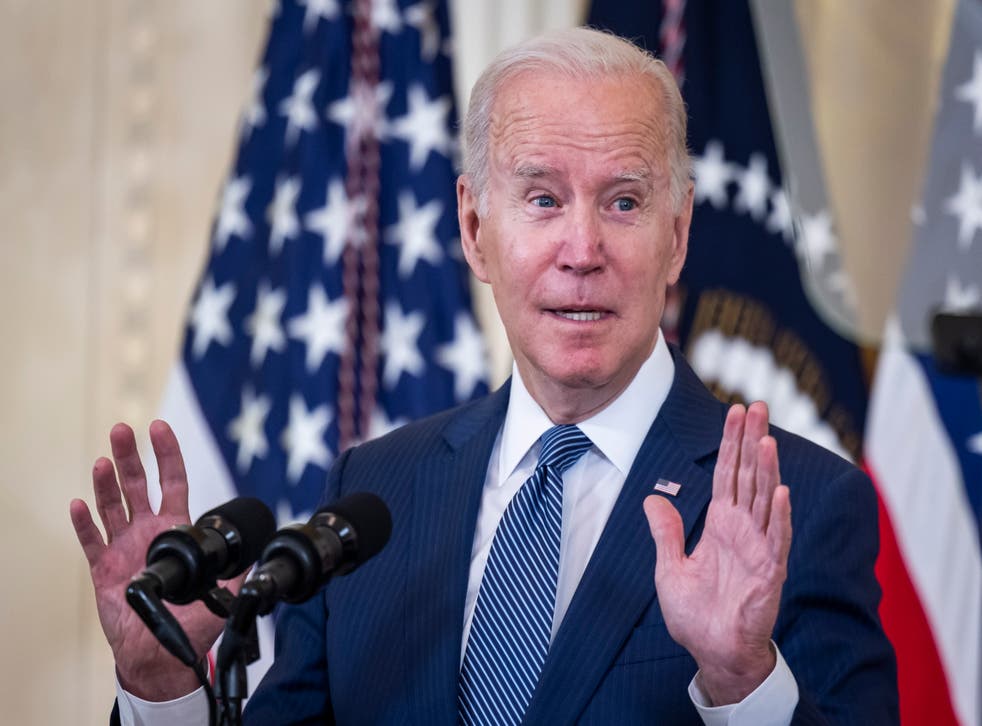 No 10 has warned the White House not to shelve a deal to remove tariffs on UK steel and aluminium because of anger over threats to the Northern Ireland Protocol.
It is wrong to "conflate" the two issues, Boris Johnson's spokesman said – after a US official said tariff talks were on hold because of British threats to suspend Article 16 of the Brexit deal.
A former British ambassador to Washington warned the row showed UK trade will be held back until the government stops "threatening to walk away from an international agreement they negotiated".
The "troubled" relationship with the US confirmed long-held suspicions that the US will take actions necessary to "protect a peace they helped broker", said Kim Darroch, now chair of the Best for Britain campaign group.
Labour, meanwhile, said it was unacceptable for vital jobs and businesses to become "a pawn in anyone's political games".
A communication sent by a US commerce official, seen by the Financial Times, says talks on easing the Donald Trump-era tariffs cannot go ahead because of fears about the protocol.
The UK insists that triggering Article 16 is still "on the table", after it rejected an EU compromise offer to cut checks on goods crossing the Irish Sea from Britain.
In response, the prime minister's spokesman said: "It is important not to conflate those two issues. They are two separate points."
In the Commons, trade minister Penny Mordaunt underlined the stance, telling MPs: "These are two entirely separate issues. We don't do ourselves any favours if we perpetuate these false narratives."
The 25 per cent tariff on steel and 10 per cent tariff on aluminium were imposed by the Trump administration in a dispute with the EU.
To ministers' embarrassment, while Brussels and Washington reached an agreement in October to suspend the tariffs, British exporters are still forced to pay the levies.
In retaliation, UK duties on US bourbon whiskey and other products also remain in place.
Joe Biden, who has Irish heritage, has made clear his determination to protect the Good Friday Agreement – the purpose of the protocol, in avoiding a hard land border – in the Brexit fallout.
Mr Johnson's spokesman added: "On the steel tariffs, we are working quite closely with the Biden administration.
"It is encouraging that they are taking steps to de-escalate the issue and we are very focused on a agreeing a resolution that removes damaging tariffs, which will benefit businesses on both sides of the Atlantic.
"On the protocol, the US shares our deep commitment to the Belfast agreement and the peace process."
Nick Thomas-Symonds, Labour's shadow trade secretary,  said: "It's been more than a month since the US agreed to lift punitive tariffs on steel and aluminium exports from the EU, but left the same tariffs in place for the UK.
"The UK steel and aluminium industries should not be a pawn in anyone's political games, when there are jobs and businesses at stake in communities across our country."
Register for free to continue reading
Registration is a free and easy way to support our truly independent journalism
By registering, you will also enjoy limited access to Premium articles, exclusive newsletters, commenting, and virtual events with our leading journalists
Already have an account? sign in
Join our new commenting forum
Join thought-provoking conversations, follow other Independent readers and see their replies