Stephen Crabb to officially drop cuts to disability benefits – as David Cameron attempts to defend his record
Officials had calculated curbing PIP would save £4.4 billion over five years 
Ashley Cowburn
Monday 21 March 2016 09:28 Comments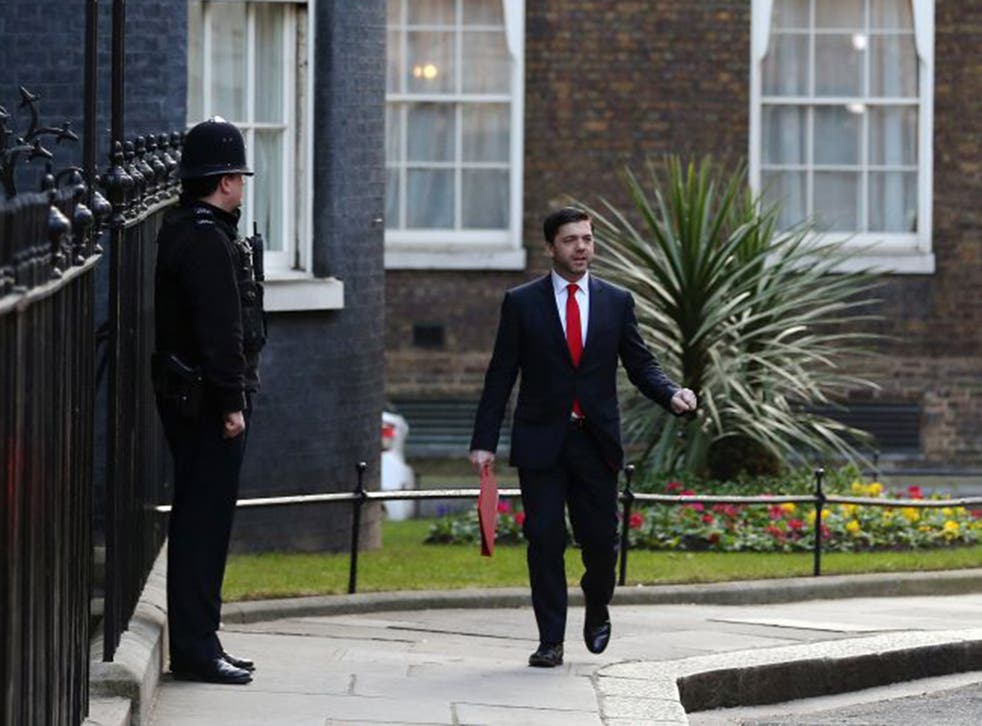 The government will formally drop its ill-fated curbs to disability benefits today, as David Cameron attempts to defend his record in the Commons following the resignation of Iain Duncan Smith.
Newly-appointed Work and Pensions Secretary Stephen Crabb will tell the Commons in a statement today that the cuts to Personal Independence Payment (PIP) have been abandoned.
Though, as his predecessor warned, Mr Crabb will now be expected to find the £4 billion in savings from elsewhere.
Just days before the Chancellor George Osborne delivered his budget, welfare ministers announced more stringent rules for disabled people claiming PIP from January 2017. Officials had calculated it would save £4.4 billion over five years while the Institute of Fiscal Studies estimated that 370,000 people would lose, on average, £3,500 a year.
Iain Duncan Smith's resignation - How it happened
Charities warned that cutting the payment, which enables disabled people to afford specially-adapted appliances and equipment, would have a "devastating" impact on the lives of many.
Meanwhile, as David Cameron attempts to mitigate the tension between ministers in his party over Mr Duncan Smith's explosive resignation letter, he will today attempt to defend his record in the Commons – telling MPs he is an advocate of "modern, compassionate, conservatism".
Speaking on the Andrew Marr Show, Mr Duncan Smith denounced the government's austerity agenda and accused Osborne and Cameron of balancing the books at the expense of the poor. He said there needed to be "fairness" in the way the Conservatives dealt with the deficit.
He said: "My deep concern has been that this very limited narrow attack on what is working age benefits means we simply don't get that balance. We lose the balance of the generations".
He denied his resignation had been motivated by the EU referendum campaign and said the welfare cap was "arbitrary" and accused Chancellor George Osborne of pursuing "a desperate search for savings".
Mr Duncan Smith also denounced the ring-fencing of pensioner benefits, adding: "We have a triple lock on pensions which I was proud to do six years ago but with inflation running at 0% we really need to look at things like this".
He said the Government was "in danger of drifting in a direction that divides society rather than unites it."
Iain Duncan Smith talks about his resignation on Andrew Marr
His resignation and interview triggered an escalating row among some of the party's most senior figures, prompting a series of increasingly strident public statements.
The Energy Secretary, Amber Rudd, said Duncan Smith was "completely wrong" and claimed that she resented his "high moral tone".
Ros Altmann, the pensions minister, made an extraordinary statement attacking Mr Duncan Smith on her Twitter account. She posted: "Shocked by IDS news. He championed reforms he now says he's resigning over. Sadly seems all about EU referendum.
"IDS undermined my efforts to help on important pension policy issues like women's pensions. Looking forward to working with Stephen Crabb."
A Downing Street spokeswoman said: "We are sorry to see Iain Duncan Smith go, but we are a one-nation government determined to continue helping everyone in our society have more security and opportunity, including the most disadvantaged."
Register for free to continue reading
Registration is a free and easy way to support our truly independent journalism
By registering, you will also enjoy limited access to Premium articles, exclusive newsletters, commenting, and virtual events with our leading journalists
Already have an account? sign in
Join our new commenting forum
Join thought-provoking conversations, follow other Independent readers and see their replies