'Stop buying Home Counties schlosses': Boris Johnson rattles super-wealthy with plea for greater philanthropy
Mayor of New York says Britain had yet to catch up with American idea of large-scale giving
Emily Dugan
Tuesday 24 September 2013 19:19 Comments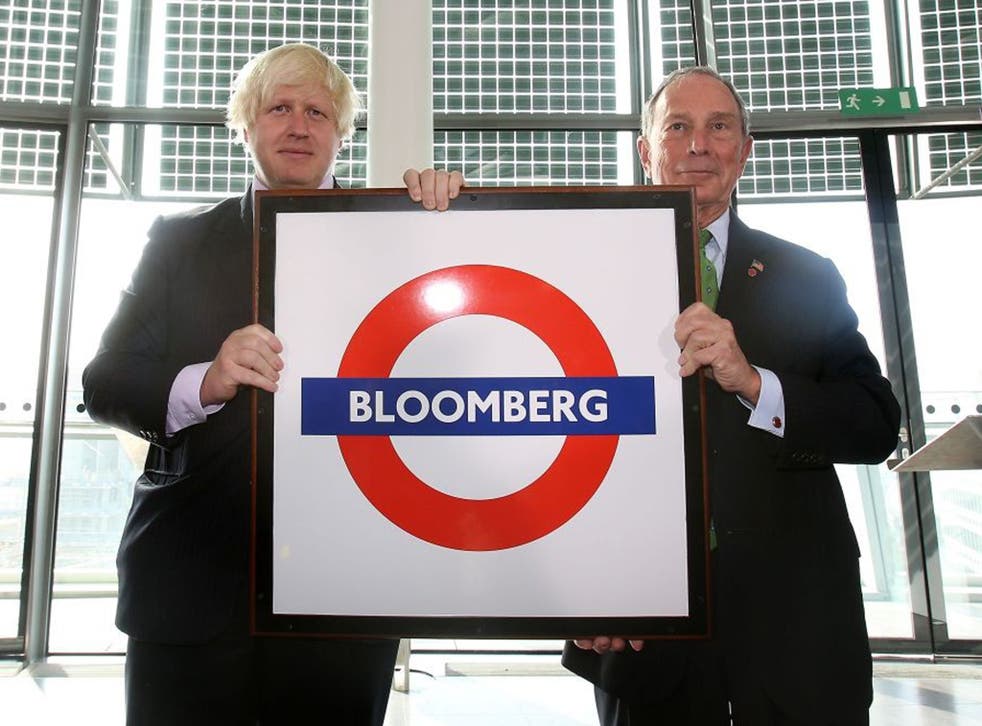 Boris Johnson launched an extraordinary attack against Britain's super-rich today, saying they ignored philanthropy in favour of buying "colossal grouse moorland" and "great schlosses in the Home Counties".
In a speech that will disgruntle Tory grandees - and their grouse-farming, Home Country-dwelling supporters - the Mayor of London said rich Britons were too preoccupied with passing on "the biggest possible house" to their children to invest in good causes.
Speaking at the launch of a competition for innovation in European cities, funded through the philanthropy of New York mayor, Michael Bloomberg, Mr Johnson said that Britain had yet to catch up with the American idea of large-scale giving.
"I think it's a cultural thing", he said. "The trouble with the people in this country is - and I'll get myself in terrible trouble here - but what they really want to do when they've amassed colossal wealth in Britain, what they like to do is buy the biggest possible house they can, with the most colossal grouse moorland they can find and then try in some desperate way to perpetuate it and to pass it on to their children, for some unknown reason. In America they have a different attitude. They believe that if you've made a lot of money you should do something for society."
He continued: "There's still something in Britain that regards giving away on a huge scale as being somehow ostentatious and that is absolutely ridiculous and the sooner people get over their lust to buy great schlosses in the Home Counties - or indeed grouse moors - and give to great causes in London, the better."
Interrupting Mr Johnson's rant, Mayor Bloomberg said: "For the record, I've been reasonably successful but I've never wanted to buy a grouse moor," to which Johnson replied: "That's right. But that is the tragedy of how it works in this country, and bully for you."
The London Mayor was speaking at the launch of Bloomberg Philanthropies Mayors Challenge, a competition to inspire European cities to generate ideas to improve city life. The competition will award £4.2 million for the main prize-winner and one million for four additional cities that come up with the best ideas.
Mr Johnson said London's entries into the competition might include the ultra-low emission zone set to come in by 2020, barring any vehicle with an internal combustion engine, and aquatic village proposals he called a "Venice in the docks".
London and New York's mayors were joined at the news conference in London's City Hall by the Mayor of Warsaw, Hanna Gronkiewicz-Waltz, and Florence Mayor Matteo Renzi.
The competition, which is similar to one conducted in America last year, invites leaders of European cities with 100,000 residents or more to submit their city's "boldest idea". Around 600 cities around Europe are eligible to apply.
In a defence of his own philanthropy, Mr Bloomberg said: "There are some places in Europe where they look down on private philanthropy, arguing it takes away the responsibility of the Government. I think that's misguided because the government should do conventional things with the public's money, but society needs innovation and risk-takers and that's where private philanthropy fits in."
Tory demesnes: To the manor born
Boris Johnson
In a convenient memory lapse, Boris Johnson seems to have forgotten the sizeable estate that he and his siblings will inherit from his parents. His father Stanley Johnson inherited the 500-acre farm in the Exe Valley from his father, who bought it in 1951. Now Boris's sister, Rachel Johnson, who edits The Lady, also has a cottage in the grounds. As well as a north London town house worth several million pounds, Boris himself has a former farmhouse in Oxfordshire that he bought for almost £750,000 in 2003.
Richard Benyon
A minister in the Department for Environment, Food and Rural Affairs, who recently advised people to save more leftovers, Mr Benyon is set to inherit a country pile with an 8,000-acre grouse moor attached. He was valued at £110m by The Times. He is the son of Sir William Benyon, a former Tory MP who owns the 20,000-acre Englefield Estate in Berkshire (above left), who is said to be worth £125m.
Iain Duncan Smith
The man who dreamt up the bedroom tax knows all about inheriting Home County piles. He lives rent-free in his father-in-law's £2m Tudor house in a sprawling Buckinghamshire estate. It has at least five bedrooms, a swimming pool, tennis courts and acres of land.
David Cameron
The Prime Minister likes to downplay his privileged background, but he and his wife Samantha's fortune has previously been estimated at £30m. They own a £1m country home in Oxfordshire and a £1.5m north Kensington house which they rent out, but their real wealth is likely to come from inheritance.
Emily Dugan and Jochan Embley
Register for free to continue reading
Registration is a free and easy way to support our truly independent journalism
By registering, you will also enjoy limited access to Premium articles, exclusive newsletters, commenting, and virtual events with our leading journalists
Already have an account? sign in
Join our new commenting forum
Join thought-provoking conversations, follow other Independent readers and see their replies