Stop changing laws behind closed doors, say experts
Leading members of the civic society call for the public to be involved in an open discussion on how we should be governed in the aftermath of the Scottish referendum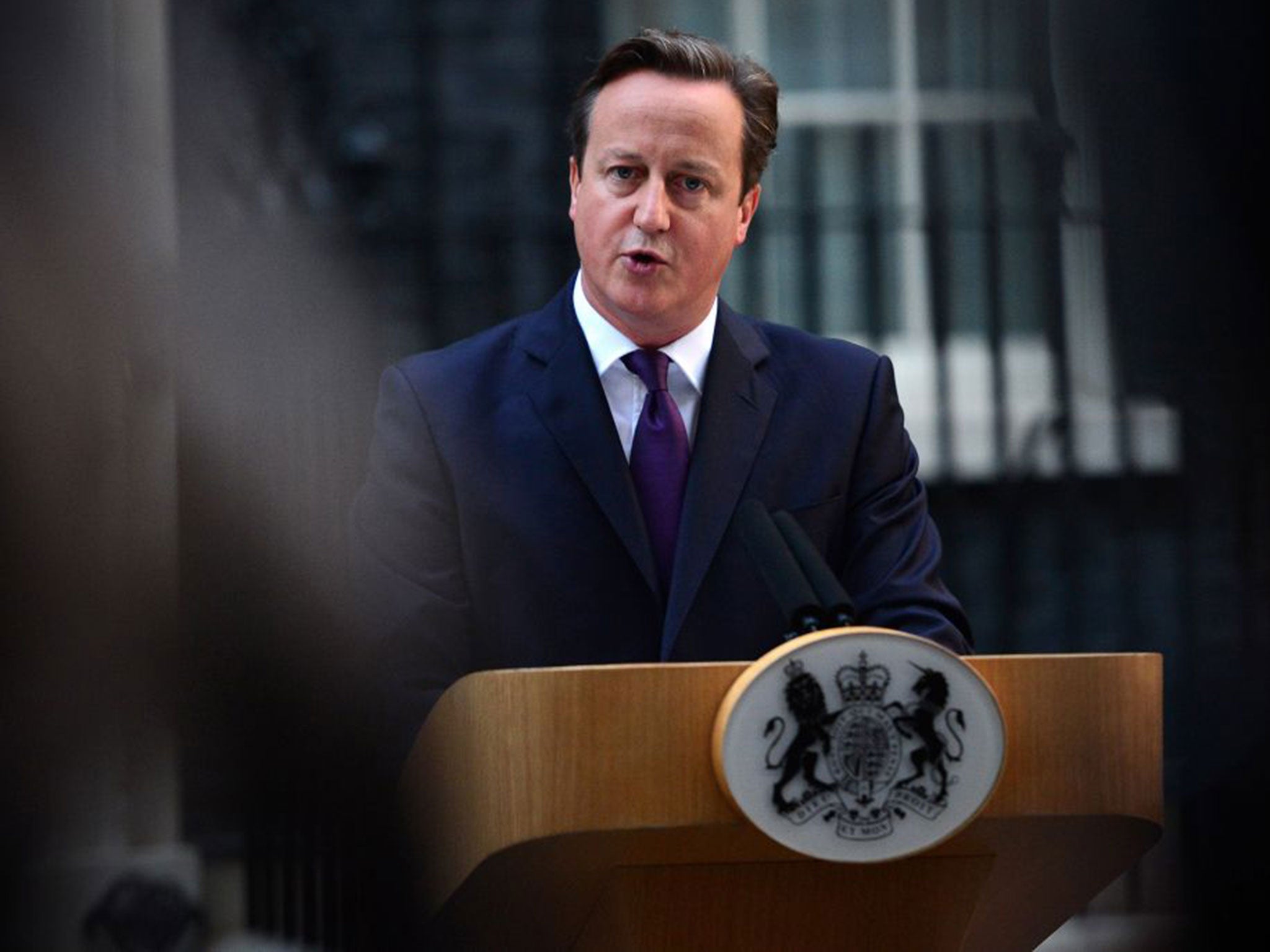 Constitutional experts have warned David Cameron to halt the government's "behind closed doors" attempts to change the way the United Kingdom is governed.
In a letter sent to William Hague, who heads up the Devolution committee set up by the Prime Minister following the Scottish referendum last month, academics, the heads of think-tanks and leading political organisations warn that "it is essential that people are given a say in the shape of our political system". This follows warnings from largely Labour politicians that "English votes for English laws" reforms that are backed by Mr Cameron would turn Scottish MPs into "second class" representatives in the House of Commons.
Signatories to the Hague letter, who include Electoral Reform Society chief executive Katie Ghose and Professor Vernon Bogdanor, the constitutional historian who was Mr Cameron's tutor at Oxford, want "every section of society" included in the discussion.
The Electoral Reform Society called for an end to Downing Street secrecy and demanded a "constitutional convention" that would be open, involve all the UK's civic society, and would "signal" that no decisions were being taken behind closed doors. The findings of the convention could be validated in a UK-wide referendum.
Others have attacked the reforms as simply measures designed to placate Tory backbenchers concerned about further concessions to Scotland. Former prime minister Gordon Brown has claimed that "no state in the world, federal or otherwise" operated a two-class system for its representatives.
Mr Brown described the Conservative-backed reform plans as a "knee-jerk response" to Ukip's English nationalism. Many Conservative MPs are however furious that Scotland – as part of the last-minute pre-referendum "vow" by the leaders of the three main unionist parties – was promised an undefined swathe of new powers.
The Smith Commission, headed by Lord Smith, is gathering evidence on what these enhanced powers would be. However, the divergence of opinion between the Conservatives, Labour, Liberal Democrats and Scottish Nationalists, is already making the January deadline for draft legislation look unrealistic.
Before Scottish voters had woken up after their 18 September rejection of independence, the Prime Minister had linked further devolution for Scotland to reform of the Commons and a reduction in the influence of Scottish MPs in Westminster. Downing Street unilaterally established a cabinet committee to explore how only English MPs could vote on laws that only affected England.
The letter to Mr Hague, the leader of the Commons, is signed by 28 academics, campaigners and democracy experts who maintain that an open "citizen-led constitutional convention is the only way to answer questions about the UK in a way that commands legitimacy".
The letter states: "It will not do for politicians to make these decisions about our constitutional future behind closed doors … In a time of low election turnouts and rising distrust in politicians, it is essential that people are given a say in the shape or our political system."
There is no definition in law as to what form a constitutional convention needs to take. It can be a set of public hearings and meetings involving politicians, civic leaders and interested parties. There is normally no defined timeframe.
The Scottish Constitutional Convention was set up in 1989 and delivered its "blueprint" for future devolution in Scotland in 1995. The new convention, if granted, could consider any proposal from creating a separate English parliament to giving councils greater control over raising taxes and spending.
Academics from the London School of Economics and Bristol, Liverpool and Sheffield universities, as well as the heads of the British Youth Council, the National Council for Voluntary Organisations and left-leaning think-tank Compass have also signed the demand for the convention.
Labour leader Ed Miliband has already called for a constitutional convention to start next autumn. He fears that Mr Cameron's plans would make it tough for Labour, even if they won next May's election, to vote through much of its legislation. Labour has 41 Scottish MPs to the Tories' one, meaning the party would lose much, if not all, of its majority on legislation deemed to have no relevance north of the border. It has been suggested that the Speaker could decide which legislation fell into the "England-only" category.
Mr Cameron wants "English votes for English laws" to be introduced within the same time frame as the handing over of enhanced powers to Holyrood. Labour has refused to attend any devolution committee meetings.
Danny Alexander, the Liberal Democrat Chief Secretary to the Treasury, claims that he "read the riot act" at the first committee meeting, as he was furious that Mr Cameron had linked Scottish devolution to English devolution.
Another signatory to the letter is Graham Allen, chair of the House of Commons Political and Constitutional Reform Committee. He was angry last week after the three main party leaders refused to attend a hearing of his own committee's inquiry into devolution.
Written evidence to this committee must be submitted this week.
The Electoral Reform Society is demanding that there is immediate legislation to create the constitutional convention. Ms Ghose said that a convention could be led by 30 to 100 people, who could be chosen randomly from the electoral roll.
"The Hague committee feels like a closed process," said Ms Ghose. "There has been no announcement on how civil society could get involved. Legislation for a constitutional convention would be a signal to citizens to let them know that there will be a convention."
A spokesman for Unlock Democracy, which will be submitting evidence to Mr Allen's inquiry, said: "The Scottish referendum has triggered a passionate and long overdue conversation about where power should lie in the UK. Yet David Cameron clearly thinks he can go back to business as usual with Westminster insiders deciding what is best. This is not just an issue of how England relates to Scotland at a governmental or parliamentary level. Power needs to be decentralised to communities in a way which gives them decision-making powers over key areas."
Join our commenting forum
Join thought-provoking conversations, follow other Independent readers and see their replies