Storm looms for PM over EU budget
A new IoS poll shows support growing for the Eurosceptics
Jane Merrick
,
Brian Brady
Sunday 18 November 2012 01:00 Comments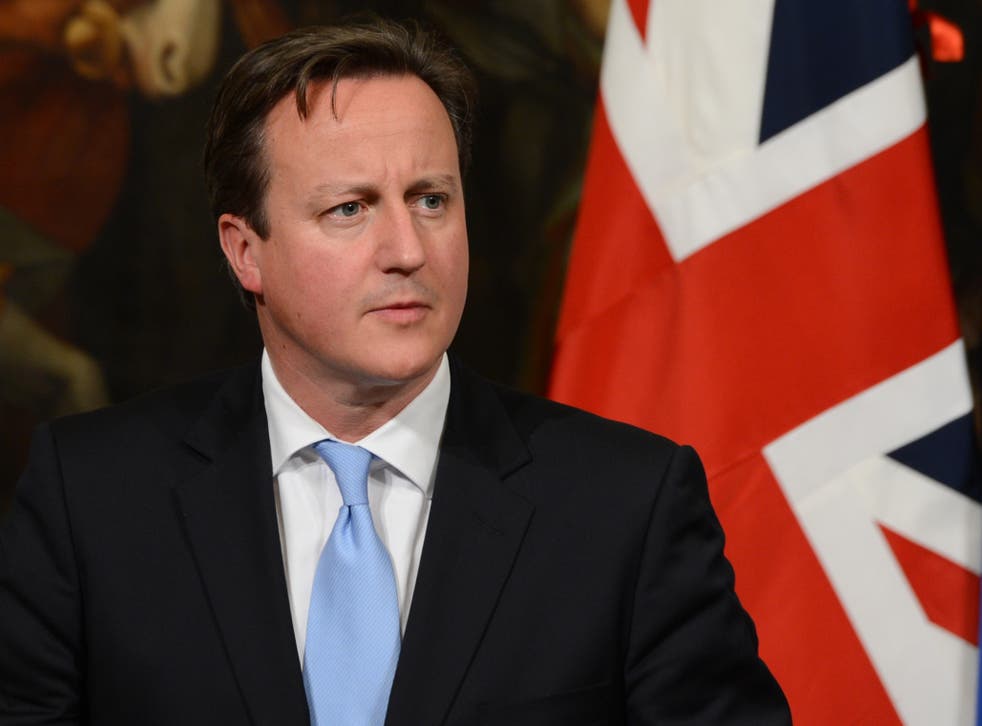 David Cameron was warned yesterday that he faces a fresh Commons defeat on Europe by Conservative MPs if he fails to secure a cut in the European Union budget this week.
The renewed threat to his premiership came as a poll for The Independent on Sunday showed nearly six out of 10 voters want Britain to leave the EU unless the Prime Minister repatriates some powers from Brussels. The ComRes survey also showed that a quarter of Tory voters are considering backing the UK Independence Party (Ukip) at the next election, a move that would cost Mr Cameron his premiership.
Mr Cameron will travel to Brussels on Thursday for a two-day summit to thrash out the multibillion-pound EU budget, but there were signs yesterday that he is already preparing the ground for the talks to break down. Officials believe the summit could run into the small hours of Saturday, with early agreement unlikely. A Downing Street source said the talks were going to be "difficult" and that it was not automatically the case that the budget, which runs from 2014 to 2020, would be settled at this summit.
Signs of public unhappiness with the Conservatives on Europe were shown in Thursday's Police and Crime Commissioner elections and parliamentary by-elections, in which Ukip increased its share of the vote and came third in Corby.
As the Prime Minister prepares for his most difficult EU summit since entering No 10, the leader of the Tory Eurosceptic rebels, Mark Reckless, said 60 or more MPs were prepared to block any move agreed in Brussels for an increase or freeze in the seven-yearly budget – a greater number than voted against the Government last month. If Mr Cameron did not wield the UK veto, then Tory MPs would have to do it for him in Parliament, Mr Reckless said.
Last month, the Prime Minister was defeated in the Commons by Labour and 53 Tory MPs, who called for a real-terms cut in the EU budget. With other nations unlikely to back a cut, Mr Cameron will enter the talks on Thursday negotiating for a real-terms freeze in the budget, which costs Britain £5.85bn a year, once the UK rebate is accounted for. The PM is expected to remind the German Chancellor, Angela Merkel, that she and nine other EU countries signed up to a letter in 2010 backing a freeze or a cut in the budget.
The ComRes/IoS poll shows growing support for Ukip, with 8 per cent backing the Eurosceptic party, just two points below the Lib Dems. However, 26 per cent of Tory voters say they are seriously considering voting Ukip next time. Some 66 per cent think the UK's budget payments should be cut rather than frozen, while 58 per cent say that if some EU powers cannot be repatriated, Britain should leave the bloc. A significant proportion, 43 per cent, thinks the UK should simply leave the European Union.
The poll also shows that Labour's lead over the Conservatives has stretched to 12 points, its largest in more than seven years. The Labour leader, Ed Miliband, used an interview in The Sunday Telegraph to capitalise on Mr Cameron's problems over Europe, claiming he supported EU reform and sometimes agreed with Eurosceptic arguments.
He said: "Too often, people have assumed that we have to make the rise of Euroscepticism about bendy bananas and bans on chocolate, not the fact that the European budget looks like it's suited to the 1950s and not the 21st century."
Mr Cameron can use his veto to block any budget increase. However, unlike his veto at a European Council summit last December, using the measure this week would trigger a collapse in negotiations, as all EU nations must agree. If no agreement is reached, the budget reverts to an annual "rollover", which would end up costing the UK taxpayer more.
Mr Reckless, MP for Rochester and Strood, said: "David Cameron should lead the country along the lines that Parliament determined two weeks ago for a cut in the budget.If the Prime Minister wants to sign up to an inflationary increase, then it would be for Parliament to deploy that veto. There is a parting of the ways between what this country will accept and where EU leaders are.
"It is important that the Prime Minister says, if there is a Conservative government next time round, that we will have a referendum on membership of the EU. He needs to make that clear; he would be better to say it sooner rather than later."
Mr Cameron has tried to stave off demands for a referendum, saying only that when a "fresh settlement" arises from Brussels – unlikely during this parliament – then there would be cause for a nationwide vote.
While some Scandinavian countries are likely to back Britain in calling for a freeze, many EU nations are net recipients of the budget and will be demanding an increase. The EU Parliament, which also has a vote, is calling for a 6 per cent increase.
The Tory MP David Nuttall, chairman of the Eurosceptic "Better Off Out" group in Parliament, said: "I would start by asking for a cut of 40 per cent, in the knowledge that, if he manages any real-terms cut at all, it would be a major achievement.
"I have to say, the more the public is disillusioned and frustrated by the EU, the more likely they are to decide that we would better off if we left."
David Campbell Bannerman, Tory MEP for the East of England, said: "We know that Ukip cost the Conservatives a parliamentary majority in the general election, and my concern is that, if we do not take action to reassure people we are the best party for Eurosceptics, the same or worse may happen in the next election."
The former Tory chairman Lord Tebbit said yesterday: "While Labour seems to have stemmed the loss of votes to the BNP, the Tories are still losing support to Ukip; and, even worse for Mr Cameron, Ukip is strengthening in advance of the 2014 European elections. The Tory cry that a vote for Ukip is a wasted vote may be wearing a bit thin."
No way out for Cameron
Never mind the countless U-turns performed by David Cameron and his ministers, the Prime Minister has manoeuvred himself into a number of dead-ends from which there seems to be no way out:
Europe
It is difficult to see how Mr Cameron can emerge victorious from the EU budget summit: his backbenchers do not want a freeze or an increase, but EU leaders will not back a cut. The PM has form on Europe – desperate to appease his MPs, he withdrew the Tories from the European Parliament's mainstream group in 2009, losing traction with Angela Merkel and Nicolas Sarkozy.
Leveson
In July 2011, Cameron ordered a full public inquiry into press ethics, but Lord Justice Leveson's hearings have put him in a more uncomfortable spot than any other witness. Will he back the expected tough regulation, or pay mind to influential newspaper owners?
Energy bills
Mr Cameron's off-the-cuff announcement that energy firms would be forced to give customers "the lowest tariff" surprised the industry, and No 10 had to admit providers would only have to "offer" the cheapest tariffs. Can the forthcoming Energy Bill show how workable his brainchild is?
Prisoners' votes
Two years ago, with officials warning that the UK must fall in line with EU law over prisoners' voting rights, he said: "It makes me physically ill even to contemplate having to give the vote to anyone who is in prison". Last month, the stance hardened. He has until this Friday to submit proposals for dealing with the mess, within EU rules.
Heathrow
George Osborne wants a third runway at Heathrow; Nick Clegg and Boris Johnson want to block it. The PM wants to delay a decision for fear of breaking apart the coalition, but Boris has attacked him for dithering.
Register for free to continue reading
Registration is a free and easy way to support our truly independent journalism
By registering, you will also enjoy limited access to Premium articles, exclusive newsletters, commenting, and virtual events with our leading journalists
Already have an account? sign in
Join our new commenting forum
Join thought-provoking conversations, follow other Independent readers and see their replies