'Stuck-up' David Cameron heaps praise on Waitrose's 'better class of shopper'
Comments come after he was overwhelmingly described as 'out of touch' in a recent poll
Adam Withnall
Thursday 03 April 2014 18:36 Comments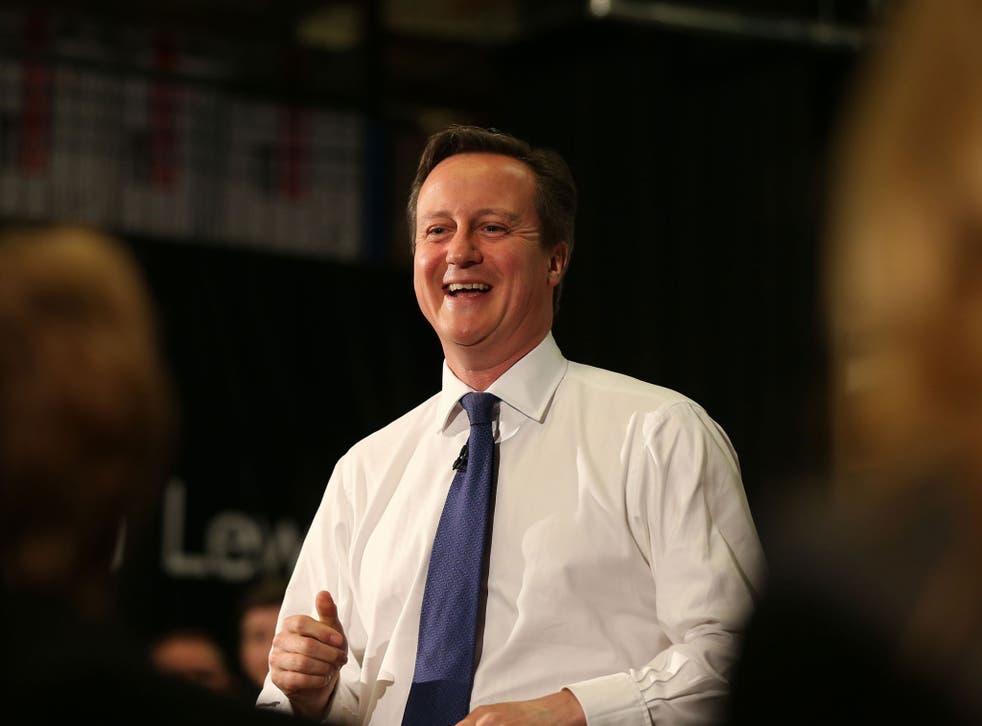 David Cameron has been accused of being "stuck-up and out of touch" after he heaped praise on people who shop at Waitrose, describing them as more "talkative and engaged" than the wider public.
The Prime Minister said he and his wife were regular customers, and compared the experience to having to "dart around" other supermarkets such as Sainsbury's.
Mr Cameron was speaking in a question and answer session at a store run by Waitrose's parent company John Lewis in Cheadle, near Manchester.
He offered a series of observations that he described as "supermarket sociology", and said he always shops at the upmarket store unless he's at his constituency home in Chipping Norton – "because there isn't a Waitrose".
Mr Cameron defended the supermarket's policy of giving away free tea and coffee to loyalty card holders – which recently riled some regulars who felt it encouraged too many people to come into stores who just wanted a freebie.
Mr Cameron also said he received all his shopping at Downing Street from Ocado, which delivers Waitrose goods and used to have an exclusive affiliation with the chain.
And he added: "I have got a bit of supermarket sociology for you, which is that Waitrose customers are the most talkative.
"I find if I shop at Waitrose in Witney it takes me about twice as long because everyone wants to stop you and have a chat, whereas I find that at other supermarkets I dart around and get everything very quickly.
"It is something about your customers – they are very talkative, engaged people."
His comments have drawn a scathing reaction from Labour's shadow Cabinet Office minister Michael Dugher, who criticised Mr Cameron for apparently extolling the virtues of "a better class of shopper".
In pictures: politicians do the silliest things

Show all 23
"Most families understandably have to shop around and watch every penny because of the cost-of-living crisis, plus very many people increasingly have to rely on food banks.
"This is a world away from that of David Cameron."
Mr Dugher added: "There's nothing wrong enjoying shopping at Waitrose. But Cameron seems to be saying that at Waitrose you get a better class of shopper.
"This is a bizarre and empty-headed intervention from a Prime Minister who increasingly gives the impression of being stuck-up and out of touch."
Register for free to continue reading
Registration is a free and easy way to support our truly independent journalism
By registering, you will also enjoy limited access to Premium articles, exclusive newsletters, commenting, and virtual events with our leading journalists
Already have an account? sign in
Join our new commenting forum
Join thought-provoking conversations, follow other Independent readers and see their replies