Support grows for Eastleigh Ukip candidate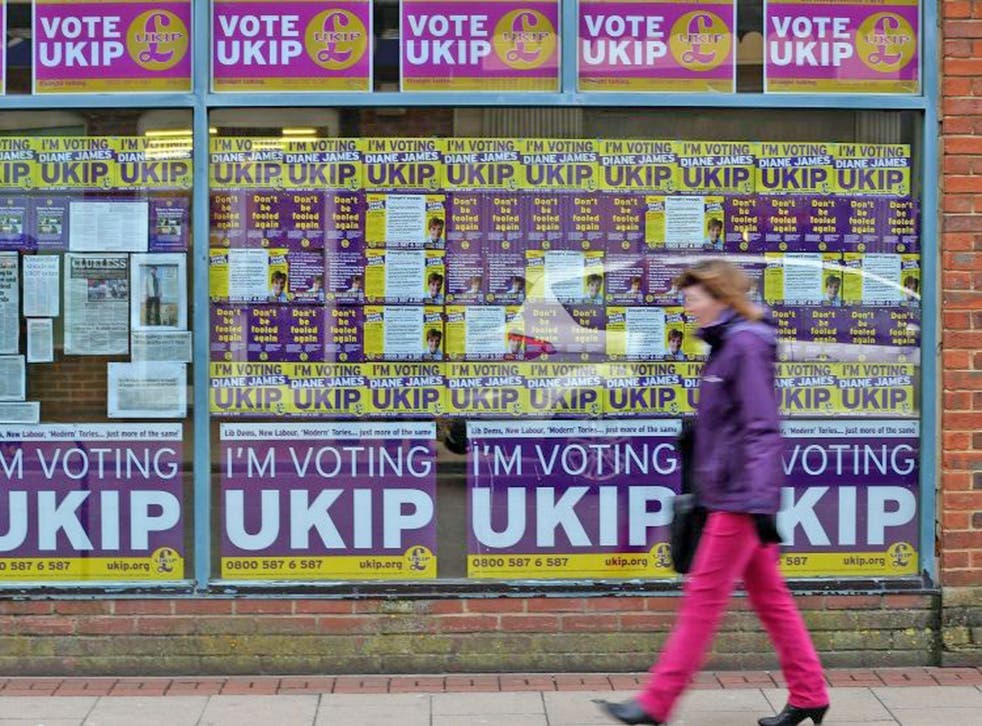 The Eastleigh by-election could hand the UK Independence Party its first Westminster seat, according to early indications from the Hampshire constituency.
Such a result would send shockwaves through the Conservative and Liberal Democrat parties, which began the campaign planning a two-way fight between the coalition partners.
Ukip's candidate, Diane James, who according to sources in the constituency "appears more Conservative than the Conservative" candidate Maria Hutchings, is understood to have had a lot of support on the doorstep from voters concerned about immigration and the NHS. Her campaign poster has no sign of Ukip's lurid yellow and purple colours but shows her pictured against a blue sky and green grass background – a trademark of David Cameron's Conservative Party.
The latest poll inside the constituency by Populus for The Times put the Lib Dem candidate, Mike Thornton, clearly ahead on 33 per cent, the Tories on 28 per cent, Ukip on 21 per cent and Labour fourth on 11 per cent. But analysis by UK Polling Report's Anthony Wells revealed that those numbers included allocating "don't knows" to parties based on how they voted in 2010. Mr Wells said that once they are discounted, the Lib Dems are on 31 per cent, the Tories 26 per cent and Ukip close behind on 25 per cent. Labour is on 12 per cent. Those canvassing for votes in Eastleigh said they were struck by how much support there had been for Ukip.
One said: "Maria Hutchings is the Conservative candidate but her rhetoric on Europe and other issues makes her sound like Ukip. Diane James comes across as more centrist and sensible. She looks and sounds like a Tory. It is possible she could win this."
At the same time, the Lib Dems have been dealt a blow by the revelations about Lord Rennard, the party's long-term by-election mastermind.
A tight finish between the Lib Dems and Ukip would leave the Conservatives in third place. It is the first by-election with Lynton Crosby in place as part-time election adviser and will fuel backbench disillusionment about Mr Cameron's leadership. Labour sources were admitting that they could come "anywhere between second and fourth" with their candidate, John O'Farrell.
Lord Oakeshott, the Lib Dem former Treasury spokesman, said: "Conservative anti-immigration and anti-European dog-whistling is a gift to Ukip." Despite increasing support for Ukip, Nigel Farage, the party leader, was criticised by former Ukip MEP Marta Andreasen, who defected to the Conservatives on Friday. In turn, the party described Ms Andreasen, in a stinging press release, as "impossible to work with".
Lib Dem ministers Vince Cable and Ed Davey will campaign in Eastleigh today. The party claimed yesterday it had knocked on more than 40,000 doors in the constituency.
Tory sources admitted that the contest, called after Chris Huhne resigned, had been "tough" and that the Tories had not won a by-election while in government since 1982. But there are likely to be questions asked over the calibre of their candidate, who opposes Mr Cameron on many issues.
Register for free to continue reading
Registration is a free and easy way to support our truly independent journalism
By registering, you will also enjoy limited access to Premium articles, exclusive newsletters, commenting, and virtual events with our leading journalists
Already have an account? sign in
Register for free to continue reading
Registration is a free and easy way to support our truly independent journalism
By registering, you will also enjoy limited access to Premium articles, exclusive newsletters, commenting, and virtual events with our leading journalists
Already have an account? sign in
Join our new commenting forum
Join thought-provoking conversations, follow other Independent readers and see their replies