Allies of the people: The Supreme Court judges who ruled Parliament must be consulted to trigger Article 50
Eight of the 11 judges upheld decision, bringing Parliament into the Brexit process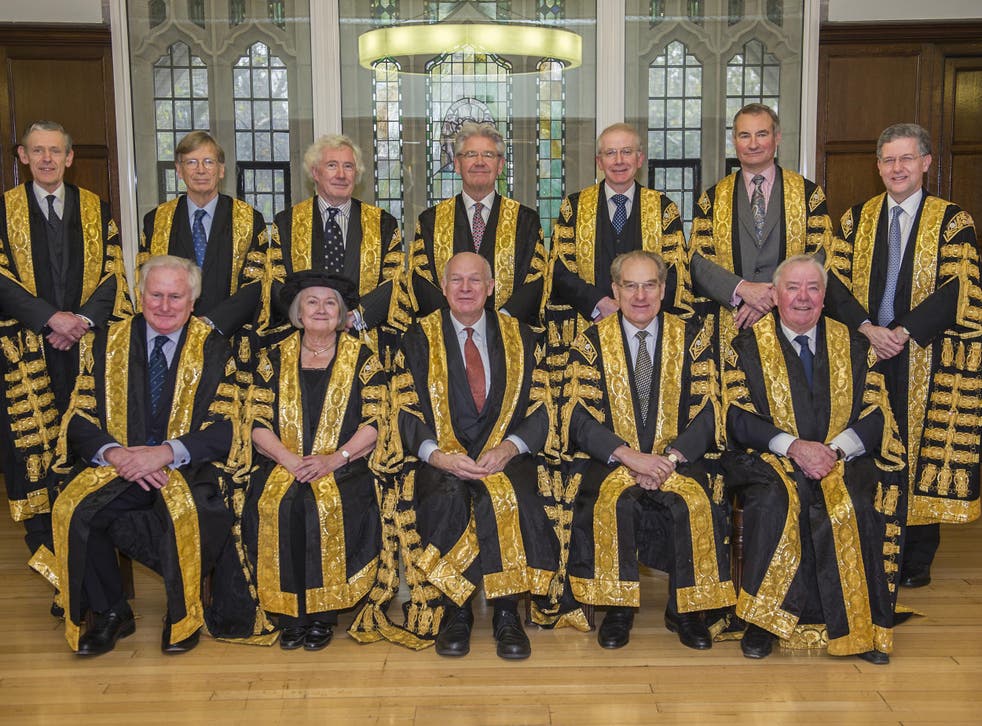 Britain's top judges have ruled that Theresa May must seek Parliament's approval to trigger Article 50 and kick-start the Brexit process.
In one of the most important legal cases in British history, eight of the 11 Supreme Court justices upheld the High Court's decision – meaning MPs will be given a vote before the UK can formally declare its intention to leave the EU.
While the judges have been berated by Leave supporters, Gina Miller, the campaigner who instigated the legal challenge, hailed the ruling as a triumph for democracy and said it showed "Parliament alone is sovereign".
Lord Chancellor Liz Truss has described the UK's most senior lawyers as "people of integrity and impartiality". But who are the eight judges who may have just thrown a spanner in the works of the Government's Brexit plan?
Lord Neuberger
David Neuberger has been President of the Supreme Court since 2012.
The 69-year-old Londoner is from a medical family: his father was a chemical pathology professor and all three of his brothers are or were in academia – one is a professor of medicine and another was a professor of molecular immunology. He studied Chemistry at Oxford University.
He is a patron of Mental Health UK and has previously been chair of the Schizophrenia Trust.
Lord Neuberger is married to TV producer and writer Angela Holdsworth, whose pro-EU tweets have led Brexiteers to call for him to stand down from the Article 50 hearing.
Lady Hale
Brenda Hale, the Supreme Court's Deputy President, became the first and only women in the group when she was selected to join the UK's highest court in 2004.
Lady Hale, 70, was born in Yorkshire and taught law at Manchester University, specialising in family and social law, while working as a barrister.
She was then appointed to the Law Commission, where she introduced reforms such as the Children's Act 1989, granting protection to minors.
Lady Hale has spoken out against the lack of diversity among her colleagues, saying the Court should be "ashamed" if it does not appoint more senior judges from different backgrounds.
Lord Mance
Jonathan Mance is no stranger to the intricacies of Britain's relationship with the EU, having previously served on the House of Lords European Select Committee.
Lord Mance, 73, read law at Oxford and is married to a fellow judge, Dame Mary Arden. He is said to enjoy languages and music, and he has also worked in Germany.
However political sensitivities surrounding the Article 50 hearing led him to cancel a scheduled lecture on the law and Europe in November.
Lord Wilson
Brexit round-up: Supreme Court rules against Government
Nicholas Wilson became a justice of the Supreme Court in 2011, having specialised in family law for 26 years.
The 71-year-old has publicly backed gay marriage, saying "the availability of marriage dignifies same-sex love".
Lord Kerr
Brian Kerr, former Lord Chief Justice of Northern Ireland, read law at Queen's University in Belfast and became a High Court judge in 1993.
He was the youngest member of the Supreme Court when it was created in 2009, and is now 68.
It's important not to confuse him with a Scottish peer also named Lord Kerr, who wrote Article 50 and has said leaving the EU could result in a "decade of delay and disruption" for Britain.
Lord Clarke
Supreme Court Brexit Challenge

Show all 13
Anthony Clarke, 72, studied law at Cambridge and specialised in maritime and commercial law. In 1989 led an enquiry into a boat crash on the Thames in which 51 people died.
Lord Clarke was formerly Master of the Rolls, the second most senior High Court judge.
Lord Sumption
As well as being a judge, Jonathan Sumption is an author and medieval historian. He is fluent in French and Italian and can read a number of other languages.
Alastair Campbell said the 68-year-old had a "brain the size of a planet" during the Hatton Inquiry, in which he served as a barrister. He also defended Russian billionaire Roman Abramovich in a private lawsuit.
Lord Sumption was promoted straight to the Supreme Court without having served in the lower courts first - a rare achievement.
However he provoked controversy when he suggested his salary of £1.6 million was "puny" in comparison to those at the top of business, sport and other fields, and again when he said positive discrimination to achieve gender equality in the Supreme Court could "have appalling consequences for justice".
Lord Hodge
Patrick Hodge is one of two Scottish judges in the Supreme Court along with Lord Reed, but he was the only one to rule in favour of a Parliamentary vote to trigger Article 50.
He studied law at Cambridge and the University of Edinburgh has worked as a civil servant as well as a barrister, specialising in commercial and property law, and judicial review.
The three judges who backed Ms May but were outvoted
Lord Carnwath, Lord Hughes and Lord Reed went against the majority and ruled in favour of the Government.
They said the other judges had not fully considered the importance of the tradition of ministers taking prerogative powers when signing treaties and in foreign affairs.
Register for free to continue reading
Registration is a free and easy way to support our truly independent journalism
By registering, you will also enjoy limited access to Premium articles, exclusive newsletters, commenting, and virtual events with our leading journalists
Already have an account? sign in
Register for free to continue reading
Registration is a free and easy way to support our truly independent journalism
By registering, you will also enjoy limited access to Premium articles, exclusive newsletters, commenting, and virtual events with our leading journalists
Already have an account? sign in
Join our new commenting forum
Join thought-provoking conversations, follow other Independent readers and see their replies