Syria air strikes: David Cameron admits 'there aren't enough' moderate fighters on the ground and some are 'hardline'
PM jokes that some of the 70,000 fighters are not the 'sort of people you bump into at Liberal Democrat party conference'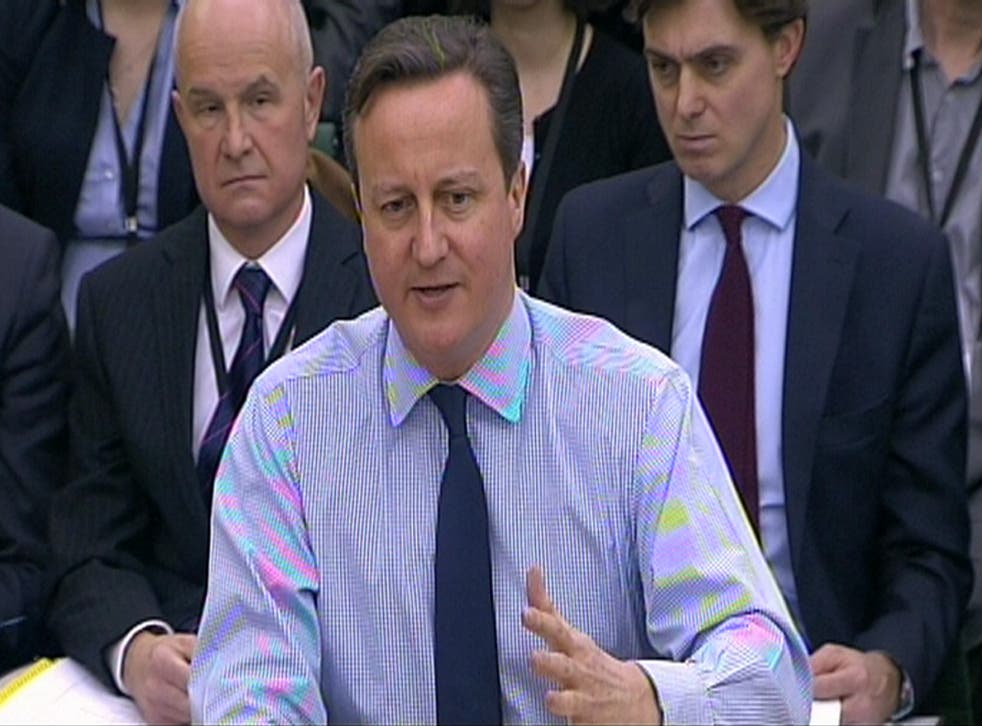 David Cameron has admitted that "there aren't enough" moderate Syrian fighters to defeat Isis yet and conceded some of the rebels belong to "relatively hardline Islamist groups".
He insisted however that the Government's strategy of relying on 70,000 on-the-ground rebel fighters to seize Isis-held territory following Western air strikes was the right way to defeat the Isis, also known as Daesh and rejected the idea that the only way of beating it was by supporting President Assad's forces.
Faced with criticism over his claim that 70,000 "moderate" fighters existed in Syria, Mr Cameron said it "wasn't a figure I invented" but was provided by the security services and was a "best estimate".
He accepted that not all of the rebel fighters were the "sort of people you bump into at Liberal Democrat party conference" but refused a request to publish the names of groups British intelligence services had identified as part of the 70,000 figure.
Doing so would boost President Assad's chances of winning the civil war in Syria, Mr Cameron said as he insisted a "third way" between Isis and President Assad was achievable for the future of Syria.
Challenged over the 70,000 figure during his appearance before the Liaison Committee – the group of 32 Select Committee chairs – Mr Cameron said: "Are all of these people impeccable democrats who would share the view of democracy that you and I have? No, some of them do belong to Islamist groups and some of them belong to relatively hardline Islamist groups but nonetheless that's the best estimate of the people that we have potentially to work with.
"The reason for not breaking down in huge amounts of granular detail exactly who they are is simply this: we'd be effectively be giving President Assad a sort of list of the groups of the people and potentially the areas that he should be targeting and that's not my approach."
"People want to say there aren't enough opposition ground troops – I totally agree, they're not all in the right places, I couldn't agree more, they're not all the sort of people you bump into at Liberal Democrat party conference – correct.
British jets prepare for air strikes in Syria

Show all 10
He added: "I would agree with all those assessments but the point I would make is: Is there a third way between a Daesh-style state and President Assad the butcher remaining in charge of his country?
"My answer is there has to be a third way, we have to find a third way, it should involve, of course, people [like] Alawites, perhaps even who've taken part in the state run by Assad – we don't want to dismantle that."
Register for free to continue reading
Registration is a free and easy way to support our truly independent journalism
By registering, you will also enjoy limited access to Premium articles, exclusive newsletters, commenting, and virtual events with our leading journalists
Already have an account? sign in
Register for free to continue reading
Registration is a free and easy way to support our truly independent journalism
By registering, you will also enjoy limited access to Premium articles, exclusive newsletters, commenting, and virtual events with our leading journalists
Already have an account? sign in
Join our new commenting forum
Join thought-provoking conversations, follow other Independent readers and see their replies