Syria air strikes: Majority of Shadow Cabinet supported Jeremy Corbyn but third of Labour MPs rebelled
Tory rebellion was much smaller than expected - just seven voted against military action 
Matt Dathan
Online political reporter
Thursday 03 December 2015 00:53 Comments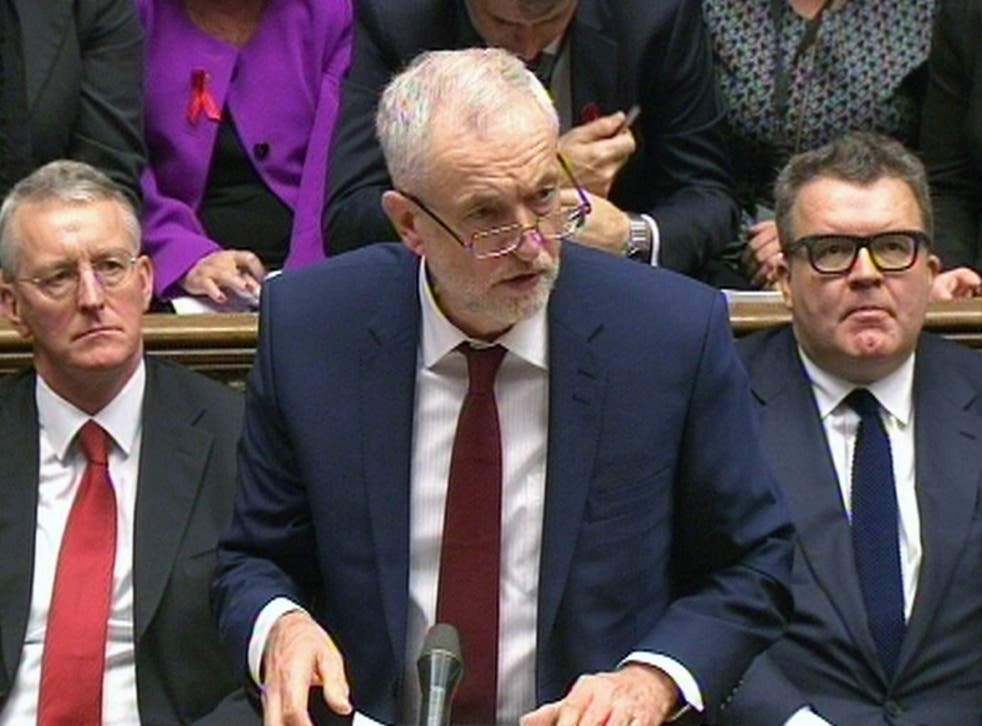 A majority of Jeremy Corbyn's Shadow Cabinet backed him in opposing British air strikes in Syria, but a third of Labour MPs rebelled against their leader as David Cameron won an overwhelming majority in favour of military action in the House of Commons.
The higher-than-expected number of 66 Labour MPs backed the Government's motion to extend RAF air strikes into Syria, while 152 voted against, with 11 abstentions.
On the Conservative benches the rebellion was lower than expected, with just seven MPs voting against extending RAF air strikes into Syria, while another seven Tory MPs abstained.
It was expected that at least half of Mr Corbyn's Shadow Cabinet would ignore his call to oppose the motion, but in what could be a significant boost for Mr Corbyn's faltering leadership, 17 of his front bench team followed him through the voting lobbies, with 11 backing military action.
There was one abstention in his front bench team - chief whip Rosie Winterton abstained, as is customary in a free vote.
The vote was called minutes after Shadow Foreign Secretary Hilary Benn made a powerful and emotional appeal to his colleagues to defy their leader and vote with him in favour of air strikes.
He won plaudits from both sides of the Commons, with former Cabinet minister Sir Alan Duncan describing it as the "most remarkable parliamentary speeches I've heard".
Even Labour MPs who remained opposed to military action in Syria praised him for the speech:
But the SNP's foreign affairs spokesman Alex Salmond accused the Commons Speaker John Bercow of bias by allowing Mr Benn and Foreign Secretary extra time for their summing-up speeches.
He claimed that Mr Benn's speech would have persuaded between 15 and 20 Labour MPs to back air strikes.
Mr Benn finished his speech by saying: "I hope the House will bear with me if I direct my closing remarks to my Labour friends and colleagues on this side of the House.
"As a party we have always been defined by our internationalism. We believe we have a responsibility one to another; we never have and we never should walk by on the other side of the road.
"And we are here faced by fascists; not just their calculated brutality, but their belief they are superior to every single one of us in this chamber tonight and all of the people we represent; they hold us in contempt, they hold our values in contempt, they hold our belief in tolerance and democracy in contempt, they hold our democracy, the means by which we make our decision tonight, in contempt. What we know about fascists is that they need to be defeated.
"And it is why, as we have heard tonight, socialists and trade unionists and others joined the international brigade in the 1930s to fight against Franco; it's why this entire House stood up against Hitler and Mussolini; it is why our party has always stood up against the denial of human rights and for justice.
"And my view, Mr Speaker, is that we must now confront this evil. It is now time for us to do our bit in Syria and that is why I ask my colleagues to vote for this motion tonight."
Register for free to continue reading
Registration is a free and easy way to support our truly independent journalism
By registering, you will also enjoy limited access to Premium articles, exclusive newsletters, commenting, and virtual events with our leading journalists
Already have an account? sign in
Join our new commenting forum
Join thought-provoking conversations, follow other Independent readers and see their replies