Syria air strikes: The 236 words that will decide whether we go to war against Isis in Syria
MPs will debate the motion for 10 and a half hours in Parliament on Wednesday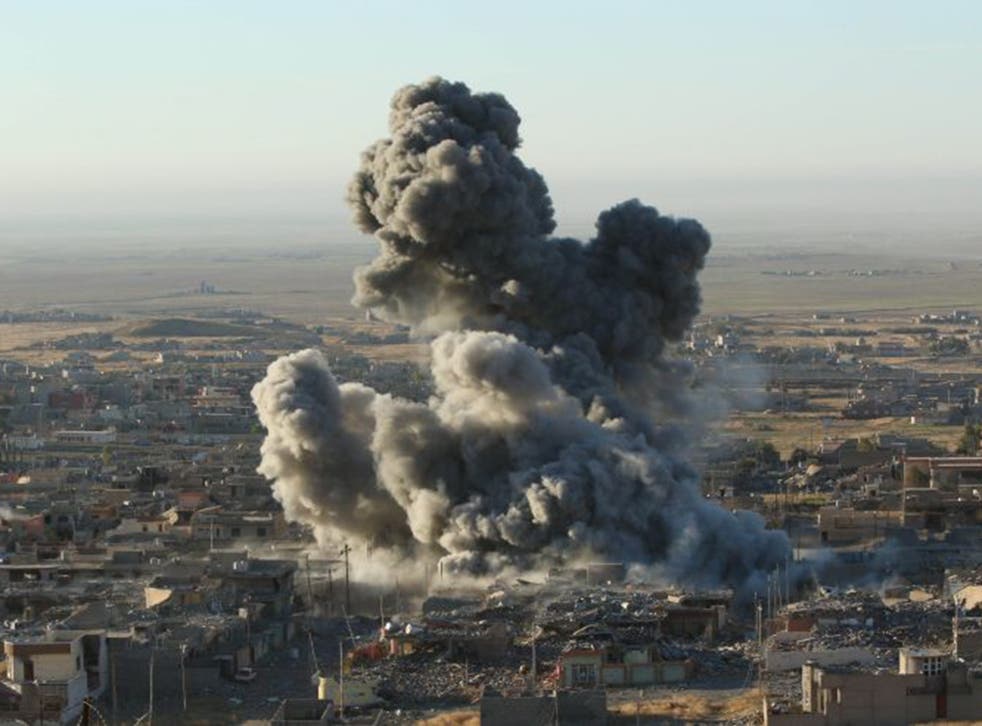 David Cameron has published the Government's motion on bombing Isis in Syria that MPs will debate for 10 and a half hours on Wednesday.
It declares that Isis poses an "unprecedented" and "direct threat" to the UK and asks MPs to support the Government and Armed Forces in "taking military action, specifically airstrikes, exclusively against Isil in Syria".
The motion pledges not to deploy UK troops on the ground in Syria and commits the Government to giving MPs progress updates every three months.
Ministers have stepped up their efforts to convince MPs of the need to take military action in Syria, with the Defence Secretary Michael Fallon claiming that the number of Isis-inspired terror attacks have increased tenfold over the last year.
He told the Defence Committee that last year there were 15 attacks around the world that were inspired or directed by Isis but in 2015 there had already been 150.
The outcome of the vote rests largely with how Labour MPs will vote.
Mr Cameron was given a boost after Jeremy Corbyn failed to convince his Shadow Cabinet to oppose the air strikes.
It means Labour MPs will now be given a free vote, with Mr Corbyn opposing military action but his Shadow Foreign Secretary Hilary Benn voting in favour.
Speaking the day after a rancorous meeting of the Shadow Cabinet and later the Parliamentary Labour party, Mr Corbyn Labour leader warned that the West will not be able to "bomb our way to democracy" in Syria and said any bombing of Isis-held territory would inevitably hurt civilians. "When you bomb a down like Raqqa, where there are several hundred thousand people living there who may or may not with to be under Isil control, indeed many are trying to escape from there," he told BBC Radio 2's Jeremy Vine show.
"We're going to kill people – we're going to kill people in their homes by our bombs. I think we should be very careful about that.
"Tomorrow Parliament must make a decision – are we going to go to war again or instead put all our efforts into a peace process, a political process, a rebuilding process, a humanitarian process? We are not going to bomb our way to democracy."
Ministers have faced questions over David Cameron's claim that there were 70,000 moderate Syrian fighters who could seize Isis-territory following air strikes, a figure that was described as "magical" by the Tory chairman of the Defence Committee Julian Lewis.
Challenged on this figure, Lieutenant General Gordon Messenger, said there was a "spectrum of extremism" within Syria and could not confirm whether the figure included fighters from Islamist groups the Islamic Front or Ahrar Al Sham.
Mr Fallon insisted that the Government's estimate of 70,000 moderate Syrian fighters on the ground in Syria "excludes those on the extreme side" such as the Al Nusra Front, the Syrian branch of Al Qaeda.
However, he said there were not "all in one place" or "a new model army, drilled outside the walls of Raqqa".
"Is there a single commander who can weld all this together as Lawrence of Arabia tried to do 100 years ago – that I'm not sure," he added.
"They are spread through Syria: over 20,000 in the Free Syrian Army [FSA] in the north, around 20,000 in the Southern Front commanded by [FSA commander] al Zoubi. There are groups throughout Syria that add to give you the overall figure of 70,000."
In pictures: Russian air strikes in Syria

Show all 19
Meanwhile the former head of the military Lord Dannatt said that Britain, France and the United States may be foreced to put boots on the ground in Syria if they are "serious" about tackling Isis.
"Although it's quite specifically excluded from tomorrow's motion in the House of Commons, and as much as I don't want to see British, American, French boots on the ground, if we are serious about defeating Islamic State it may have to come to that," he told Radio 4's World At One programme.
"I don't want to do that but if we are serious about success then we may have to look at all options at some point in the future after another vote in the House of Commons in some months time."
Here is the Government motion in full:
That this House notes that Isil poses a direct threat to the United Kingdom; welcomes United Nations Security Council Resolution 2249 which determines that Isil constitutes an 'unprecedented threat to international peace and security' and calls on states to take 'all necessary measures' to prevent terrorist acts by Isil and to 'eradicate the safe haven they have established over significant parts of Iraq and Syria'; further notes the clear legal basis to defend the UK and our allies in accordance with the UN Charter; notes that military action against Isil is only one component of a broader strategy to bring peace and stability to Syria; welcomes the renewed impetus behind the Vienna talks on a ceasefire and political settlement; welcomes the Government's continuing commitment to providing humanitarian support to Syrian refugees; underlines the importance of planning for post-conflict stabilisation and reconstruction in Syria; welcomes the Government's continued determination to cut Isil's sources of finance, fighters and weapons; notes the requests from France, the US and regional allies for UK military assistance; acknowledges the importance of seeking to avoid civilian casualties, using the UK's particular capabilities; notes the Government will not deploy UK troops in ground combat operations; welcomes the Government's commitment to provide quarterly progress reports to the House; and accordingly supports Her Majesty's Government in taking military action, specifically airstrikes, exclusively against Isil in Syria; and offers its wholehearted support to Her Majesty's Armed Forces.
Register for free to continue reading
Registration is a free and easy way to support our truly independent journalism
By registering, you will also enjoy limited access to Premium articles, exclusive newsletters, commenting, and virtual events with our leading journalists
Already have an account? sign in
Register for free to continue reading
Registration is a free and easy way to support our truly independent journalism
By registering, you will also enjoy limited access to Premium articles, exclusive newsletters, commenting, and virtual events with our leading journalists
Already have an account? sign in
Join our new commenting forum
Join thought-provoking conversations, follow other Independent readers and see their replies