Aleppo emergency debate: MPs discuss the ongoing Syrian crisis - as it happened
Former International Development Secretary Andrew Mitchell has called for a Commons debate on Aleppo, drawing parallels between Russia's contined disregard for international law and the German and Italian fascist regimes of the 1930s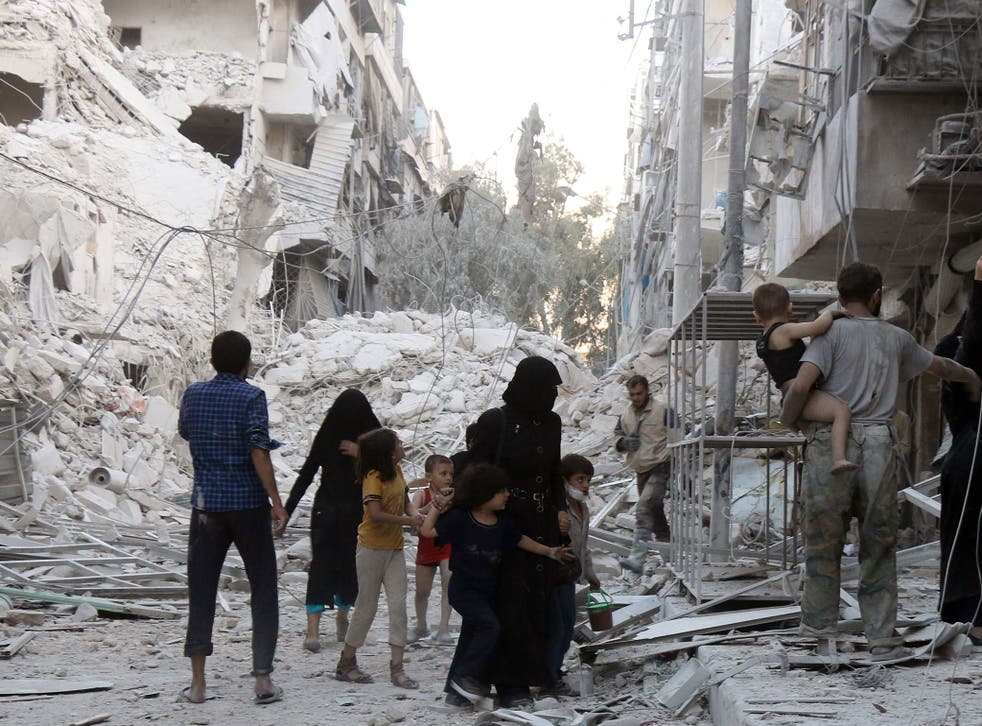 Welcome to The Independent's live coverage of the emergency Commons debate on the crisis in Aleppo. Here are the latest updates:
Stephen Crabb calls says Russia is behaving as a thuggish international gangster' flouting international humanitarian law
Alison McGovern close to tears as she recalls Jo Cox's dedication to the cause
Emily Thorberry urged by Labour backbencher to refer to Russia's actions as 'war crimes'
The ongoing, brutal conflict in Syria has created an unprecedented humanitarian crisis in the region, with around half of its pre-war 22.8 million populations now displaced. The civil war, which is now in its sixth year, is estimated to have caused the death of more than 250,000 people and has spawned a global refugee crisis as millions of Syrians flee their country in search of safety.
According to Oxfam, one in five people now living in neighbouring Lebanon is a Syrian refugee and they account for 10 per cent of the population in Jordan, where the fourth largest city is a refugee camp.Andy Baker, programme manager for the Syria crisis at Oxfam, dubbed it "the defining crisis of our time", while former foreign secretary David Miliband, who now heads the International Rescue Committee (IRC) in New York, said it was a "war without law and a war without end".
Today, MPs in the Commons will discuss the situation in the war-ravaged region ten months on since Britain carried out its first airstrikes in Syria after MPs voted overwhelmingly to authorise military action. While no decision will be made in the Commons it is expected to be argued that British aircraft could form part of an international coalition to enforce a no-fly zone in a bid to stop Russia committing war crimes in Syria.
The debate comes as the former Cabinet minister Andrew Mitchell compared Russia's actions in the war-torn region to that of the Nazis before World World Two. The former International Development Secretary said Russia has "shredded" international law by providing military support for Syrian President Bashar al-Assad's bombing campaign of rebel neighbourhoods, adding that Moscow's continued defiance of the diplomatic community resembles the behaviour of the fascist regimes of Germany and Italy during the 1930s.
"We are witnessing events which match the behaviour of the Nazi regime in Guernica in Spain," Mr Mitchell said on Monday, referring to Russia's use of its veto as a permanent member of the UN Security Council to block UN proposals to end airstrikes last week.
Register for free to continue reading
Registration is a free and easy way to support our truly independent journalism
By registering, you will also enjoy limited access to Premium articles, exclusive newsletters, commenting, and virtual events with our leading journalists
Already have an account? sign in
Register for free to continue reading
Registration is a free and easy way to support our truly independent journalism
By registering, you will also enjoy limited access to Premium articles, exclusive newsletters, commenting, and virtual events with our leading journalists
Already have an account? sign in
Join our new commenting forum
Join thought-provoking conversations, follow other Independent readers and see their replies