Syria crisis: David Cameron accuses Ed Miliband of 'dividing' Commons and expresses regret at Labour's stance over military action
PM says Labour have undermined Britain's public response to the Assad regime's alleged use of chemical weapons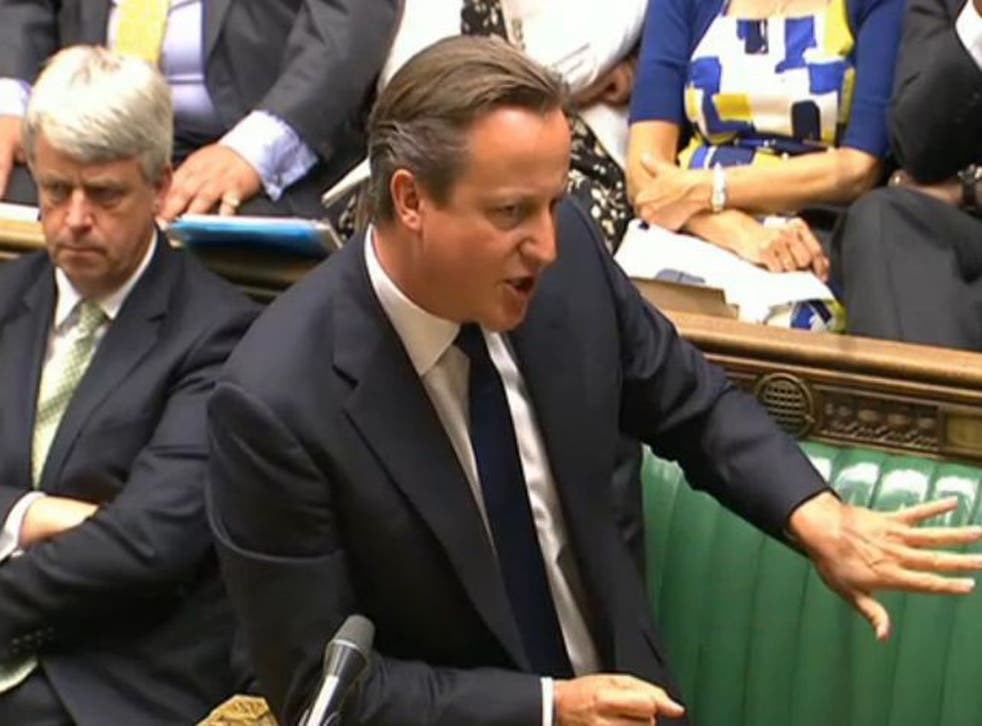 David Cameron today accused Ed Miliband of "dividing" the House of Commons in its condemnation of the use of chemical weapons in Syria.
In a clearly angry response to the Labour leader at Prime Minister's Questions Mr Cameron said it had been unnecessary for Labour undermine Britain's public response to the Assad regime's alleged use of chemical weapons because last week's Government motion did not authorise military action.
But he pledged to renew efforts to push the stalled peace process in Syria at this week's G20 meeting in Russia and increase humanitarian aid to the region.
"I accept that Britain can't be part and won't be part of any military action on that front but we must not in any degree give up our utter revulsion at the chemical weapons attacks that we have seen and we must press this point in every forum of which we are a member," Mr Cameron told MPs.
"Last week the Commons voted clearly and I have said that I have respected the outcome out of that vote and I won't be bringing back plans for British participation in military action.
"My only regret of last week is that I don't think it was necessary to divide the House on a vote that could have led to a vote but you took the decision that it was."
Senior Labour figures, including the former Foreign Secretary Jack Straw, used PMQs to urge Mr Cameron to involve Iran in any possible peace deal – noting the election of the moderate President Dr Rouhani earlier this year.
But Mr Cameron said while he had written to Dr Rouhani to congratulate him on his election Iran had to do much more to restore relations with Britain before being drawn in to the Geneva 2 process.
Mr Cameron said: "It is all very well for the countries supporting either side to want these peace talks to take place. What you also need is for those people involved in the conflict in Syria to recognise that it is in their interests to see a peace process start to begin.
"I think we can convince the Syrian National Council it is in their interests because a transition could lead to genuinely free elections and change for Syria, but we need Assad himself to realise that it is in his interests because there is no victory he can win against his own people.
"For that to happen we do need to take - and the world needs to take - a very tough response to things like chemical weapons attacks.
The Prime Minister added he would be expressing the Government's anger at the use of chemical weapons when the G20 meets tomorrow in St Petersburg, Russia. He said talks had already taken place with Russian president Vladimir Putin on the issue.
He said Britain would also use the meeting to try to co-ordinate the international response to help Syria in its "hour of need".
Britain was also doing everything it could to support Syria's neighbours, including Turkey and Jordan, with international aid, as well as providing protection to victims of chemical attacks.
He said: "The truth is this - we won't get a peace process in Syria unless president Assad realises that his regime is under some sort of pressure, some sort of threat, not just from the rebels but from the millions of Syrians who we must be standing up for, who want democracy, who want freedom, who want a better future for their children. It is them whose side we should be truly on."
Mr Cameron added: "I agree with you that Britain should use all of its diplomatic muscle to discuss with those countries that have backed the regime and to join with those countries who have backed the rebels and the opposition to try and bring those talks about."
Mr Miliband said other countries must match the humanitarian effort Britain has put in to help the Syrian people as the United Nations has less than half the resources it needs.
He said talks between the Syrian National Council and Foreign Secretary William Hague must ensure further peace negotiations.
The Labour leader said there was no difference between his party and the Government on the issue of standing up for the Syrian people.
He added: "The point of issue is how to do that. Now there are large barriers, as we have found out over the last year or more, to the Geneva II peace talks actually happening. Can I ask you whether there isn't a case for immediate talks between those countries backing the rebels and those countries the regime?
"Those talks happened during the civil war in Lebanon and would at least form a basis for discussion."
Register for free to continue reading
Registration is a free and easy way to support our truly independent journalism
By registering, you will also enjoy limited access to Premium articles, exclusive newsletters, commenting, and virtual events with our leading journalists
Already have an account? sign in
Register for free to continue reading
Registration is a free and easy way to support our truly independent journalism
By registering, you will also enjoy limited access to Premium articles, exclusive newsletters, commenting, and virtual events with our leading journalists
Already have an account? sign in
Join our new commenting forum
Join thought-provoking conversations, follow other Independent readers and see their replies