Syria crisis: David Cameron plans reshuffle after chaotic defeat in Commons
Prime Minister is reported to be furious as the full extent of the Government's disorganisation over Syria vote becomes apparent
Andrew Grice
Friday 30 August 2013 23:35 Comments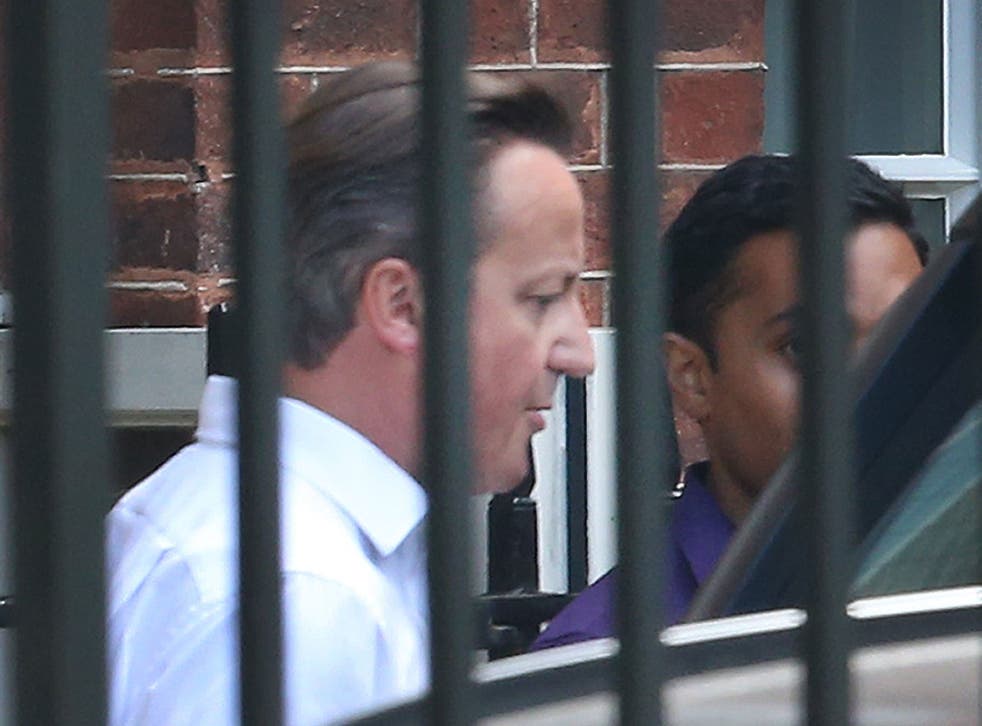 David Cameron will try to restore his shattered authority after his humiliating Commons rebuff on Syria by reshuffling his ministerial team – and shaking up a Whips Office being blamed for his disastrous defeat on Thursday night.
Sir George Young, the Conservative Chief Whip, is expected to pay the price by losing his job in a reshuffle likely to take place within weeks. Although some Tory MPs believe he is being made a scapegoat for a rush to military action by Mr Cameron, ministers said the performance of the party's whips in the run-up to the crunch vote was poor. "It was the most woeful I have ever seen," one long-serving Tory MP said tonight.
Sir George, 72, was unexpectedly recalled to the post last October – only a month after standing down – when Andrew Mitchell resigned over his confrontation with police officers at the gates of Downing Street. Contenders for the job this time around include Liam Fox, the former Defence Secretary; Eric Pickles, the Communities Secretary and John Hayes, the Minister without Portfolio who now acts as Mr Cameron's link man with Tory backbenchers.
Mr Cameron will use his reshuffle to promote more women as he tries to move towards his pledge in opposition that a third of ministerial jobs would be held by them. Two whips, Karen Bradley and Nicky Morgan, are among the female MPs who are tipped for promotion.
A shaken Mr Cameron launched his fightback today as he was described as "a broken-backed Prime Minister" by Lord (Paddy) Ashdown, the former Liberal Democrat leader who supported Mr Cameron's plan to join US-led military strikes against the Assad regime over its alleged use of chemical weapons against its own people on 21 August.
Lord Ashdown said: "In 50 years of trying to serve my country, I have never felt to depressed or ashamed... We are a hugely diminished country."
Mr Cameron disputed Lord Ashdown's verdict and insisted that Britain could still be a force on the world stage without joining the expected military action in Syria. Although he regretted that he was unable to build a consensus in Britain for a response to the chemical weapons attack, he insisted the UK remained "deeply engaged" on the world stage. He added: " We have great strengths as a country, we should continue to use those.But on this specific issue, because of the huge concerns about this appalling Syrian conflict and people worrying about how we might get sucked into it, on that specific issue that trumped, as it were, the sense of outrage about the chemical weapons. I understand that, I get that."
The Prime Minister, who spoke to Barack Obama on the telephone tonight, said earlier he would not apologise to the US President for being unable to fulfil his pledge to join the intervention. Mr Cameron insisted that a "robust response" is needed to the Assad regime's actions and that Britain could still play its part. "There are a series of things we will continue to do. We will continue to take a case to the United Nations, we will continue to work in all the organisations we are members of – whether the EU, or Nato, or the G8 or the G20 – to condemn what's happened in Syria. It's important we uphold the international taboo on the use of chemical weapons," he said.
George Osborne, the Chancellor, acknowledged there would now be "soul searching" about the Uk's global role but warned: "I hope this doesn't become a moment where we turn our back on all of the world's problems." He conceded: "Obviously it would have been better from the point of view of the special relationship if we were able to take part in any military action, should that military action take place, alongside the Americans."
Ed Miliband insisted that blocking any military intervention in Syria was not the result he wanted. He said: "given where we are and given what's happened, I think now Britain needs to focus on what Britain can do for the people of Syria. What we can do is use all of our status in the world to push forward political, diplomatic and humanitarian assistance to the people of Syria and most particularly put the issue of Syria at the top of the G20 in Russia next week."
What happens next?
Saturday UN weapon inspectors will leave Syria in the morning, one day ahead of schedule. They will then report directly to the UN Secretary General, Ban Ki-moon, with an interim UN report likely to be published soon after. They were originally not due to disclose their findings for a week at least.
Wednesday The French parliament is due to meet for an emergency debate the Syria crisis. Under French law, a one-off military strike does not need parliamentary approval.
Thursday-Friday World leaders will gather in St Petersburg for the G20 summit. Syria is not on the official agenda, but will be discussed in bilateral meetings. President Barack Obama is due to meet Russia's President, Vladimir Putin.
Greening sorry for missing vote
The Conservative Cabinet minister Justine Greening has "apologised profusely" to David Cameron for failing to turn up to support the Government on the crucial Syria vote.
The International Development Secretary was present for the first of two Syria votes, when an amendment proposed by Ed Miliband was voted down.
But afterwards, she went to one of the nearby offices reserved for ministers to thrash out an item of Government business with the Foreign Office minister Mark Simmonds. Both overlooked the fact that there was to be a second vote on a Government motion, just 18 minutes after the first. Mr Simmonds has also apologised.
Ms Greening claimed that the division bell summoning MPs to vote did not ring in their office, but when Commons staff tested the bell today, it was working. There are reports the room is soundproofed, however.
Andrew Grice
Register for free to continue reading
Registration is a free and easy way to support our truly independent journalism
By registering, you will also enjoy limited access to Premium articles, exclusive newsletters, commenting, and virtual events with our leading journalists
Already have an account? sign in
Join our new commenting forum
Join thought-provoking conversations, follow other Independent readers and see their replies