Tensions rise as ministers press for deeper cuts to welfare
Andrew Grice
Thursday 31 January 2013 20:26 Comments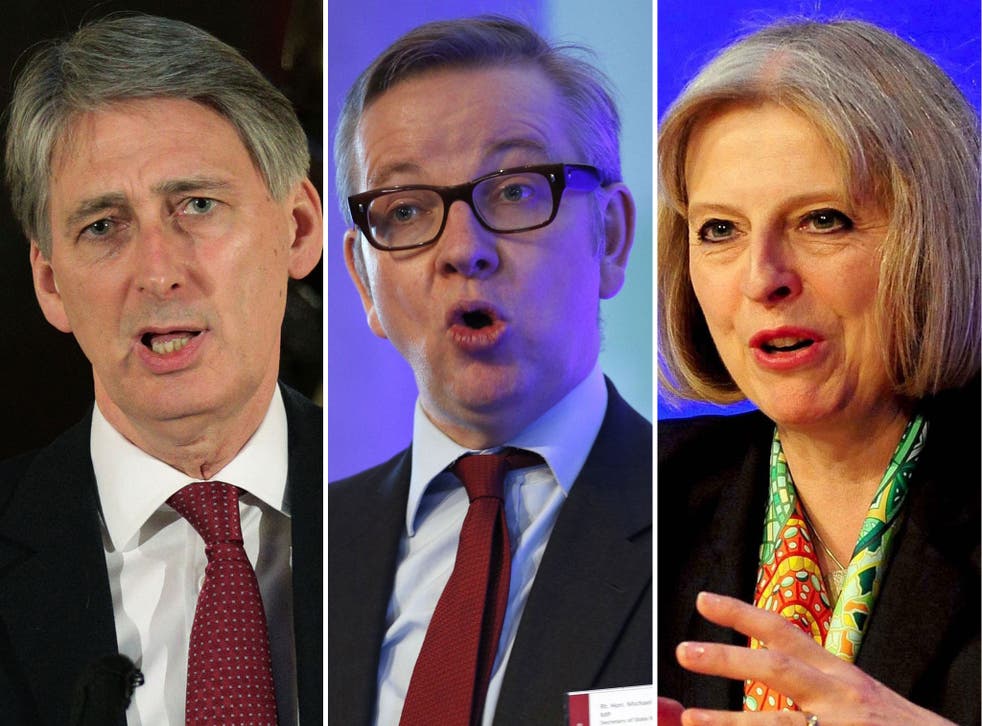 Conservative Cabinet ministers are pressing for another round of cuts in the welfare budget in an attempt to protect their own departments from the Treasury's demand for a further £10bn of savings.
Defence Secretary, Philip Hammond, Education Secretary, Michael Gove, and Home Secretary, Theresa May, are among senior Tories arguing for another squeeze on welfare.
The Government's decision to "ring-fence" the health, schools, defence equipment and international aid budgets has provoked a Cabinet battle because it means other departments could face cuts totalling £28bn over the 2015-18 period.
The most vulnerable budgets include those for the police, criminal justice, local government, employment and transport, which could be reduced by 26 per cent over that period.
Tory ministers point out that benefits and tax credits will cost £209bn in the current financial year, almost a third of total government spending (£664bn). "Welfare cannot be immune in the next round," one Cabinet source said.
The latest attack on welfare will be controversial. Ministers are already braced for a backlash when a 1 per cent cap on benefit rises and cuts in housing and council tax benefits take effect in April – at the same time the top rate of tax, on incomes over £150,000, will be reduced from 50p to 45p in the pound.
The Coalition must agree a detailed budget for the 2015-16 financial year because it starts before the May 2015 general election. George Osborne wants an agreement on £10bn of savings by June.
Nick Clegg will argue against another squeeze on benefits for the poor so soon after the three-year cap on benefit rises was announced in the Chancellor's Autumn Statement. He believes any further welfare cuts should start with the winter fuel allowances, free bus pass and TV licences for rich pensioners, which David Cameron has promised to safeguard.
A senior Liberal Democrat source told The Independent today: "Discussions on the spending review are in their very early stages. We made significant savings through welfare in the autumn statement and both sides of the Coalition were clear at the time that we cannot make all our savings through the welfare budget alone. We have protected schools, the NHS and international aid but other areas of government spending will have to make further savings. If they [the Conservatives] do want to open up a debate about welfare savings, we would be more than happy to have one that starts with the sacred cow of benefits for millionaire pensioners."
Business Secretary Vince Cable, whose department is not protected, is arguing that it would be wrong to put at risk measures to help industry, improve skills and boost science. He believes the concept of "ring-fencing" some parts of Whitehall is flawed when the economy is the priority.
When the Cabinet discussed the issue last week, Mr Osborne's drive for more cuts was challenged by Mr Cable, Mrs May and Mr Hammond – all anxious to defend their turf.
Today there was confusion over whether the Ministry of Defence is protected. On his visit to Algeria, Mr Cameron said he stuck by a 2010 pledge that the defence budget should rise above inflation "in the years beyond 2015". Downing Street later admitted there could be more defence cuts in 2015-16 and that the Prime Minister hoped that spending would rise after that.
Mr Hammond said that only defence equipment, which accounts for about 40 per cent of his £33bn-a-year budget, was protected – which could leave it vulnerable to more job cuts.
The Labour-affiliated Fabian Society calculates £198bn of spending will be safeguarded in 2015-16, resulting in cuts in other areas of £28bn from 2015-18.
Register for free to continue reading
Registration is a free and easy way to support our truly independent journalism
By registering, you will also enjoy limited access to Premium articles, exclusive newsletters, commenting, and virtual events with our leading journalists
Already have an account? sign in
Join our new commenting forum
Join thought-provoking conversations, follow other Independent readers and see their replies