London Mayor elections: Tessa Jowell's support for Heathrow expansion 'means she can't win'
Exclusive: The issue is a defining one in the Mayoral race ahead of upcoming recommendations on whether Heathrow or Gatwick should expand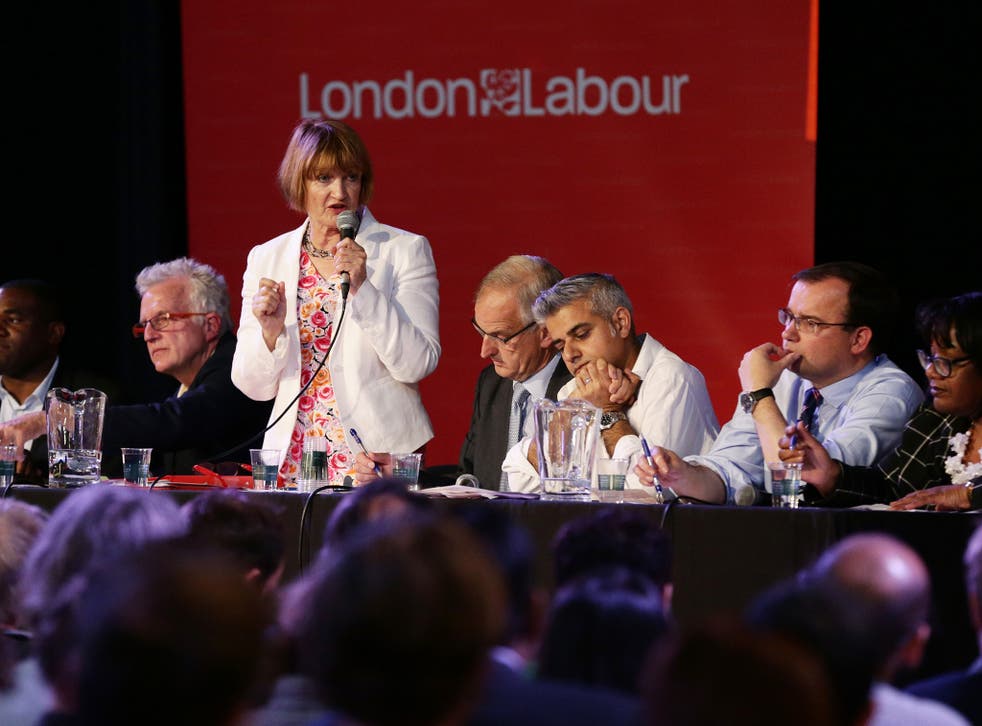 The gloves came off in the fight to be Labour's candidate in next year's election to be London Mayor as opponents of Dame Tessa Jowell claimed she could not win the contest because she supports the expansion of Heathrow Airport.
Senior Labour figures in London warned that Ms Jowell, the front-runner to win the party's nomination, would be defeated in the election to choose Boris Johnson's successor by Zac Goldsmith, the favourite to be the Conservative candidate and a staunch opponent of a third runway at Heathrow. They pointed out that the only two people elected as London Mayor – Ken Livingstone and Mr Johnson - both opposed expansion at the West London airport.
The issue is becoming a defining one in the Mayoral race as Sir Howard Davies, after a three-year inquiry, prepares to publish his recommendations in the next few weeks on whether Heathrow or Gatwick should expand.
Sadiq Khan, who backed the development of Heathrow as Transport Minister in the previous Labour Government, announced last week that he now opposes the move. He is seeking the Labour nomination for Mayor and his allies have turned on Dame Tessa.
The major political figures who lost out in the General Election

Show all 16
Andy Slaughter, MP Hammersmith, who resigned as a ministerial aide over Heathrow under Tony Blair in 2009, said: "Heathrow expansion is a politically toxic issue. Any Labour candidate for Mayor standing for office on the ticket of an extra runway at Heathrow would lose the support of swathes of voters in West London. I can't see how they could beat a Tory candidate opposed to Heathrow expansion."
Stephen Alambratis, Labour leader of Merton Council in South West London, said: "It is now impossible for Tessa Jowell to win the London Mayoralty. She simply can't beat Zac Goldsmith while she is in favour of Heathrow expansion and he is opposed. In boroughs like Merton, many voters will decide how to vote based solely on their view on Heathrow. It is now crystal clear that Labour must select Sadiq Khan in order to win the Mayoral election."
Murad Quereshi, a London Assembly Member and Labour environment spokesman, said: "Going by previous election results in my time on the London Assembly, it will be almost impossible for a candidate to win the Mayoralty without opposing Heathrow expansion."
Allies of Dame Tessa dismissed the attacks, pointing to a YouGov poll for the London Evening Standard showing that the former Olympics Minister would beat Mr Goldsmith by 57 to 43 per cent, while Mr Khan would be neck and neck with him. Dame Tessa's aides said that although she has voted for Heathrow expansion previously, she would wait and see what the Airports Commission proposes. However, she does support a quick decision after years of delays.
Mr Khan, who has been attacked for what rivals have dubbed "an incredible U-turn," said: "As Mayor, I will stand up for Londoners, and that means I cannot support a third runway at Heathrow. When the facts change, I change my mind, and it is now clear that too many people would suffer from the air pollution and noise pollution that would come from an expanded Heathrow."
The Airports Commission is looking at three options – a third runway at Heathrow; extending the northern runway at Heathrow and a second runway at Gatwick. The Government may take several months to make a decision on the long-awaited recommendations.
Join our new commenting forum
Join thought-provoking conversations, follow other Independent readers and see their replies