The 7 Tory backbenchers most likely to defect to Ukip next
If Ukip wins today's Rochester by-election, who else might jump ship?
Andrew Grice
Thursday 20 November 2014 18:49 Comments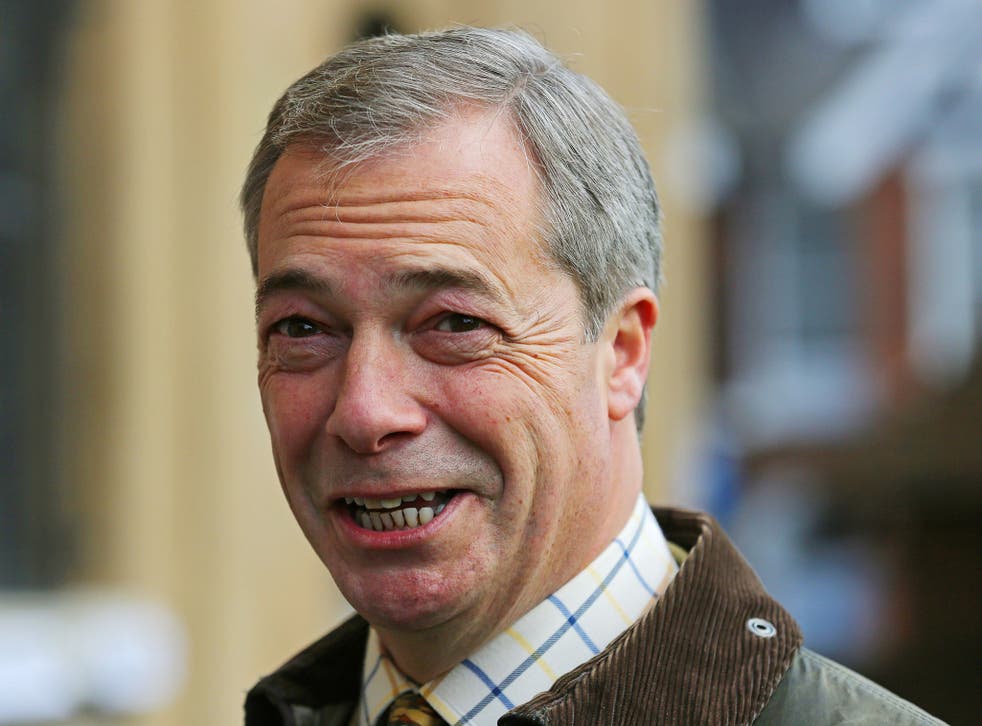 As the Conservatives braced themselves for defeat in today's Rochester and Strood by-election, they knew that Ukip's expected triumph was unlikely to be Nigel Farage's last celebration.
Senior Tories are worried that more Tory MPs may defect to Ukip before next May's general election, joining Douglas Carswell, who held his Clacton seat in a by-election, and Mark Reckless, who triggered today's contest. Mr Reckless claimed on the eve of the by-election that he had held talks with two Tory MPs who are considering whether to switch parties.
Mr Farage declared that the general election would be "up in the air" if his party won the by-election. "
It's rather high noon because the Prime Minister in a sense put his own credibility on the line by almost being the candidate for the Conservative Party for the first half of the campaign," he said. "He has thrown the kitchen sink at it. They have thrown everything at this campaign. But do you know what? So have we."
Although several Tory MPs have denied planning to defect to Ukip, party whips admit they have no way of knowing whether the backbenchers are telling the truth. Mr Reckless issued repeated denials.
Who, then, are the most likely of the usual suspects likely to jump ship?
Who's next? Conservative MPs who could defect to Ukip

Show all 8
Peter Bone
MP for Wellingborough. Majority 11,787. Independent-minded backbencher who detests the Coalition. Argued at Cambridge University tonight that Ukip is a "good thing for British politics" because it is "pushing" the debates about Europe and immigration.
Mark Pritchard
Former secretary of the influential Tory 1992 Committee. MP for The Wrekin. Majority 9,450. Photographed with Nigel Farage at an event recently but said it was just a "friendly photo".
Philip Hollobone
MP for Kettering. Majority 9, 904. Has said: "I think we could end up with a situation where in selected seats, where the Conservative candidate or MP is in favour of leaving the EU, they [Ukip] would endorse him in those seats."
John Baron
Opponent of UK involvement in foreign wars. MP for Basildon and Billericay. Majority 12,338. Ukip is trying to tempt him to contest his next door seat of Basildon South and Thurrock East, but he insists he is staying put.
Chris Kelly
Won Dudley South with a majority of 3,856 in 2010 but is standing down next May. Has been wooed by Ukip, which is targeting his seat, but insists he will not join it. Has declined to explain why he is leaving Parliament.
Martin Vickers
MP for Cleethorpes. Majority 4,298. Has revealed that Nigel Farage's party offered not to stand against him at next May's general election in return for free run in neighbouring Labour-held Great Grimsby.
David Nuttall
MP for Bury North. Majority 2,243. Outspoken right-winger. Has said it would be "beneficial" if the Tories and Ukip could agree a "common programme" in order to unite the right in British politics.
Register for free to continue reading
Registration is a free and easy way to support our truly independent journalism
By registering, you will also enjoy limited access to Premium articles, exclusive newsletters, commenting, and virtual events with our leading journalists
Already have an account? sign in
Register for free to continue reading
Registration is a free and easy way to support our truly independent journalism
By registering, you will also enjoy limited access to Premium articles, exclusive newsletters, commenting, and virtual events with our leading journalists
Already have an account? sign in
Join our new commenting forum
Join thought-provoking conversations, follow other Independent readers and see their replies