The dangers of water cannon: Blinded German man tells Britain 'don't make the same mistakes as other countries'
Pensioner Dietrich Wagner is in London to lobby the Home Secretary about the dangers of the controversial crowd dispersal weapon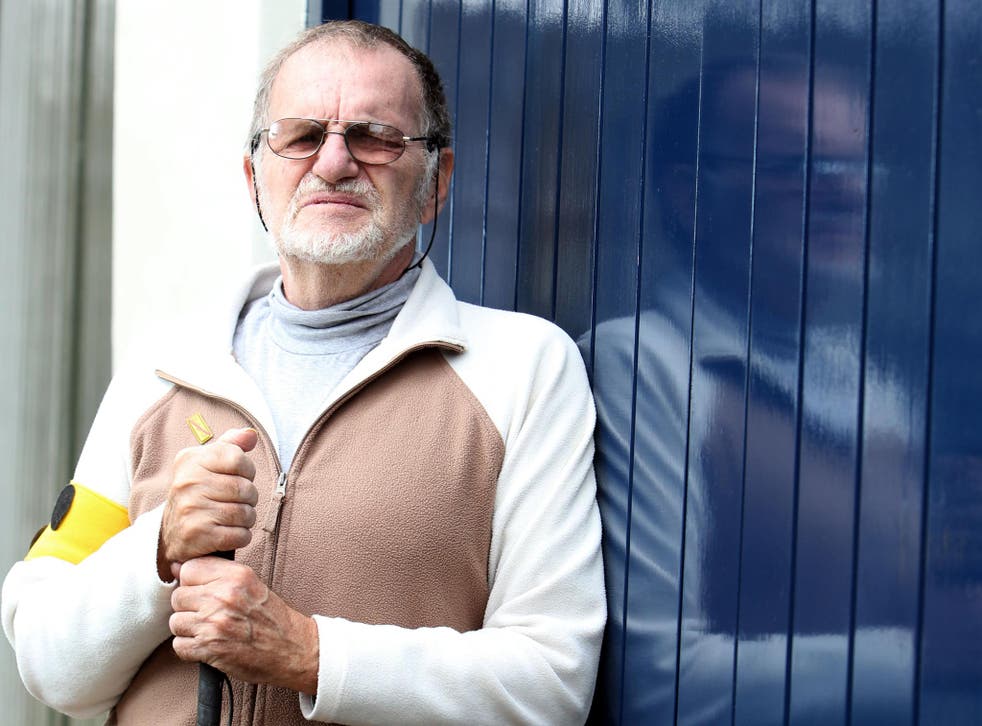 Dietrich Wagner, a German pensioner, remembers the exact moment he was knocked over by a water cannon, in Stuttgart in 2010. It felt as though he was being punched. He fell backwards, lost consciousness, and when he woke, blood was running down his face. "I couldn't open my eyes," he says. "I only saw black."
The former engineer, who turns 70 this year and has had six operations on his eyes, is still almost completely blind. He is in London to warn Home Secretary Theresa May not to authorise the use of water cannons on the streets of mainland Britain.
"My message is Britain shouldn't make the same mistake as other countries around the world," says Mr Wagner, whose eyelids were torn and the lenses of his eyes permanently damaged after he was injured during an environmental demonstration. "Water cannons are not democratic. They are instruments of violence. They are considered much more harmless than they actually are."
The debate about the use of the controversial crowd dispersal weapon is raging. Mayor Boris Johnson is asking Londoners for their views on whether the Metropolitan Police should be able to use water cannons. The public consultation is due to close at the end of this month. Human rights group Liberty claims the weapon is "inflammatory, militaristic and brutal" and "liable to cause panic, in addition to pain and distress".
But Metropolitan Police Commissioner Sir Bernard Hogan-Howe has said it could be a valuable public order tool for police, which would be "rarely used and rarely seen". The final decision to authorise the use of the cannons rests with the Home Secretary.
Yet Mr Wagner, who attended a public meeting – along with the deputy mayor for policing, the assistant police commissioner and interested Londoners – said he has been left "shocked and traumatised" by his encounter with the weapon. He had no idea of the harm it could cause until he was standing directly in front of it.
"First, it was quiet inside. The pressure was not so powerful that I couldn't stand it. But then the pressure increased, step by step. Women were knocked over in the stream... I made a sign to show them to stop, but it made no impression," Mr Wagner told The Independent. "Suddenly I felt something like a punch."
Mr Wagner was one of more than 100 people who were reportedly injured at the demonstration, which was held to protest against the transformation of Stuttgart's main train station into an underground hub and the cutting down of trees.
Mr Wagner, who said he had not attended a protest since his student years, thought about taking his own life after he realised he was never likely to regain his sight: "I couldn't do nearly anything I did before. No cycling; no driving my motorcycle. No watching TV or reading.
"My [partner of 20 years] had to feed me. If you're blind, and you have no practice, you can't eat by yourself," he said, adding that he has 5 per cent visibility in his right eye and nothing but a stream of light in his left.
A Met spokesman said: "We accept and understand the negative visual impact that water cannons create and concerns around the potential for them to cause injuries," but added: "When faced with major criminality taking place... it is our duty to keep the peace and Londoners safe. We strongly believe that this tactic will help us to do this."
Register for free to continue reading
Registration is a free and easy way to support our truly independent journalism
By registering, you will also enjoy limited access to Premium articles, exclusive newsletters, commenting, and virtual events with our leading journalists
Already have an account? sign in
Register for free to continue reading
Registration is a free and easy way to support our truly independent journalism
By registering, you will also enjoy limited access to Premium articles, exclusive newsletters, commenting, and virtual events with our leading journalists
Already have an account? sign in
Join our new commenting forum
Join thought-provoking conversations, follow other Independent readers and see their replies