UK Government's ban on boycotting Israel contradicts its own advice on doing business with Israel
The Foreign Office continues to warn of the dangers of procuring goods and services from the occupied territories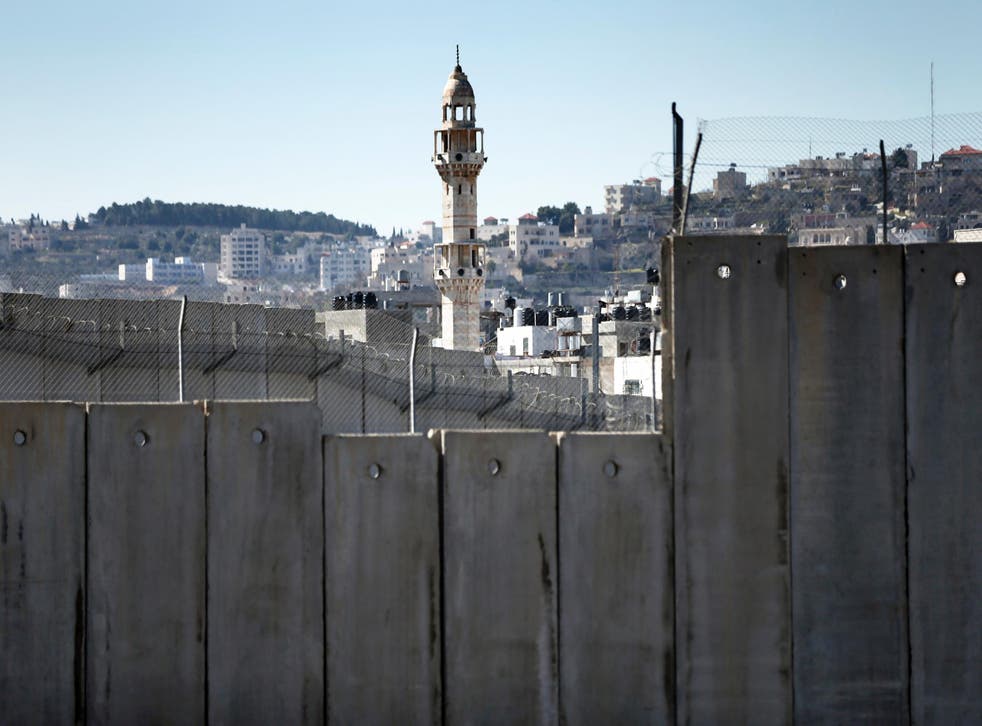 The Government's ban on public boycotts of Israeli goods from the occupied territories contradicts its own advice on doing business with the country, official documents show.
A number of public authorities, including local councils, have passed procurement policies stating that they will not buy goods or services from Israel's occupied Palestinian territories.
The Government however this week notified councils that these boycotts were now against official procurement rules and would be subject to penalties – an announcement coinciding with a ministerial visit to Israel.
Longstanding official government advice on doing business with Israel appears to directly contradict the new rule, however – warning that procurement from the occupied territories is unwise.
The Foreign Office's Overseas Business Risk assessment for Israel states that the Government does "not encourage or offer support" to business with the occupied territories.
"The UK has a clear position on Israeli settlements … settlements are illegal under international law, constitute an obstacle to peace and threaten to make a two-state solution to the Israeli-Palestinian conflict impossible," the advice says.
"There are therefore clear risks related to economic and financial activities in the settlements, and we do not encourage or offer support to such activity."
The business guidelines also note that: "Financial transactions, investments, purchases, procurements as well as other economic activities in Israeli settlements or benefiting Israeli settlements, entail legal and economic risks stemming from the fact that the Israeli settlements, according to international law, are built on occupied land and are not recognised as a legitimate part of Israel's territory."
The Foreign Office confirmed to the Independent that the advice still stands and has not been affected by the new Crown Commercial Service rules.
The Government also says citizens and business should "be aware of the potential reputational implications of getting involved in economic and financial activities in settlements" as well as potential human rights abuses in the area.
Disputed titles to the "land, water, mineral, or other natural resources which might be the subject of purchase or investment" also raise issues about doing business with suppliers based there, the advice reads.
Finally the Government advice says: "We understand the concerns of people who do not wish to purchase goods exported from Israeli settlements in the Occupied Palestinian Territories."
The new policy banning boycotts is not limited solely to Israeli goods – and effectively stops public authorities from take ethical considerations into account when procuring goods.
Campaigners have said the ban will affect activity against the arms trade, fossil fuels, tobacco products and Israeli settlements in the occupied West Bank.
The Government however trailed the rule as being especially applicable to Israel and announced it on the day of a ministerial visit to the country.
It says such boycotts damage "community cohesion" and the UK's "international security".
Life with the Jewish settlers in the Occupied Territories

Show all 5
Councils across the UK have put pressure on suppliers to cease business with Israel, which is illegally occupying and building settlements on Palestinian land, according to the United Nations.
Labour-controlled Birmingham City Council warned last year that it would not renew its waste disposal contract with French waste management company Veolia unless it pulled out of the West Bank.
In 2014 Leicester City Council passed a policy of boycotting products produced in illegal Israeli settlements in the West Bank.
Labour has criticised the new anti-boycotts policy as an "attack on democracy", while the Campaign Against the Arms trade said it was an attack on "the rights of all local people and campaign groups across England".
Other criticial groups include Amnesty UK and the Palestine Solidarity Campaign, which said the policy was a "gross attack" on democratic freedoms.
Israeli politicians have previously criticised moves to boycott, divest, and impose sanctions on Israel – and the new policy announcement will likely see Mr Hancock given a warm welcome.
In June last year the country's prime minister Benjamin Netanyahu criticised the UK's National Union of Students for boycotting Israel – arguing that they should condemn Isis instead.
"They boycott Israel but they refuse to boycott Isis. That tells you everything you want to know about the BDS movement. They condemn Israel and do not condemn Isis; they condemn themselves," he said.
The NUS had however passed a policy condemning Isis, in December 2014. It does not trade with Isis, which is a listed terrorist organisation and already subject to international-level sanctions.
Join our new commenting forum
Join thought-provoking conversations, follow other Independent readers and see their replies