Tim Farron: Lib Dems are open to defectors from all parties
It's time for liberals in both the Labour and Conservative party to come to the Liberal Democrats, its leader has said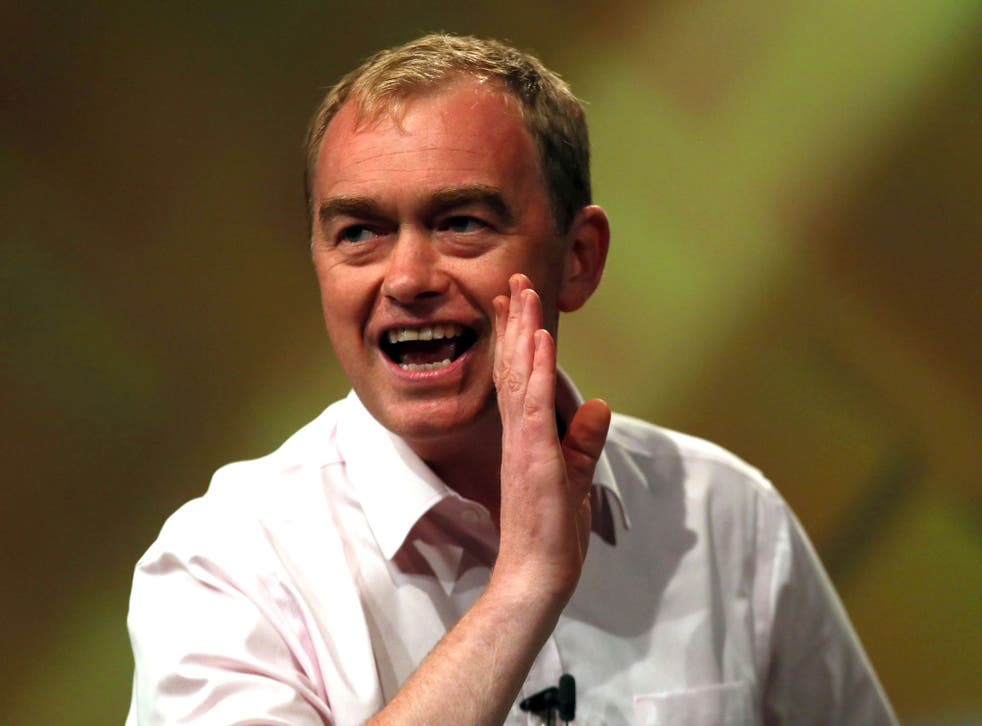 The Liberal Democrats are open to defectors from both Labour and the Conservatives, as the UK's two main political parties move further to the left and right, according to Lib Dem leader Tim Farron.
At the opening of the Liberal Democrats conference in Brighton, Mr Farron told his party that moderates from all parties should defect to combat extremism.
"Across the range of British politics we now see populists of the far left and the far right getting hold of their parties," he said.
"There are people who are liberals in the Labour Party and people in the Conservative Party who will be feeling increasingly uncomfortable about the direction of their party.
"My simple offer to those liberals in other parties is: 'do you know what – maybe it's time to join a liberal party?"'
The Lib Dem leader insisted voters needed a second chance to decide on Britain's place in Europe.
"We will fight to make sure the British people have their say before the UK has to accept a deal that nobody gave consent to," he said.
Mr Farron said the appointment of Boris Johnson as Foreign Secretary would "prove to the world" that "Britain has lost its marbles."
The leader also said his party would fight for a second referendum on leaving the European Union, once the negotiations had concluded and the terms of Brexit were clear.
UK news in pictures

Show all 50
The party will also consider introducing a special NHS tax, in the form of a levy on wages specially to fund the NHS.
The party's health spokesperson Norman Lamb said: "Let's look at the case for a dedicated health and care tax, shown on your pay packet. Let's look at whether we could use National Insurance as a basis for such a tax.
"We need to consider how we could make it more progressive. We need to think about fairness between generations.
"We must be honest with the British people. If we conclude that we all need to pay perhaps an extra penny in the pound, then we must be prepared to say it."
Mr Farron also attacked the new face of Ukip, Diane James, as a peddler of "hateful" ideas and a stooge of Nigel Farage.
"So, yes, Ukip have a new leader. It's the fourth new leader they've had in the last few years – and the last three new leaders were all the same bloke," Mr Farron said.
"So it's nice that they've got a new leader who is actually new. Well, I say 'new', 'new' in a 'Britain went to the dogs when we lost the empire' sort of way.
"But Ukip's policies are no laughing matter. And neither is Diane James. She leads a party whose policies are based on a vision for Britain that is closed, hateful and divided."
He also said that, in re-electing Jeremy Corbyn, Labour would "choose to continue its flight into fantasy and pointlessness", and that it would be up to the Liberal Democrats to stand up to the Conservatives.
"As Theresa May looks on rubbing her hands, thinking that she can do what she likes because no one can stop her," he said.
"Look around you here in this hall. Here are the people who will stop her! With Labour as they are some say that we are landed with a Tory government for the next 25 years. Well, I don't know about you, but I'm not having that. Britain can still stand tall in Europe and Britain can still be freed from the Tories."
Register for free to continue reading
Registration is a free and easy way to support our truly independent journalism
By registering, you will also enjoy limited access to Premium articles, exclusive newsletters, commenting, and virtual events with our leading journalists
Already have an account? sign in
Join our new commenting forum
Join thought-provoking conversations, follow other Independent readers and see their replies