The Lib Dems attack: Tories are 'borderline immoral', Danny Alexander gets sweary and Nick Clegg accuses Cameron of being 'a poor man's Thatcher'
The Liberal Democrats are not holding back. They've attacked both the Conservatives and Labour, saying David Cameron faces the prospect of becoming a "poor man's Margaret Thatcher and a rich man's Nigel Farage"
Natasha Culzac
Sunday 05 October 2014 14:37 Comments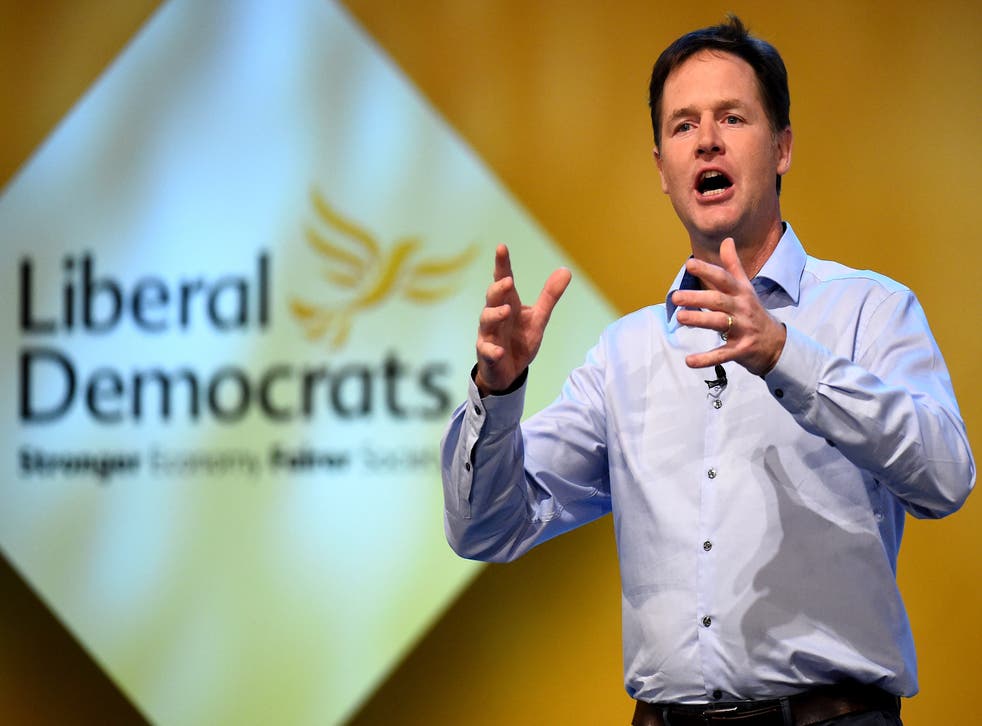 The Liberal Democrats are getting more vocal in their attacks on the Conservatives. Treasury Minister Danny Alexander resorted to swear words to describe how he felt about George Osborne. Party president Tim Farron said the Tories were "borderline immoral" and Nick Clegg has launched a personal attack on Cameron.
The Lib Dem party conference in Glasgow is in full swing and party leader and Deputy Prime Minister Nick Clegg has got the boxing gloves on and is ready to battle.
On the eve of the conference's opening he told activists to fight "tooth and nail" to prevent the Tories and Labour from "taking Britain backwards".
He said that another Conservative government in power would see David Cameron "trapped between being a poor man's Margaret Thatcher and a rich man's Nigel Farage" as the PM attempts to accommodate Ukip supporters and Tory rebels.
Britain would be "diminished and divided after a botched attempt to renegotiate our relationship with Europe and a vote to withdraw from the European Union" while the Tory leadership would remain "in hock to their right wing, desperately running after and pandering to Ukip's ugly nationalism".
Lib Dems: policy focus

Show all 6
The Liberal Democrats are grappling with dwindling support – an opinion poll in Kent has shown Ukip candidate Mark Reckless on 40 per cent while the Lib Dems trail at two per cent – and Labour is on the assault with its launch of a "You Can't Trust Nick Clegg" slogan which highlight's the party's broken promises.
However, Lib Dem President Tim Farron called the Conservatives a "nasty party" that is "borderline immoral".
Speaking to Murnaghan on Sky News, he said: "It's very important that people know a Conservative-only government would be lacking in compassion.
"They are indeed the nasty party that Theresa May said they were. They are trying to balance the books on the backs of the poor, something which is un-British and borderline immoral."
He also attacked Labour and said that Ed Miliband's party, if allowed to govern, "would be the incompetent rabble they were that got us into this mess in the first place".
Elsewhere, Chief Secretary to the Treasury, Danny Alexander, said he was "pissed off" with the Tories for claiming responsibility for tax breaks for low-income workers and for the gains made in Britain's economic recovery.
He the Sun on Sunday: "The economic plan is just as much my plan as it is George Osborne's. It is just as much a Liberal Democrat plan as it is a Conservative plan.
"One of the things that really pisses me off is when people say this is all the Conservatives who have sorted out the economy. It isn't. I know it isn't."
He is expected to claim credit for the rise of the income tax personal allowance to £10,500 – which David Cameron said the Conservative Party would increase to £12,500 if re-elected – claiming that the hike had to be fought for by the Lib Dems.
"It's grand larceny. That's true," Mr Alexander said in another interview. "The only reason we've seen an increase in personal allowance in this Parliament is because of Liberal Democrats.
"Everyone remembers David Cameron in the [2010 televised] leadership debates saying this policy couldn't be afforded. Nick and I have had to fight tooth and nail every step of the way to get to the £10,500 threshold."
Speaking on BBC1's Andrew Marr Show this morning, Mr Clegg said that the Tories' attempt to reduce the deficit without raising taxes or asking the wealthiest to pay a "single penny" was "economically extreme".
He confirmed that the Lib Dems would raise taxes and added: "What we are saying is that those choices, either sticking your head in the sand or beating up on the poor, are not the choices the British people want."
He also said that the Conservatives think "they can run the show" despite only getting 38-39 per cent of the vote.
"We say let's create a body of English and Welsh MPs but they've got to reflect the proportion of votes fairly won at the last election."
Register for free to continue reading
Registration is a free and easy way to support our truly independent journalism
By registering, you will also enjoy limited access to Premium articles, exclusive newsletters, commenting, and virtual events with our leading journalists
Already have an account? sign in
Join our new commenting forum
Join thought-provoking conversations, follow other Independent readers and see their replies