The £4.6m question: Is Tony Blair's 'Journey' worth the advance?
The news that the former PM is to publish his memoirs raises tantalising questions about what they will reveal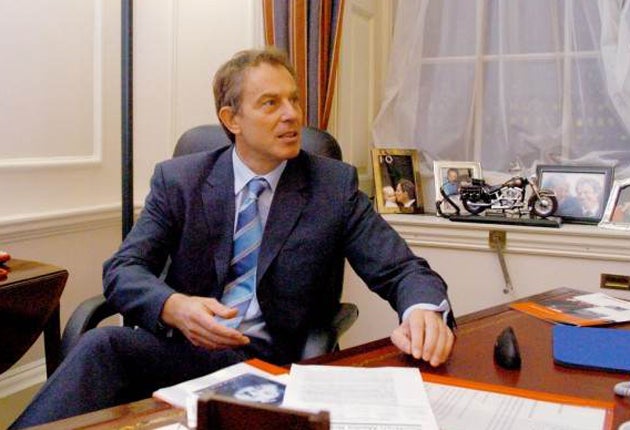 When Tony Blair delayed his memoirs until after the general election, it was widely assumed that he would not pull his punches in describing the ups and downs of his turbulent relationship with Gordon Brown.
The former Prime Minister will earn £4.6m from his book, The Journey, which will appear in September, his publishers announced yesterday. But the appetite of Labour kremlinologists hungry for a blood-spattered account of what they call the "TB-GBs" may not be satisfied.
The hype from his publisher promised that his memoirs will chart "successes, controversies and disappointments with an extraordinary candour". Yet the word among Mr Blair's friends is that he will not plunge the knife into his successor. Well, not that much, anyway. "It wasn't his style as PM and it's not his style now," one said.
That would be a relief to Mr Brown, especially as recent opinion polls suggest there is a chance he may still be in power when the long-awaited Blair memoirs finally emerge.
The timing of the Blair book could still be problematic for the Prime Minister. It is expected just before Labour's post-election annual conference – not to make waves at the event but in time for the books market at Christmas. In the event of a hung parliament, Britain could face a second general election in the autumn. In that case, Mr Blair might have to ask his publishers for a delay.
What Mr Blair puts in and leaves out is naturally under wraps, not least because he is rumoured to have landed a seven-figure serialisation deal with a British newspaper. But observers will be keen to know whether he confirms speculation that he did not want Mr Brown to succeed him and regrets not building up an alternative Blairite successor – for example, by not promoting David Miliband to a senior Cabinet post so that he could have challenged Mr Brown for the Labour leadership in 2007.
Mr Brown has had a pasting in three books published recently by Peter Watt, Labour's former general secretary; Lance Price, a former Downing Street spin doctor; and the political journalist Andrew Rawnsley, who disclosed allegations that Mr Brown bullied staff. A taster of a more sympathetic biography by journalist Suzie Mackenzie to be published in the autumn prolonged the "Bullygate" affair. She released a tape of Brown aide Stewart Wood telling her how the Prime Minister shoved him on the stairs inside No 10.
If Mr Blair holds back, the most colourful insider's version of the Blair-Brown rows which marked Mr Blair's 10 years as prime minister may now be given in the second volume of the diaries of Alastair Campbell, the former Downing Street director of communications and strategy. His first volume in 2007 spared Mr Brown's blushes. However, Mr Campbell is now advising Mr Brown and would be unlikely to publish his next installment while he is still in office.
Mr Blair is said to be anxious to describe what it is really like behind that famous front door and, inevitably, to try to influence his place in history. Although it will range more widely than Iraq, his critics will no doubt see his memoirs as an attempt to justify the war which has become the symbol of his premiership. Translation rights have been sold in 12 territories and an Arabic version is expected to appear in Iraq. Critics are bound to view the religious connotations of the title he has chosen with some suspicion.
Unlike his former communications director, Mr Blair did not keep a detailed diary while he worked at No 10. He was deliberately slow to put pen to paper when he stood down in 2007, saying he wanted to get a new life first rather than spend his time reflecting on his old one. So he has juggled the writing process with his round-the-world speaking engagements and his work as a Middle East peace envoy.
He admits that his publishers Random House have had to nag him at times. His staff ring-fenced time in his diary for writing sessions and he has written much of it on planes as he clocks up thousands of miles a year.
The man who avoided computers when he was in No 10, and only learned how to text when he left, scribbles his memoirs with a fountain pen on pads of A4 paper. A member of his staff then inputs his words. The book isn't finished yet but is said to be at the "editing and polishing stage".
Mr Blair insists it is all his own work, contrary to expectations that he would use a ghost writer like the fictional former prime minister in Robert Harris's book The Ghost who appears to have quite a lot in common with Mr Blair.
"I have tried to write a book which describes the human as much as the political dimensions of life as prime minister," Mr Blair said yesterday. "Though necessarily retrospective, it is an attempt to inform and shape current and future thinking as much as an historical account of the past. Most of all I want readers to have as much pleasure reading it as I had writing it."
The book will be published simultaneously in the UK, US and Canada and Mr Blair will go on an international tour to promote the book, which will cost £25. Random House billed it as a "frank, open, revealing and written in an intimate and accessible style". Gail Rebuck, its chief executive, who is married to Mr Blair's former pollster Lord (Philip) Gould, said the book "will break new ground in prime ministerial memoirs". Mr Blair will voice the audio version of the book, which will be published in print and electronic eBook versions.
Sonny Mehta, Mr Blair's US publisher said: "Tony Blair is an extremely popular figure in North America. His memoir is refreshing, both for its candour and vivid portrayal of political life. We all knew Blair was an extraordinary statesman and gifted thinker. We can now add exceptional writer to that list."
Yesterday there was a taste of the old TB-GB rivalry when, on the same day the publication date of Mr Blair's memoirs was announced, Mr Brown launched his own latest volume at a Downing Street reception. The Change We Choose: Speeches 2007-2009, published by Mainstream – whose parent company is also Random House – is a collection of Mr Brown's major speeches since becoming Prime Minister. It includes contributions from distinguished figures including Barack Obama, Kofi Annan and Mikhail Gorbachev. The royalties will be donated to the Jennifer Brown Research Laboratory in the University of Edinburgh set up after the death of his 10-day-old daughter in 2002.
The publishing trade predicts "huge" potential for the Blair book and that it will become the biggest-selling political memoir since Margaret Thatcher's. Mr Brown's latest work may have a more modest impact. So far his book Courage (2007) has sold almost 4,200 copies, while Britain's Everyday Heroes (2007) has sold fewer than 1,000. He has no plans to write his memoirs anytime soon.
Making history: Prime Ministers' memoirs
Winston churchill once boasted that he was sure to be treated well by history, because he was going to write it himself. He was proved right, partly because history would have treated him well anyway, and partly because he was a very fine writer. Since his day, every departing occupant of Downing Street but one has put words on paper in the hope of influencing history, and making a tidy sum of money.
Churchill started putting his boast into effect when he was leader of the opposition, after losing the 1945 election. Being a man of limitless ambition, he was not content to write a "Churchill remembers". It had to be the definitive history of the war years. It came out in six volumes between 1948 and 1954. Critics were astonished by his scale of his ambition – remembering that this was a full-time politician who was nearing his 80th birthday. The achievement won him the Nobel Prize for Literature.
Those less awed by Churchill's reputation remarked that the second volume was poorly arranged, and that the quality of the writing fell away after volume four. But the work still sells. The 1986 edition of the six volumes, covering more than 4,700 pages, is at 41,539 on Amazon's best-seller list, higher than any work by any subsequent Prime Minister.
After that, literary quality took a dive, though the money a prime minister's memoirs fetched stayed high. Churchill's successor, Anthony Eden, may have been a failure in office, but he must have had a good agent, because the serial rights of his insipid Facing the Dictators was bought by The Times for £100,000 – in 1959.
With newspapers prepared to pay prices like that, it is no wonder the memoirs kept on coming. Even the self-effacing Clement Attlee had a little book dragged out of him by a persistent publisher. Harold Macmillan, Harold Wilson, Edward Heath, James Callaghan, Margaret Thatcher and John Major all followed. The exception was Sir Alec Douglas-Home, who was Prime Minister for 362 days.
The biggest seller after Churchill was Margaret Thatcher's The Downing Street Years, which arrived in a tsunami of publicity in 1993 and sold an estimated 500,000 copies. The paperback is Amazon's 80,787th best-seller. The original print run included 250 collectors' editions with goat-skin covers and blue endpapers, which sold out immediately. No 100 in that special run, signed by the lady, is currently on sale at £2,500.
Anyone who hoped that the book would tell them something startlingly new was disappointed. Much of it read like an extended Mrs Thatcher speech, and its 850 pages revealed less about her than some television interviews she gave out of office. But, aided by a diligent research team, she produced a comprehensive, if one-sided account of her years in office, which explained the reasons for her actions in clear language.
Harold Wilson, more than any former prime minister since Churchill, wrote for money. As soon as he lost office in 1970, he dashed out a barely readable book, which was then sold to The Sunday Times for a reputed £200,000. That helped pay for Wilson's private office until he was re-elected. After he resigned in 1976, he wrote another volume, no better than the first.
Wilson at least understood the rule that these books are best written quickly, because they lose their saleability the longer the author is out of office. John Major grasped the same principle, and had his The Autobiography ready for the publishers less than two years after he left office, with a £400,000 advance to help motor him along. It sold 15,000 copies in the first three weeks, but sales soon tailed off. It would have sold many many more if he had included the one really interesting thing we have learnt about him since he left office, that he cheated on his wife with Edwina Currie.
Edward Heath did not do so well, because he took so long. Having resigned the leadership of the Conservative Party in 1975, he trousered a publisher's advance, but did not produce the goods until 1998. Even then, much of it was ghost written; it is to be doubted whether he read it all, let alone wrote it. It sold about 15,000 copies.
Andy McSmith
Join our commenting forum
Join thought-provoking conversations, follow other Independent readers and see their replies