The return of Tarzan: Heseltine swings into action aboard the 13.23 from Euston
Oliver Wright
Thursday 29 March 2012 22:42 Comments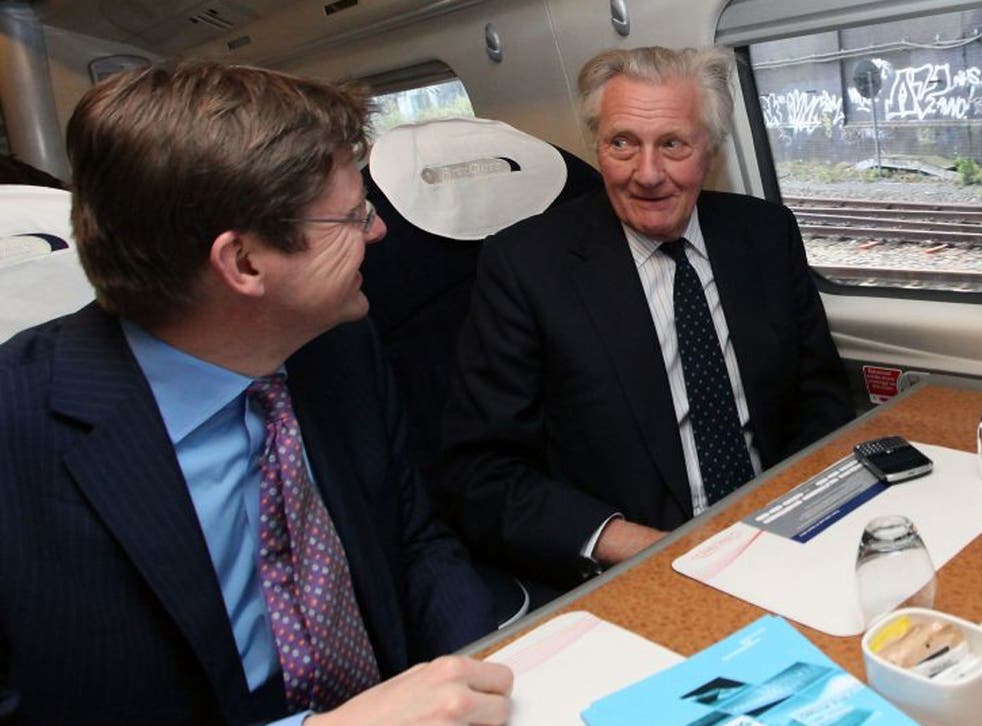 There is something slightly ironic about the supposed great and good of London getting into a first-class train carriage to Birmingham to persuade the locals about the merits of more local democracy.
Coach G of the 13.23 from Euston yesterday was full of the Westminster elite heading off to encourage Brummies to vote "yes" to a directly elected city mayor.
At the centre of attention and munching on a banana was Lord Heseltine. Age may have greyed his locks and he no longer holds elected office but he still eclipsed the Cities minister, Greg Clark – tipped for promotion to the Cabinet, but who yesterday didn't have a prayer of competing with Tarzan.
Mr Clark was asked why, if the Government was so keen on city mayors, it was refusing to give them any more powers than the council leaders they would replace.
Lord Heseltine intervened. "No, no, you're asking the wrong question," in patrician tones. "If I put the question another way, do you think Alex Salmond sits in Scotland and says, 'Oh, I wonder what powers they are going to give me?' He doesn't say that at all. He says, 'This is what I want and I'm going to fight for it'."
Lord Heseltine has done more for British cities than any other politician of his generation. "I was brought up with the old slogan that what Manchester thinks today, the world will think tomorrow," he said. "That has gone out of local politics and it is got to come back if we are going to see the regeneration of our great cities.
"The great driving force was the great provincial cities and the entrepreneurs who built them. But the wealth-creating element of the cities which were fundamental to them has been replaced by an almost exclusive priority on welfare provision. What the Government is trying to do is to recreate the entrepreneurial zeal and enthusiasm."
Register for free to continue reading
Registration is a free and easy way to support our truly independent journalism
By registering, you will also enjoy limited access to Premium articles, exclusive newsletters, commenting, and virtual events with our leading journalists
Already have an account? sign in
Join our new commenting forum
Join thought-provoking conversations, follow other Independent readers and see their replies