The 'scroungers' fight back: The welfare claimants battling to alter stereotypes
Some are reformed drug addicts. Some are single mums. All are on benefits. But they refuse to be stigmatised
Emily Dugan
Tuesday 22 July 2014 09:11 Comments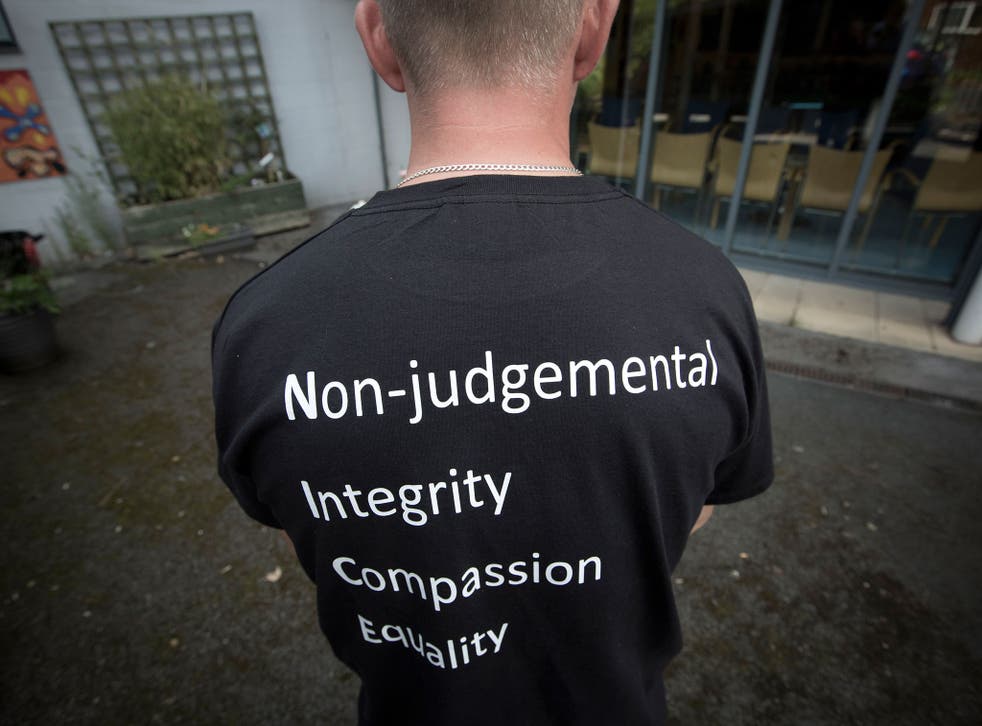 Carl Havern is a model Big Society citizen. He volunteers for three different causes every week and cares passionately about improving his community. He is also a recovering heroin addict on benefits, who has spent much of the past decade in prison.
Mr Havern is a member of a community group in Salford starting a quiet revolution against the prevailing stereotype of some of the country's most vulnerable citizens. It has been meeting every Thursday since October, plotting ways to challenge the increasingly incendiary rhetoric about people on benefits. This month the group launched to the public in the hope that others who are fed up of being labelled as scroungers will follow suit.
"I hope this changes peoples' outlook to those on benefits. We're not all sat on our arse," said Mr Haven, who spends most of his week volunteering with ex-offenders and people with mental health problems, when he's not looking for work. "I think there is a minority that are milking it, but that's the story that sells, so it's the only one you hear about in newspapers and on television."
The group's long-winded name – the Non-judgemental Integrity Compassion and Equality group – thankfully boils down to the acronym Nice. With programmes such as Benefits Street seized upon by some newspapers and politicians as another way to pillory those on benefits as parasites, Nice decided to fight back.
In a public meeting at the Beacon community centre in Salford, the 12 members told their story. Among the audience were neighbours, local police and members of their community – as well as people from Oxfam and Church Action on Poverty who helped bring the group together.
Funding cuts meant Golda Bolanda, 33, lost her job as a project coordinator for a charity in June last year. In the past four months alone she has been to interviews for more than 50 jobs but got nowhere. She says the stigma around benefits almost stopped her claiming them – until things got desperate. "I was so ashamed to go on benefits that I went for three months at home before claiming them. Every time I went to the Job Centre I was just crushed."
She is a qualified counsellor and currently volunteers as one at her local primary school while she looks for work.
"We're called scroungers, but the work that we do in the community is so important. Yes, we're on benefits, but in the meantime we're doing something."
Raymond Wright, 43, introduced the public meeting. He spent a decade in prison for armed robbery, committed at the peak of his drug addiction. Since he came out of prison three years ago he has been clean and volunteered for several causes, but he's found it impossible to find a job.
"If it was up to the media we would be pigeonholed as scroungers, immigrants, ex-drug addicts, single mums and criminals," he told the audience. "But we want to show you that we are all worth much, much more than that – and stand up to those who want to put us down. As a group, we give over 25,000 hours a year as carers, mentors, parents and volunteers, saving the government thousands of pounds every month. According to many, we are scroungers. But without people like us, society would fall apart."
Letitia Rose, 46, struggled to cope with the prejudice she encountered when she found herself with a new baby and no job. "I became the proverbial single mum on benefits in 2006," she recalls. "I'd been working as a nurse and had just spent five years in education... I felt demoralised and worthless claiming benefits."
Now she works part-time, but is still frustrated that lone mothers who stay at home face prejudice that mothers in relationships do not. "A mum with a partner gets the right to stay at home and look after the kids and bake cakes and go to pre-school without being judged. But mums on their own are seen as sitting on their backside claiming benefits. What's that saying about society and how women are being judged?"
Letitia's neighbour, Fred Pilling, 60, is also in the group. He has lived in his three-bedroom home for the past 44 years but now the bedroom tax is making it unaffordable. Now that he has £26 less in housing benefit, he is often left with just £10 to spend on food.
He has arthritis and literacy problems and survives on benefits, spending his time keeping his local area tidy. He said: "If I see rubbish I'll put a pair of gloves on and pick up the kebab boxes and pizza boxes."
Sarah Whitehead, 30, said: "We want to get a different image out there. Yes, I might be a single mum, but I'm not terrible and I'm not a scrounger. I work part-time and I help run groups for the local community and environment. The amount that we save the council by clearing things up and making sure that there aren't abandoned sofas and rubbish around would probably cover my benefits."
Register for free to continue reading
Registration is a free and easy way to support our truly independent journalism
By registering, you will also enjoy limited access to Premium articles, exclusive newsletters, commenting, and virtual events with our leading journalists
Already have an account? sign in
Join our new commenting forum
Join thought-provoking conversations, follow other Independent readers and see their replies