The South Yorkshire PPC election is a tale of two candidates – and a scandal that divides the voters
As South Yorkshire goes to the polls, Oliver Wright tests the mood on two very different high streets
Oliver Wright
Wednesday 29 October 2014 21:13 Comments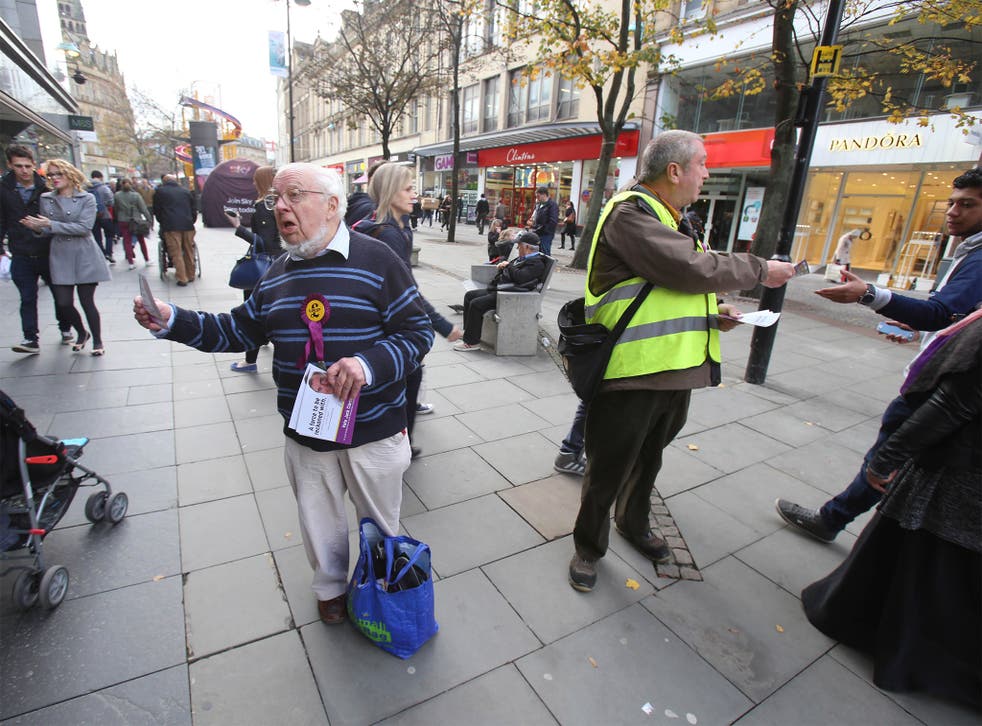 Two high streets, six-and-a-half miles between them – but two very different answers to the same question.
Ask shoppers along Sheffield's Fargate what they know about today's byelection for a new Police and Crime Commissioner and most of them look at you blankly. Even those who don't are far from sure they can be bothered to vote – and among those who say they will vote, it is tough finding anyone who is supporting Ukip. "They disgust me. They're an awful racist party," says Chloe Coleman. "I'd never vote for them."
But it is a very different reaction on Effingham Street in nearby Rotherham. Kelly Felvus, for example, says she is certain to vote and certain who's she's voting for. "I used to be Labour. But there's not a chance I'm voting for them. Not after what's happened."
'What's happened' is the reason for this byelection: the forced resignation of the Labour's previous Police and Crime Commissioner Shaun Wright – who very reluctantly fell on his sword in the wake of the child sex abuse scandal in the town, where an estimated 1,400 children were abused over a 16 year period by mainly Pakistani men. Mr Wright was the councillor responsible for children's services in Rotherham from 2005 until 2010.
The scandal, and the local Labour council's failings in dealing with it, has handed Ukip a potent and emotive campaigning tool that they have been ruthlessly exploiting in an area that used to be so solidly Labour that it was known as the People's Republic of South Yorkshire.
Last week, for example, Ukip launched a poster featuring a young woman with the slogan: "There are 1,400 reasons why you should not trust Labour again" – a reference to the estimated number of children who were sexually exploited. The poster led to some condemnation, but Ukip is gleeful about the publicity it generated. And for some voters at least, it has resonated.
"1,400 reasons not to trust Labour... it's brutal but it's accurate," says mother-of-two Tracy. "I don't particularly agree with Ukip but the corruption is so deep. They seemed to be saying it is ok to rape children."
The nightmare scenario for Labour is not just that it looses the Commissioner election but that, even if it wins, it loses the vote in both Rotherham and areas of South Yorkshire like Doncaster – part of which forms Ed Miliband's Parliamentary seat.
That would be symbolically disastrous because it would convey a message that, even in its heartlands, Labour cannot take holding off the Ukip challenge for granted.
As one Northern Labour Shadow minister put it: "At the next election I've been planning to spend a lot of my time in the marginal seats we need to win. But Ukip is making me look over my shoulder at my own seat."
Labour has wisely chosen as its candidate someone as far removed from the scandal as it is possible to get. Alan Billings is a retired Anglican priest and academic who is known for his regular appearances on Radio 4's Thought For The Day. Until recently, he was also a member of the Youth Justice Board, and although he once served as deputy leader of Sheffield City Council in the 1980s, he is untainted by the more recent scandal.
Mr Billings admits that the issue has "dogged" the Labour campaign in Rotherham and to a lesser extent Doncaster but is not an issue in Sheffield (by far the largest conurbation) or Barnsley. "You never hear it mentioned in Sheffield unless you raise it yourself," he says.
Mr Billings makes the not unreasonable point that whoever is elected as PCC will have their work cut out – not just dealing with the aftermath of Rotherham, but also with the historic scandals facing South Yorkshire Police such as how it dealt with the miners strike and the Hillsborough disaster. His Ukip opponent, he points out, was a lifelong officer in the force.
"The whole point of this job is to hold the police to account," he says. "It would be a terrible mistake for an ex-policeman to be elected as the person responsible for holding his former force to account."
Not surprisingly, Jack Clarkson, his Ukip opponent strongly disagrees. He points out that he left the force nine years ago but adds: "If your car is broken you're going to call a mechanic, you're not going to take it to a hairdresser. I'd know if the police were trying to pull the wool over my eyes."
He also believes that he is the right person to oversee the ongoing inquiries into Rotherham because, he says, as a former policeman he will be tougher than Mr Billings.
"I want a criminal investigation. I want to right a wrong. The electorate can choose between that and the candyfloss and forgiveness of Labour's reverend politician."
Profiles: the PCC candidates
Jack Clarkson (Ukip)
Former South Yorkshire policeman and Lib Dem Sheffield councillor who joined Ukip in 2012.
Alan Billings (Labour)
A retired Anglican priest and religious scholar who helped write the Church of England's anti-Thatcherite 'Faith in the City' report in the 1980s.
David Allen (English Democrats)
A sales manager from Doncaster who came second in the inaugral PPC election in 2012. Doncaster also elected an English Democrat mayor.
Ian Walker (Conservatives)
The managing director of Rotary Electrical Uk. He was brought up in Sheffield and has lived in the city for the last 20 years.
The Liberal Democrats are not fielding a candidate.
Register for free to continue reading
Registration is a free and easy way to support our truly independent journalism
By registering, you will also enjoy limited access to Premium articles, exclusive newsletters, commenting, and virtual events with our leading journalists
Already have an account? sign in
Join our new commenting forum
Join thought-provoking conversations, follow other Independent readers and see their replies