'There's no magic money tree': David Cameron and Nick Clegg slap down Vince Cable for suggesting government could jumpstart flatlining economy by increasing borrowing
Downing Street insists PM is 'sticking to the course' despite Liberal Democrat Business Secretary's comments
Andrew Grice
Thursday 07 March 2013 13:46 Comments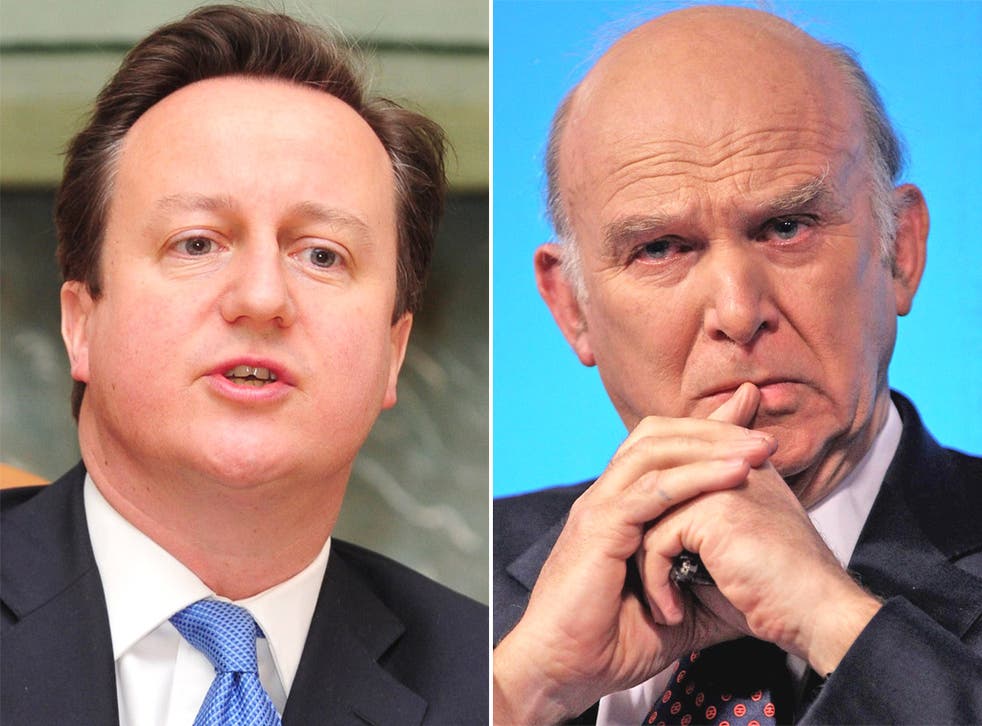 David Cameron declared today that there is "no magic money tree" as he and Nick Clegg slapped down Vince Cable for suggesting that the Government should increase borrowing to fund major building projects to jumpstart the flatlining economy. Reiterating Margaret Thatcher's message, the Prime Minister declared: "There is no alternative."
After the Liberal Democrat Business Secretary raised the prospect of boosting spending on housing, school building, road and rail projects, Downing Street insisted that Mr Cameron was "sticking to the course" and ruled out a change of economic strategy.
The Prime Minister repeated the "no change" line in a keynote speech in West Yorkshire this afternoon. He said: "There are some people who think we don't have to take all these tough decisions to deal with our debts. They say that our focus on deficit reduction is damaging growth. And what we need to do is to spend more and borrow more. It's as if they think there's some magic money tree. Well let me tell you a plain truth: there isn't."
Insisting that the Government would reject "false choices," Mr Cameron added: "There's not some choice between dealing with our debts and planning for growth."
Attacking Labour's call for higher borrowing, the Prime Minister added: "There's no magic money tree to fund this ever more wishful borrowing and spending. Labour's plan is completely incredible. And we won't be following it. We'll be sticking with ours. And at the same time as dealing with our debts."
He argued: "the very moment when we're just getting some signs that we can turn our economy round and make our country a success is the very moment to hold firm to the path we have set. And yes the path ahead is tough.
"But be in no doubt. The decisions we make now will set the course of our economic future for years to come. And while some would falter and plunge us back into the abyss. We will stick to the course."
Mr Cameron said: "This month's Budget will be about sticking to the course. Because there is no alternative that will secure our country's future. "
He added: "We are making tough choices about our future. But we are making the right choices. If there was another way I would take it. But there is no alternative."
Mr Clegg joined Number 10 in warning that higher borrowing could end the UK's record low interest rates, meaning higher costs for home-buyers and businesses. The Lib Dem Deputy Prime Minister said everyone in the Government wanted to see more capital spending, but the question was how to pay for it.
"I am afraid there is no cost free, risk free magic wand," Mr Clegg told London's LBC Radio. "If you do decide to say to hell with it, let's borrow £40bn, £20bn, huge amounts of money – because the only point of doing this is if you do it on a big scale – the risk of course, and I'm sure Vince acknowledges this, is that unwittingly of course, you then make it more difficult for everybody else because interest rates might then go up."
Mr Cameron's official spokesman said today: "He thinks it is very important that the Government sticks to the course –the current deficit-reduction policy."
Number 10 and Mr Clegg tried to play down differences between the Coalition's two parties. But some Conservative MPs were angry that Mr Cable's intervention, in an article for the New Statesman magazine, had overshadowed Mr Cameron's speech, designed to lower expectations ahead of the Budget on March 20.
Although Labour wants higher borrowing to kickstart growth, Mr Cable denied he was departing from Coalition policy or advocating a Plan B. He said today: ""We just need to pursue what I've often called Plan A-plus. That is financial discipline and getting down the deficit and at the same time pursuing growth. That's what we are doing and will continue to do."
Ed Balls, the shadow Chancellor, said: "Families, pensioners and businesses across Britain will wonder what planet David Cameron is on. He claims the economy is getting better and his plan is working, but everyone else knows that the economy is flatlining, living standards are falling and the deficit is rising to pay for the costs of economic failure. This defensive speech cannot mask the total failure of this Government's economic plan and growing divisions in a Cabinet which is now openly debating the need for a change of direction."
Register for free to continue reading
Registration is a free and easy way to support our truly independent journalism
By registering, you will also enjoy limited access to Premium articles, exclusive newsletters, commenting, and virtual events with our leading journalists
Already have an account? sign in
Join our new commenting forum
Join thought-provoking conversations, follow other Independent readers and see their replies