Theresa May blew £20,000 on RAF plane to fly Arlene Foster home to Belfast
Tories left to foot the bill because it would breach anti-corruption rules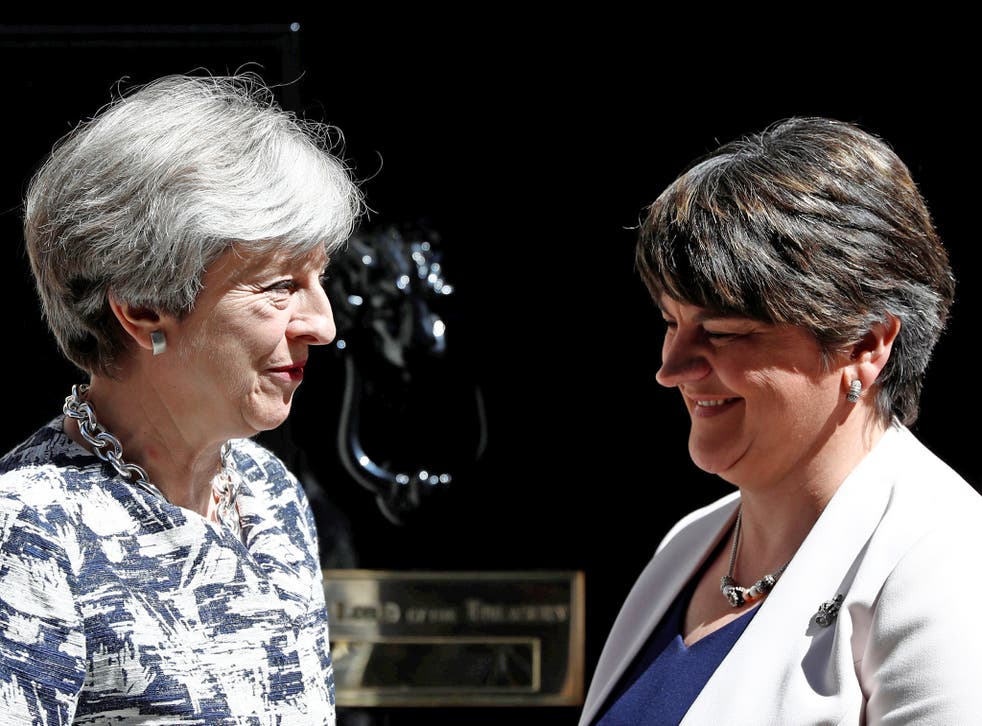 Theresa May spent £20,000 on an RAF plane to fly Arlene Foster home after the DUP leader signed the £1bn deal to prop up the Conservative Government.
Ms Foster is said to have been given a ride in the military aircraft from No 10 in London to her home in Belfast.
Now the Tories will have to foot the bill after being told that taxpayers could not pay for the trip because it would breach anti-sleaze rules which ban ministers from charging taxpayers for political activities, the Mail on Sunday reports.
The Sunday paper estimates the Conservative party will have to pay up to £20,000 for Ms Foster's journey home.
The Tories said the flight had enabled Ms Foster to return promptly to negotiations about forming a power-sharing executive in Northern Ireland and break the impasse between the DUP and Sinn Fein.
But opposition parties were quick to criticise the expensive trip, which followed Ms May's pledge for extra public spending in Northern Ireland and extra cash raising powers for the Northern Ireland executive to help her prop up her minority government.
The deal raised eyebrows among some Tories but Michael Gove defended it on the Andrew Marr Show saying everyone would benefit from the extra cash in Northern Ireland because it meant Ms May would continue to deliver a "secure and stable government".
Labour leader Jeremy Corbyn slammed the private shuttle as "a shoddy bung" and asked for answers over how the government had intended to pay for the bill in the first place.
He said: "Theresa May has already given an extra £1 billion to Northern Ireland to hang on to power and now it appears she gave a free RAF flight to Arlene Foster to seal the deal.
"This is a shoddy bung to shore up a government that has lost its mandate. The Conservatives must come clean. Did they try to make the taxpayer foot the bill for this flight and how often does the Tory Party book RAF flights?"
Lib Dem leader Tim Farron also said it is not for the Prime Minister to use the RAF as "a personal taxi service".
UK news in pictures

Show all 50
A Conservative Party spokesman denied any wrongdoing and said the aircraft had been used so Ms Foster could return sooner to negotiations with the nationalists in Northern Ireland.
"Arlene Foster was in London to conclude the signing of the confidence and supply agreement. The Conservative Party paid for a flight back to Belfast to allow her swiftly to resume talks on re-establishing a power-sharing executive in Northern Ireland," he said.
A DUP spokesman did not respond to requests for comment.
Join our new commenting forum
Join thought-provoking conversations, follow other Independent readers and see their replies