Theresa May 'tried to alter drug report because she didn't like its conclusions'
Mr Clegg claims original draft of report was subject to an 'endless wrangle between Lib Dem ministers and Theresa May'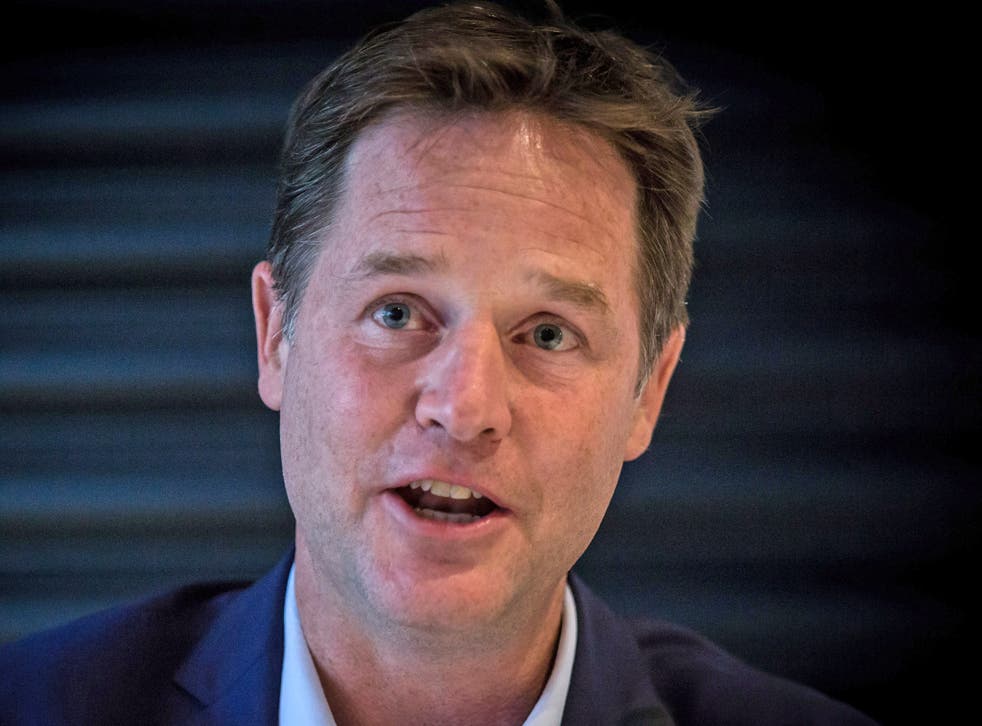 Theresa May and her aides attempted to delete sentences they didn't agree with from a report on drugs, the former deputy Prime Minister Nick Clegg has claimed.
The Liberal Democrat MP told the Guardian, the Home Secretary "didn't like the conclusions" of a report released in 2014, which found no clear link between harsh drugs laws and illegal drug use.
The report, Drugs: International Comparators, said its fact-finding did not "observe any obvious relationship between the toughness of a country's enforcement against drug possession, and levels of drug use", sparking requests for further talks regarding decriminalisation.
The conclusions were derived from Portuguese data, where the report found there had been "considerable" health improvements since the country began to treat drug possession as a health rather than a criminal issue.
Mr Clegg, who sits on the Global Commission on Drugs Policy, was one of a number prominent figures who signed an open letter to the UN Secretary General, Ban Ki-moon, urging the UN to review its 20-year campaign to rid the world of illegal drugs, ahead of a special summit in New York next week.
In 1998, the UN formally committed itself to abolishing illegal drugs worldwide within 10 years. Recently, however, a reactionary movement has emerged which holds that the so-called War on Drugs, rather than helping the world, has created vast and powerful criminal networks and endless cycles of violence.
World's 10 deadliest street drugs

Show all 10
The summit, set to open on 19 April, is likely to be a landmark meeting as it appears it will offer a platform to those who question the current drugs policy for the first time.
The session was brought forward two years at the request of Mexico, Guatemala and Colombia, three countries on the front lines of the narcotics conflict.
Mr Clegg told the Guardian said the original draft of the 2014 report had been subject to an "endless wrangle between Lib Dem ministers and Theresa May about the fullness of what would be published", arguing that there would be no change whatsoever as long as she led the Home Office.
A Home Office spokesperson said: "The UK's approach on drugs remains clear: we must prevent drug use in our communities and help dependent individuals to recover, while ensuring our drugs laws are enforced.
"We have seen a reduction in drug misuse amongst adults and young people over the last 10 years and more people are recovering from their dependency now than in 2009/10. Decriminalising drugs would not eliminate the crime committed by their illicit trade, nor would it address the harms and destruction associated with drug dependence.
"The International Comparators Study does not say there is no link or impact between tough penalties and drug use. It makes clear that approaches to drugs legislation and enforcement of drugs possession are only one element of a complex set of factors that affect drugs use, including prevention, treatment and wider social and cultural factors."
The move marks one of Mr Clegg's first campaigns since stepping down as leader of the Liberal Democrats after their general election disaster.
Nick Clegg on election defeat: 'The first thing I do is reach for a cigarette'
Last year Mr Clegg launched a campaign to persuade EU leaders to back global reform of drug laws, warning that the current punitive approach has failed to curb the multibillion trade in illicit substances and has criminalised millions of young people.
Writing in The Independent, he said: "We are, without doubt, losing the war on drugs."
Register for free to continue reading
Registration is a free and easy way to support our truly independent journalism
By registering, you will also enjoy limited access to Premium articles, exclusive newsletters, commenting, and virtual events with our leading journalists
Already have an account? sign in
Register for free to continue reading
Registration is a free and easy way to support our truly independent journalism
By registering, you will also enjoy limited access to Premium articles, exclusive newsletters, commenting, and virtual events with our leading journalists
Already have an account? sign in
Join our new commenting forum
Join thought-provoking conversations, follow other Independent readers and see their replies