Theresa May's proposed army number cuts faces 'very substantial rebellion' from Tory backbenchers
Conservative MPs line up to warn the Government to find extra funds for defence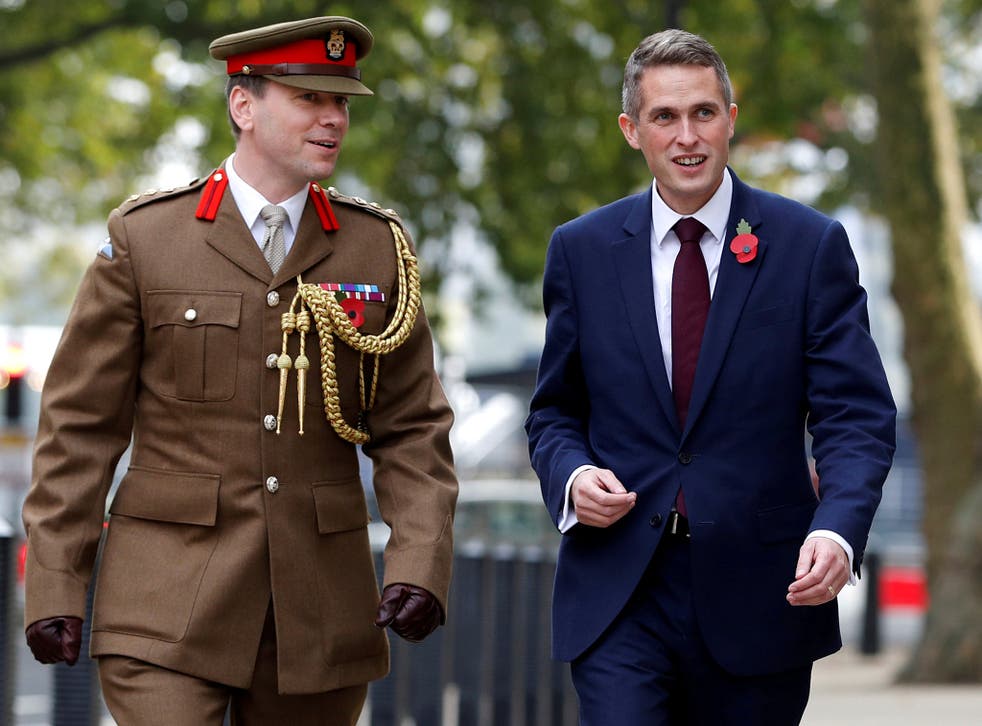 The Government has been warned that a "very substantial rebellion" was brewing among Tory MPs over potential defence cuts, which could see army numbers slashed to below 70,000.
Newly-elected Defence Secretary Gavin Williamson was told his colleagues were in "open rebellion" at proposals to reduce the army's full-time strength, which have already drawn threats of resignation from Defence Minister Tobias Ellwood.
It comes as Tory MP and former army officer Johnny Mercer warned up to 30 Conservatives were prepared to "hold the Government's feet to the fire" on defence spending - in comments likely alarm the weakened Prime Minister, whose lack of parliamentary majority makes her vulnerable to even a small number of rebels.
Speculation over defence cuts has mounted since the launch of a review by Theresa May's national security adviser Mark Sedwill, but the Ministry of Defence (MoD) insists that the no decisions have been made and the claims were only conjecture.
Conservative MP James Gray, addrssing Mr Williamson in the Commons, said: "Will he speak to the national security adviser, and indeed the Secretary of State at the Cabinet Office, to remind them that they must not use this review as some kind of camouflage to cut our services?
"Will he speak to the Chancellor of the Exchequer to make sure he digs deep in his pockets to produce the money we need?
"And above all, will he speak to the Chief Whip to remind him if he does not do so he's going to be facing a very substantial rebellion?"
Former Tory defence minister Mark Francois also intervened, saying the defence of the realm is "the first duty of Government above all others", while shadow defence secretary Nia Griffith said Tory backbenchers were in "open rebellion" on the proposed cuts.
Mr Williamson, in his first Commons appearance since he took on the role, said he wanted to understand the threats faced by the UK, with a defence review ongoing across Government.
He replied: "I can assure him I will speak to every single one of those people that he has outlined.
"And as he rightly points out, the defence of our nation is the first and primary responsibility of every government. That is one I take exceptionally seriously."
The new Defence Secretary also talked tough on the Government's commitment to meeting the Nato target of spending 2 per cent of GDP on defence, describing it as "a base rather than a ceiling" following calls to boost expenditure to 3 per cent.
However Mr Williamson sidestepped questions on whether he had pushed Chancellor Philip Hammond to boost defence spending before the Budget.
UK news in pictures

Show all 50
MPs also urged him to push for the cost of the Trident nuclear deterrent to be taken out of the defence budget, something he indicated was being examined as part of a Whitehall review.
It comes after former soldier Mr Ellwood made headlines at the weekend after telling colleagues he was "deeply concerned" at proposals to cut army numbers and hinting he was prepared to resign over the issue.
His calls were backed by an increasingly influential group of former servicemen within the Tory party, including ex-army officers Tom Tugendhat and Mr Mercer, both of whom have pledged to fight any cuts to the armed forces.
Join our new commenting forum
Join thought-provoking conversations, follow other Independent readers and see their replies