Brexit bill: Theresa May 'showing contempt for Parliament' with plan to rush through Article 50 legislation in five days
PM branded a 'disgrace' over timetable for legislation to begin process of withdrawal from EU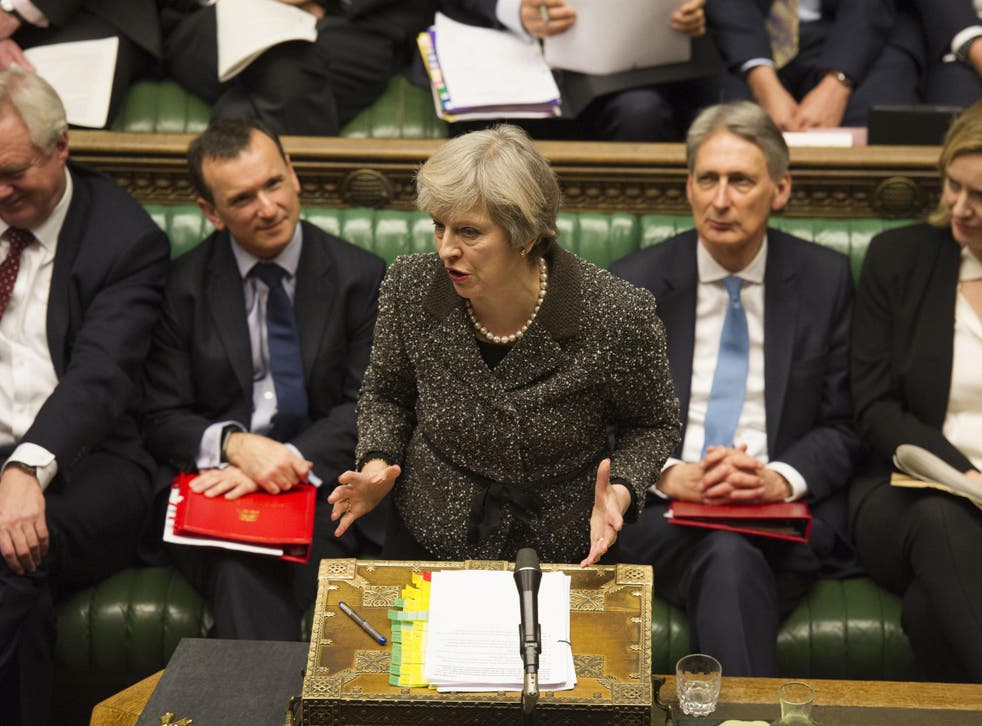 MPs have accused Theresa May of "contempt" for the Commons after plans were announced to rush the Article 50 Bill through in just five days.
The legislation – to start the Brexit process – will begin its progress next Tuesday, with a second reading vote the following day.
There will then be just three days of line-by-line scrutiny in a committee the following week, to ensure the Bill clears the Commons before MPs' mid-February break.
It will then go to the House of Lords, with the intention it will receive Royal Assent in early March, ahead of the Prime Minister's deadline to trigger Article 50 by the end of March.
Labour MPs reacted with anger, accusing ministers of trying to obstruct attempts to amend the passage of the most important legislation for a generation. Chuka Umunna accused the Government of trying to "muzzle" the Commons.
Ex-frontbencher Chris Leslie, a leading supporter of the Open Britain campaign calling for close links to Brussels, said: "The Government had to be dragged kicking and screaming by the courts to bring this Bill before Parliament and yet they still seem determined to gag parliamentarians as much as possible.
"It is simply unacceptable for ministers to try and railroad this incredibly important law through Parliament without sufficient time for proper debate.
"It beggars belief that we will have far less time to debate the legislation that takes us out of the EU than we did previous European treaties.
"This is the most significant law we've ever debated on our relationship with Europe and yet the Government will only give it an eighth of the time that was spent on the Maastricht Treaty."
Another backbencher, Ben Bradshaw, condemned the plan as a "contempt of Parliament", calling on MPs to vote down the fast-track timetable.
Theresa May pledges white paper on Brexit strategy
He said on Twitter: "The Tories' restriction of debate on detail of #Article50 to just 3 days is a disgrace. @UKLabour must oppose this contempt for Parliament
Labour MP David Lammy tweeted: "2 days to debate 2nd Reading of Brexit Bill shows contempt for Parliamentary sovereignty. Most important decision taken for generations."
The Liberal Democrats have vowed to oppose the Bill unless there is a guarantee of a fresh public vote on the final Brexit deal agreed with Brussels, and the SNP has indicated its MPs will table 50 amendments to the legislation.
SNP Commons leader Pete Wishart said "everything will be rushed through" and concluded within days for the Bill, as he pressed the Government to publish its Brexit White Paper before committee stage.
But Commons Leader David Lidington, who announced the timetable, accused MPs of expressing "synthetic rage" and insisted that plenty of time has been given to what will be a two-clause Bill.
Register for free to continue reading
Registration is a free and easy way to support our truly independent journalism
By registering, you will also enjoy limited access to Premium articles, exclusive newsletters, commenting, and virtual events with our leading journalists
Already have an account? sign in
Register for free to continue reading
Registration is a free and easy way to support our truly independent journalism
By registering, you will also enjoy limited access to Premium articles, exclusive newsletters, commenting, and virtual events with our leading journalists
Already have an account? sign in
Join our new commenting forum
Join thought-provoking conversations, follow other Independent readers and see their replies