Theresa May says she will celebrate the centenary of Balfour declaration with 'pride'
Ms May added: 'We must also be conscious of the sensitivities that some people do have about the Balfour declaration and we recognise that there is more work to be done'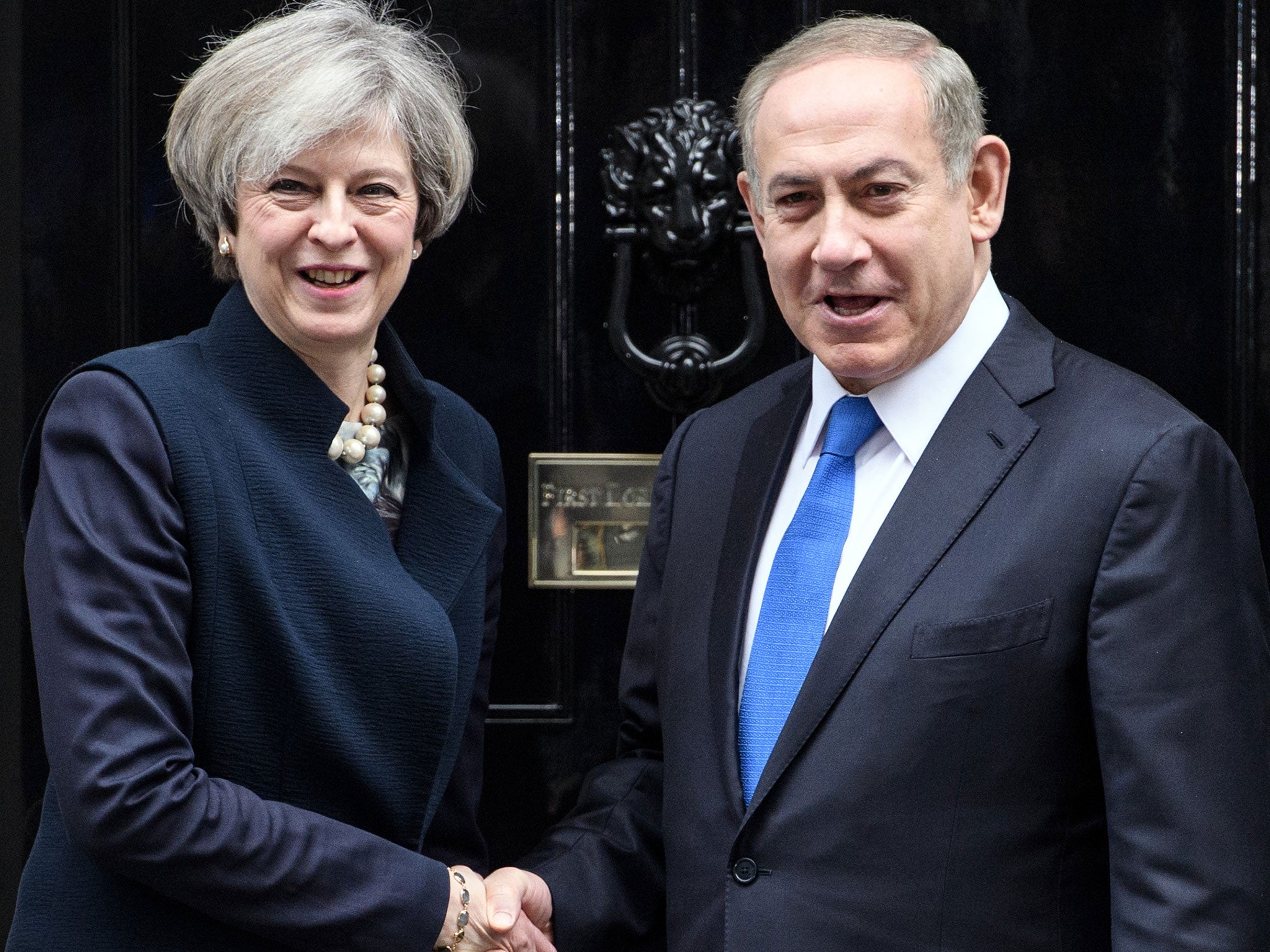 Theresa May has said she will celebrate the centenary of the Balfour declaration, which paved the way for the creation of Israel, with "pride" next week.
After welcoming Benjamin Netanyahu to London, Ms May and the Israeli Prime Minister will dine together at an exclusive event to celebrate the historic promise made in 1917 that the British Government would use its "best endeavours" to facilitate the creation of a Jewish homeland in Palestine.
Jeremy Corbyn, the Labour leader, will not be attending the high-profile event but the party's Foreign Secretary Emily Thornberry will be taking his place.
Speaking in the Commons, the Prime Minister added: "We are proud of the role that we played in the creation of state of Israel and we will certainly mark the centenary with pride.
"I am also pleased that good trade relations and other relations that we have with Israel we are building on and enhancing.
"We must also be conscious of the sensitivities that some people do have about the Balfour declaration and we recognise that there is more work to be done. We remain committed to the two state solution in relation to Israel and the Palestinians."
Ms May's comments came ahead of a Westminster Hall debate on the declaration – organised by the Conservative MP Dr Matthew Offord – during which a range of cross-party MPs echoed Ms May's comments.
Mr Offord said that since its creation Israel has stood as a "bastion of freedom and democracy in a region where liberties cannot be taken for granted".
But others said the centenary cannot be met with "unbridled celebration and joy".
Naz Shah, the Labour MP for Bradford, said: "While the state of Israel has come to exist over the last 100 years and this document is largely symbolic of a changing in attitude – certainly within this country – to have a notion of a Jewish nation co-exisiting in Palestine it is crucial that the next 50 years from 1917 played a far more important role."
"What is clear that the vision laid out in the letter was always certain to fail," Ms Shah added.
"Some 5m Palestinians of varying descent live as displaced refugees living by and large in poverty across the Middle East. 2.5m live in torturous conditions within the occupied West Bank and 1.7m people live in the largest open prison camp on the planet in Gaza with no basic rights, no citizenship and no hope of a lasting future."
Join our commenting forum
Join thought-provoking conversations, follow other Independent readers and see their replies