Theresa May must say what she wants from Brexit within weeks or risk others deciding for her, says ex-minister
Nicky Morgan said the Prime Minister has the perfect chance at Conservative conference to set out a broad plan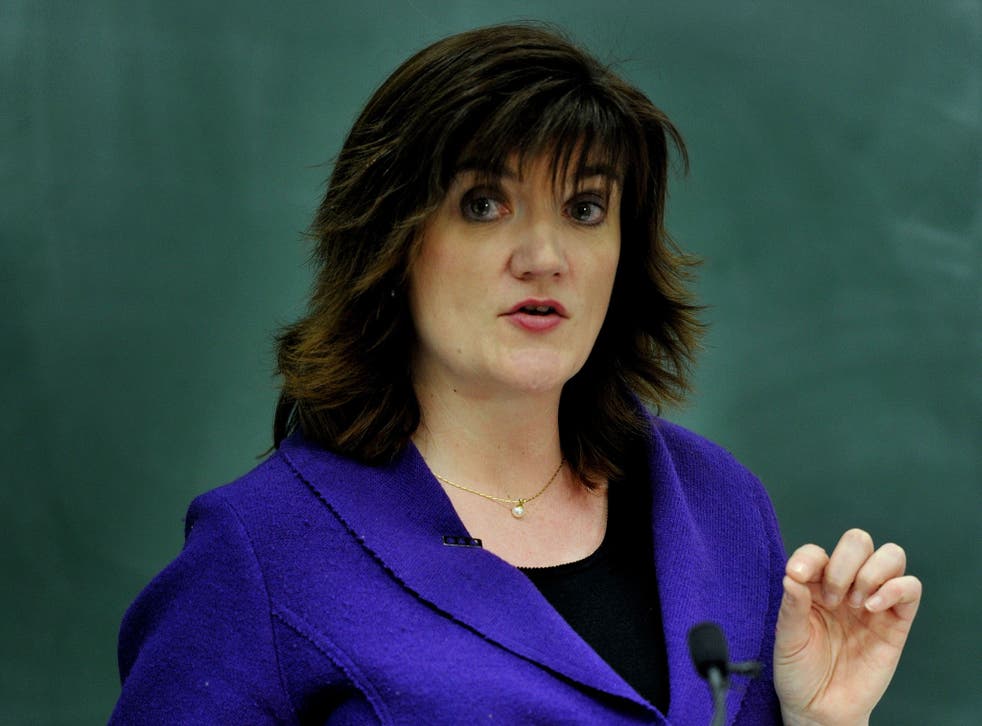 A former cabinet minister has warned Theresa May she is allowing others to set the terms of Brexit and said the Prime Minister must be clearer on what she wants from any deal.
Former Education Secretary Nicky Morgan said that instead of leaving it to cabinet Brexiteers, Ms May should herself lead policy on the European Union and set out a broad plan as early as next week.
It comes as former Chancellor Ken Clarke claimed that "nobody in the Government has the first idea" what to do about Brexit.
Ms Morgan said: "There is a danger. At the moment, there has been a lack of a plan from our Government about the negotiating, the process, what's going to happen, what we're going to ask for.
"The longer that gap is left, the more likely it is that, as we are beginning to see, people are taking up positions, whether it's a hard Brexit, a soft Brexit ... there is a danger that we will start finding ourselves, the Government will find itself, in a position where other people are setting the terms of the debate."
She said cabinet ministers such as Liam Fox, David Davis and Boris Johnson had signalled that freedom of movement should be abolished, but she warned this could damage the NHS and other services reliant on foreign workers.
What experts have said about Brexit

Show all 11
Speaking to the BBC, Ms Morgan said: "The Prime Minister has to be the one leading this. I don't think that's something she wanted to see."
She went on: "There does need to be a clear plan from the top of Government about what it is that we are looking for ... certainly in the next couple of months. There's obviously an opportunity – the Prime Minister will be giving a speech at the party conference next week.
Boris Johnson goes 'off script' about when Brexit should happen
"I wouldn't say all the details, but a broad outline. The principles, if you like, that are important to the Prime Minister, to the Government, that balance between freedom of movement, having people come here to work, to contirubte, to pay taxes, and access to the single market."
In an interview with the New Statesman, Mr Clarke also launched an attack on Ms May's handling of the Brexit issue.
He said: "Nobody in the Government has the first idea of what they're going to do next on the Brexit front."
Slamming what he regarded as a lack of ideas coming from Dr Fox, Mr Johnson and Mr Davis, whom he called the "three Brexiteers", he added: "Serious uncertainty in your trading and political relationships with the rest of the world is dangerous if you allow it to persist.
Jean-Claude Juncker says Brexit talks must start 'as soon as possible'
"Whatever is negotiated will be denounced by the ultra-Eurosceptics as a betrayal. Theresa May has had the misfortune of taking over at the most impossible time. She faces an appalling problem of trying to get these 'three Brexiteers' to agree."
Meanwhile, Dr Fox told The Spectator the Government was taking a "methodical" and inclusive approach, adding: "It's not a question of everyone having a say. It's everyone being in the debate."
Register for free to continue reading
Registration is a free and easy way to support our truly independent journalism
By registering, you will also enjoy limited access to Premium articles, exclusive newsletters, commenting, and virtual events with our leading journalists
Already have an account? sign in
Join our new commenting forum
Join thought-provoking conversations, follow other Independent readers and see their replies