Theresa May makes 'unashamed' vow to use UK aid to boost British private sector in Africa
The prime minister will say billions of pounds of aid cash will help companies 'take root and grow' in Africa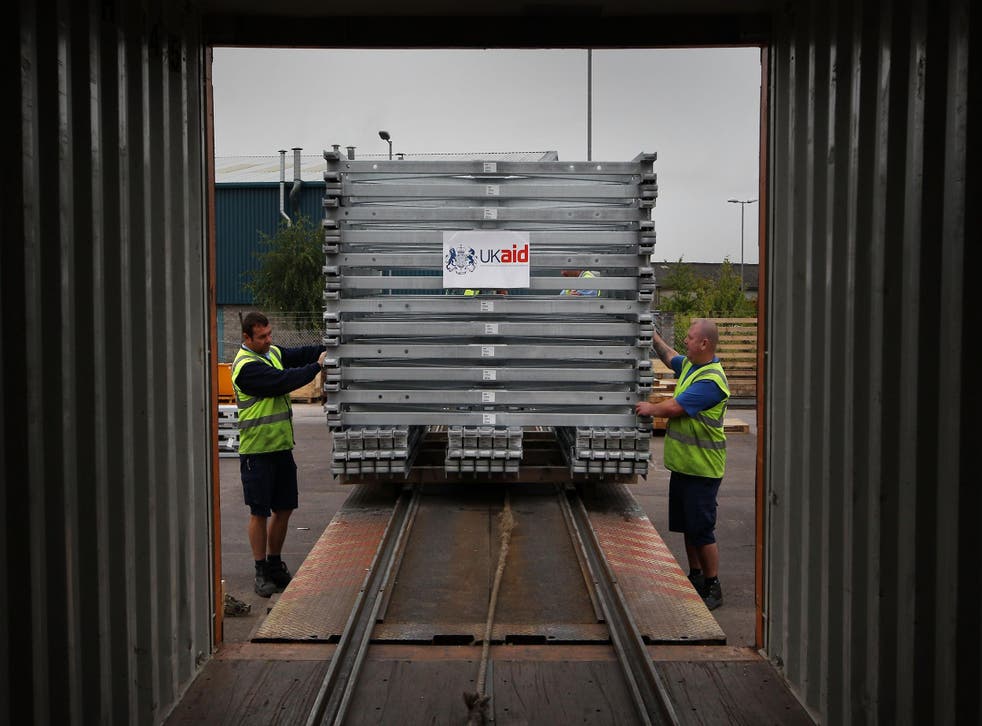 Theresa May is to make an "unashamed" pledge to use the UK's aid budget to help private British companies invest more in Africa than competitors from any other country.
The prime minister will say she wants investment levels from UK firms into projects on the continent to outstrip that from the US and France by 2022.
But her commitment to deploy aid money to "support the private sector to take root and grow", will likely be questioned by charities and NGOs already concerned with the government's approach.
Ms May embarked on a three-day visit to South Africa, Nigeria and Kenya with ministers and business people on Monday, promising to transform Britain's relations with the nations as it tries to carve out a post-Brexit role in the world.
British firms have drastically rolled back their involvement in African ventures since 2010, with the US remaining the biggest international investor and both China and France looking to boost their activity.
But at a speech in Cape Town on the first day of her visit, she will say: "I can today announce a new ambition, by 2022 I want the UK to be the G7's number one investor in Africa, with Britain's private sector companies taking the lead in investing the billions that will see African economies growing by trillions."
South African Apartheid-era vehicle of war turned into art using 70 million glass beads
According to UN figures published last year US foreign direct investment fell from £50bn in 2010 to £43bn in 2015, France's FDI fell from £42bn to £40bn over the same period.
But amid the financial crisis and austerity economics, private investment from the UK economy fell far faster – from £45bn to £37bn – with Ms May now vowing to use the aid budget to bring it back to levels not seen in a decade.
Ms May will say: "I am unashamed about the need to ensure that our aid programme works for the UK. So today I am committing that our development spending will not only combat extreme poverty, but at the same time tackle global challenges and support our own national interest."
In a section of the speech dealing with the "changing face" of the UK's aid spending, she will argue it is the private sector that is the key to driving growth in Africa.
But she will then add: "However, for a variety of reasons the private sector has not yet managed to deliver the level of job creation and investment that many African nations need.
"So I want to put our development budget and expertise at the centre of our partnership as part of an ambitious new approach – and use this to support the private sector to take root and grow."
World news in pictures

Show all 50
The proportion of the £14bn aid budget spent in Africa as a whole, has also fallen in recent years as funds have been diverted to support British goals in other places like Syria and Afghanistan.
When her chartered RAF Voyager touches down in Cape Town on Tuesday, Ms May will have a trade delegation with her that will aim to showcase British innovation and nurture the country's post-Brexit export prospects.
The last time a British prime minister visited sub-Saharan Africa was in December 2013 when David Cameron attended Nelson Mandela's funeral.
He had intended to return in the summer of 2016 in the final days of his premiership but the planned visit was abandoned amid the turmoil following the Brexit referendum.
Ms May has never visited sub-Saharan Africa, with her only previous trip to the continent a visit to Tunisia in 2015 in the aftermath of the Sousse hotel terror attack.
Register for free to continue reading
Registration is a free and easy way to support our truly independent journalism
By registering, you will also enjoy limited access to Premium articles, exclusive newsletters, commenting, and virtual events with our leading journalists
Already have an account? sign in
Register for free to continue reading
Registration is a free and easy way to support our truly independent journalism
By registering, you will also enjoy limited access to Premium articles, exclusive newsletters, commenting, and virtual events with our leading journalists
Already have an account? sign in
Join our new commenting forum
Join thought-provoking conversations, follow other Independent readers and see their replies