Theresa May denies she has 'lost control' of the Cabinet after Boris Johnson lays out Brexit manifesto
'This Government is driven from the front and we are all going to the same destination'
Rob Merrick
Monday 18 September 2017 19:42 Comments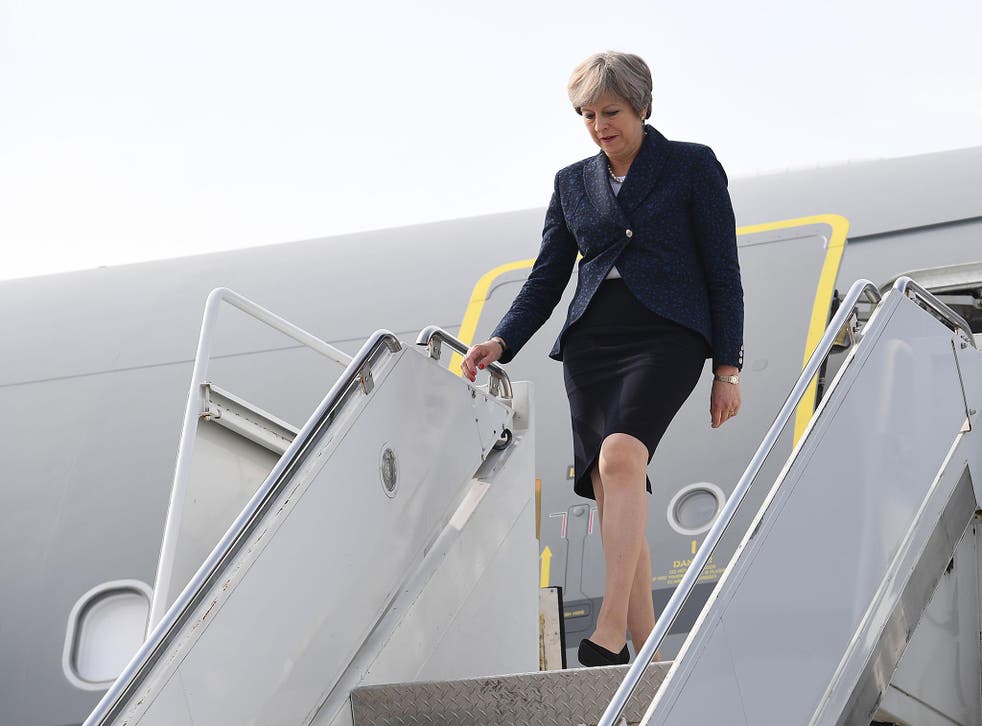 Theresa May has delivered an "I'm in charge" rebuke to Boris Johnson after his open challenge to her Brexit policy, insisting her government is "driven from the front".
The Prime Minister denied she had "lost control" of her Cabinet, claiming it was agreed on the "same destination" for leaving the EU – despite the clear split with her Foreign Secretary.
Ms May also slapped down his call for an extra £350m a week for the NHS after Brexit, saying: "That will be a decision that will be taken at the time."
Asked, en route to trade talks in Canada with Prime Minister Justin Trudeau, if she feared Mr Johnson was poised to resign to fight for a harder Brexit, the Prime Minister swerved the question.
"We are all agreed as a Government about the importance of ensuring that we get the right deal for Brexit," she told journalists. "We are optimistic about what we can be achieving."
Asked if, after Mr Johnson's challenge, she was "truly in charge", Ms May replied: "This Government is driven from the front and we are all going to the same destination."
UK news in pictures

Show all 50
The Prime Minister was forced to reassert her battered authority after Mr Johnson published his personal 4,200-word vision for Brexit – seen by many as a leadership bid.
His stance that Britain should not pay into EU coffers during a transition phase came just days before Ms May is expected to agree to such payments, to try to kick-start the stalled exit talks.
The Foreign Secretary appears to sniff betrayal and resents being kept out of the loop as other Cabinet heavyweights seek to steer the Prime Minister towards concessions.
Boris blasted over Brexit blueprint
Mr Johnson spoke to journalists at the UN general assembly in New York, on Monday and fielded questions about his Brexit article and his future role in Government.
"I am trying to say once you take back control there are opportunities," he told reporters.
"We do not want to be paying extortionate sums for access to the single market."
"It is pretty important that it should not be too long and business should have a clear sense about where we are going and what it is like at the end of it."
Asked if he would resign, the Home Secretary said: "I think you may be barking up the wrong tree.
"On the transition period I can see some vital importance of having some clarity and certainty since what all of us want is that it should not be too long.
"Let us not try and find rows where there are really not rows.
"People want to know where we are going. It is good to have a bit of an opening drum roll about what this country can do."
He added: "When the burden of office is lifted from my shoulders I will of course look back with great pride on my time doing all sorts of things."
Speaking on the plane to Ottawa, Ms May also:
* Tried to dismiss the threat posed by Mr Johnson's revolt by saying "Boris is Boris"
* Acknowledged that ongoing payments after departure in 2019 were "part of the negotiations" – and did not deny rumours of £10bn a year for three years
* Ducked a question asking if she would order Cabinet ministers not to "set out personal manifestos".
* Refused to back Mr Johnson in his spat with the UK Statistics Authority over his claim that Britain will reclaim £350m a week – saying only that the sum varied "year on year".
* Played down suggestions of seeking a Brexit breakthrough in one-to-one talks with EU leaders when she goes to the United Nations in New York – admitting the European Commission was in charge of the negotiating process.
Amber Rudd says she doesn't want Boris backseat driving Brexit
On the suggestion that Britain will agree to hand over £10bn a year for market access up to 2022, Ms May said "Lots of figures have been thrown round, lots of figures have been stated over the last few months
"What we are doing is sitting down with the European Union negotiating this."
However, "year on year on year, we will not be sending huge sums of money into the European Union", she insisted.
Asked if the NHS would be "top of the list" for any funds released by Brexit, the Prime Minister replied: "We will have to decide as a Government how to spend that money."
After Canada and the UN General Assembly, Ms May is expected to open the door to continuing payments into the EU, after 2019, when she delivers her crucial Brexit speech in Florence on Friday,
Some Conservatives speculate that could be the trigger for Mr Johnson to walk out and mount a leadership bid – while other Tories are angry he has not been sacked already.
Register for free to continue reading
Registration is a free and easy way to support our truly independent journalism
By registering, you will also enjoy limited access to Premium articles, exclusive newsletters, commenting, and virtual events with our leading journalists
Already have an account? sign in
Join our new commenting forum
Join thought-provoking conversations, follow other Independent readers and see their replies