Theresa May tells Cabinet 'politics is not a game' and claims her Government will not be defined by Brexit
Britain's new Prime Minister discusses intentions with ministers ahead of crucial meetings with European leaders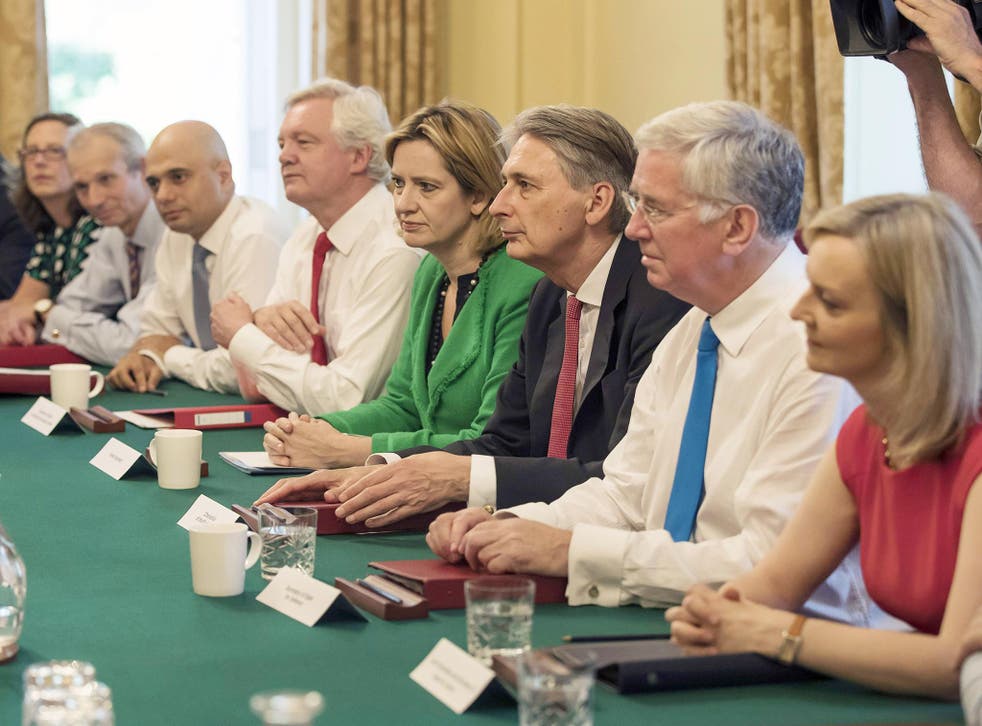 Theresa May has told her Cabinet ministers that "politics is not a game" and claimed that her Government will not be defined by Brexit, as she prepared for crucial meetings with European leaders in Berlin and Paris.
Ms May, who met with the Queen on Tuesday for the final stages of the formal swearing-in process as Britain's new Prime Minister, told her ministers that her upcoming sessions in the European cities would be an "opportunity" for discussions about Brexit. But, she insisted, the Government will not be characterised by Britain's exit from the European Union.
"When I launched my leadership campaign I said that politics is not a game. The decisions that we take around this table affect people's day-to-day lives and we must do the right thing and take the right decisions for the future of this country," she told ministers at their first Cabinet meeting. "We have the challenge of Brexit and Brexit does mean Brexit and we are going to make a success of it and we will do that by forging a new role for the United Kingdom in the world but we won't be a Government that's defined just by Brexit. We will also be a Government defined by the social reform that we take."
Shortly after Wednesday's Prime Minister's Questions Ms May will travel to Berlin to meet German Chancellor Angela Merkel and tomorrow she will meet President François Hollande in Paris. "I am determined that Britain will make a success of leaving the European Union and that's why I have decided to visit Berlin and Paris so soon after taking office," Ms May said ahead of her visit. "These visits will be an opportunity to forge a strong working relationship that we can build upon and which I hope to develop with more leaders across the European Union in the weeks and months ahead."
The new Prime Minister said she did not underestimate the challenge of negotiating Britain's exit from the European Union and that she firmly believes "being able to talk frankly and openly about the issues we face will be an important part of a successful negotiation." She said: "I also want to deliver a very clear message about the importance we attach to our bilateral relationship with our European partners, not just now but also when we have left the European Union. These relationships have been vital in the past and they will be vital in the future as we continue to work together to keep our people safe and to support economic growth that benefits people across our countries."
May's first Cabinet meeting
But, crucially, Ms May is yet to outline what vision she has for Britain outside the EU. While she has previously hinted she wants to maintain access to the single market she has, so far, failed to address the issue of the free movement of people – acceptance of which is considered essential by the 27 member states for access to the tariff-free market.
Register for free to continue reading
Registration is a free and easy way to support our truly independent journalism
By registering, you will also enjoy limited access to Premium articles, exclusive newsletters, commenting, and virtual events with our leading journalists
Already have an account? sign in
Register for free to continue reading
Registration is a free and easy way to support our truly independent journalism
By registering, you will also enjoy limited access to Premium articles, exclusive newsletters, commenting, and virtual events with our leading journalists
Already have an account? sign in
Join our new commenting forum
Join thought-provoking conversations, follow other Independent readers and see their replies