Theresa May and the cabinet did not discuss the potential instability caused by snap general election
Tory sources said that support for the 'brave' decision was unanimous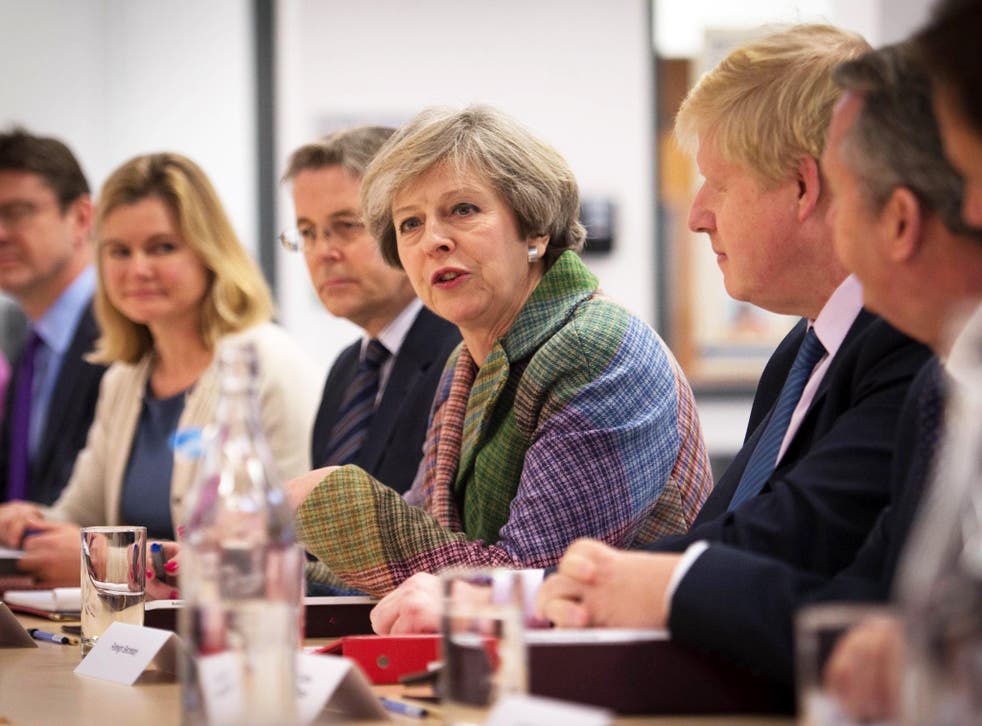 Theresa May and her cabinet ministers did not discuss the potential instability a snap election could cause as they approved a plan for one today, despite months of Downing Street citing it as the main reason a vote should not be held.
The decision to push the country to the polls was cemented at cabinet on Tuesday morning, where sources said all ministers gave their unanimous support for what they described as a "difficult and brave" decision.
Despite historically favourable poll ratings pointing to a big win for Ms May, she had doggedly taken the principled position that an election was wrong because the country needed "stability" after the EU referendum.
But asked whether there had been any discussions of potential short-term instability at cabinet, or any measures put in place to counteract it, a Tory source said there had not been.
The source told The Independent: "The Prime Minister started the meeting by explaining why this decision has been made and it was backed unanimously by colleagues that it was the right decision."
Ms May mulled the decision to go for an election while she was on her holiday in Wales over the Easter break, and then called the Queen on Monday to discuss the situation.
Explaining the turn around, the source said: "We have seen this process, since she became Prime Minister and with Article 50, that political parties have made clear their determination to block, stop and derail the Government from getting on with the job.
"And over that period it became more clear that if you are going to do it, you have to do it now."
Theresa May calls general election for June 8
Citing concern over the strength of the UK's position going into Brexit talks, he added: "In order not to undermine Britain in these negotiations, having a small majority and no unity in Westminster, this is a chance to change that."
But opponents branded the decision a political one, driven by a desire to cement Tory power and destroy the Labour party.
The First Minister of Scotland, SNP leader Nicola Sturgeon, described the announcement as "one of the most extraordinary U-turns in recent political history", and framed it as a move to scupper Labour in England.
Times Theresa May has said there won't be an election until 2020
She added: "That means that this will be – more than ever before – an election about standing up for Scotland, in the face of a right-wing, austerity obsessed Tory government with no mandate in Scotland but which now thinks it can do whatever it wants and get away with it."
Ukip leader Paul Nuttall said: "We believe that the Prime Minister's decision to call this election is a cynical decision driven more by the weakness of Corbyn's Labour Party rather than the good of the country.
"There is also the prospect of a slew of Tory held by-elections caused by the seeming systematic breach of electoral law at the last election, predominantly in places where Ukip were pressing the Conservatives hard."
Join our new commenting forum
Join thought-provoking conversations, follow other Independent readers and see their replies