Theresa May to give China's President Xi Jinping Blue Planet 2 box set
British officials said the gift was a sign the two countries had a 'shared agenda' in tackling plastic pollution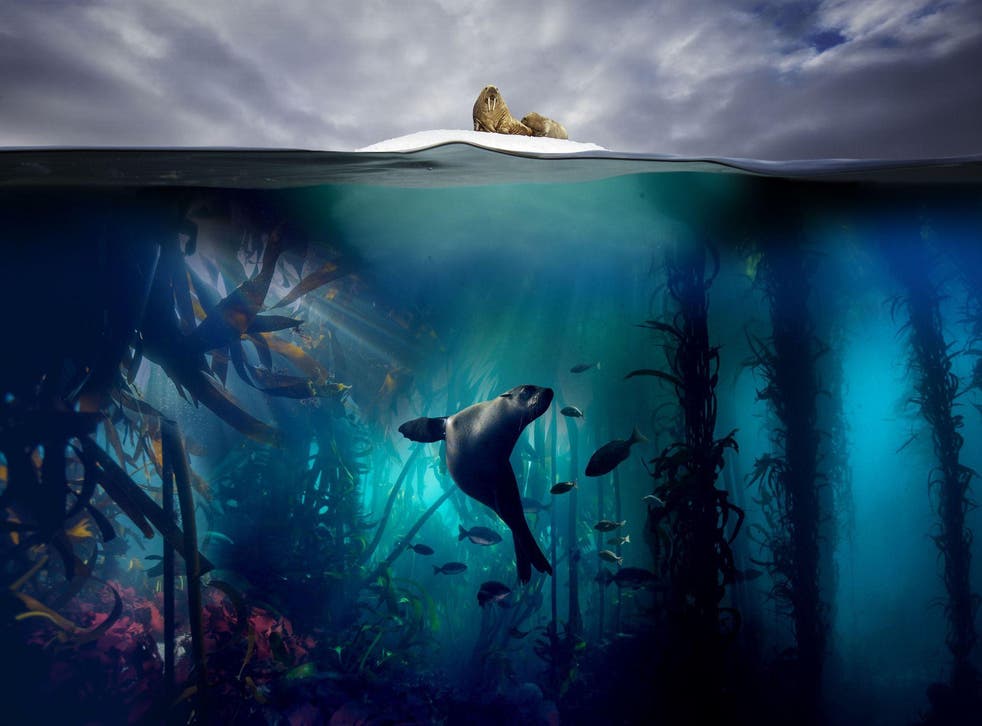 Theresa May was to give China's President Xi a box set of the hit BBC nature series Blue Planet 2, with a personal message written by Sir David Attenborough.
The gift of the documentary, which proved highly popular in China, marked a trip during which London and Beijing tightened cooperation on environmental issues.
As well as joint-working to tackle plastic pollution and the illegal wildlife trade, Theresa May also secured assurances over the trips main purpose of increasing trade.
Some 80 million people were said to have enjoyed the sequel Blue Planet documentary in China narrated by renowned biologist Sir David.
But the programme, which had a heavy focus on the impact of plastic pollution in the oceans, also helped spark a more mainstream movement to tackle the problem.
UK officials said Ms May's gift of the series, along with the hand-written note from its narrator, was a sign that Ms May saw the issue as a "shared agenda" for the two countries.
On Wednesday the Prime Minister boarded a specialised boat on the Yangtze River, which cleans plastic particles from the water polluted from inland China before it gets to the sea.
Blue Planet II – in pictures

Show all 10
Ms May has also announced a joint UK-China effort to strengthen UK/China cooperation tackling the ivory trade, with Border Force officers will share their expertise in identifying smuggled ivory.
Earlier in the day the Prime minister also gave a premium chess set from the British Museum to Premier Li Keqiang, the Chinese second in command, along with a bespoke Downing Street tea set for his wife.
Ms May then stood next to Premier Li at a joint news conference, which she told that she expected deals worth a some £9bn to be signed during the course of her three-day visit.
Agreements included an increase in trade in diary products and a lifting on the long-in-place ban on British beef – worth £500m alone over five years.
Blue Planet II: 'Coral reefs could be gone by the end of this century'
The Prime Minister also said they had agreed to carry out a joint trade and investment review to identify priorities for promoting growth in goods, services and investment – something which would also move the countries closer to a bilateral post-Brexit trade deal.
Mr Li said that their talks had delivered "substantive results" and that their bilateral relationship would not be affected by Britain's impending withdrawal from the EU.
"We will work to maintain the continued growth in our bilateral relations to take forward our relationship in the golden era," he said.
"The two-way opening up between China and the UK will go even further and China will open even wider to the UK."
He explained talks had covered issues including human rights, the protection of intellectual property rights and overcapacity in the international steel market – with China repeating a promise to reduce production by a further 100 million tonnes by 2020.
The two leaders said that they had also agreed to co-operate more closely on the United Nations Security Council to uphold world peace and the international rules-based order - including in relation to North Korea.
After the conference the pair and their partners and officials shared a dinner of duck soup and black truffle followed by braised beef and broad beans, and then assorted pastries.
Dinner was accompanied by British music including the song 'Yesterday', 'Last Rose of The Summer' and the 'Colonel Bogey March'.
Register for free to continue reading
Registration is a free and easy way to support our truly independent journalism
By registering, you will also enjoy limited access to Premium articles, exclusive newsletters, commenting, and virtual events with our leading journalists
Already have an account? sign in
Join our new commenting forum
Join thought-provoking conversations, follow other Independent readers and see their replies