Theresa May and David Davis 'selectively' quoted report to justify sweeping cabinet Brexit powers
The Lords say they actually raised 'fundamental concerns' over Ms May's legislation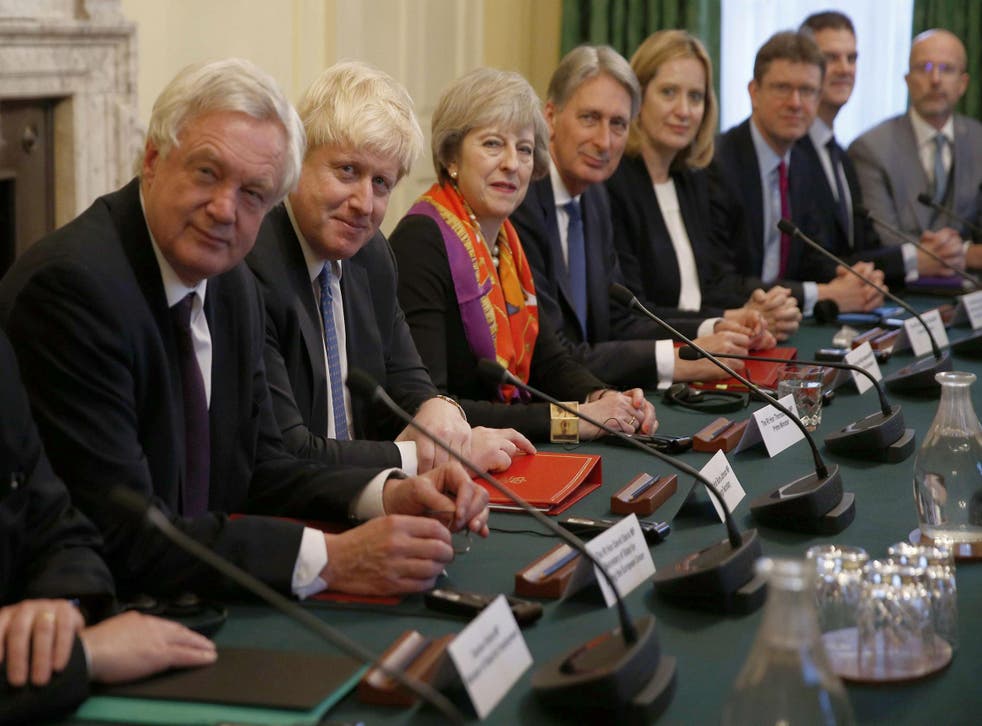 Lords have accused Theresa May and David Davis of "selectively" quoting from their inquiry report and claiming it endorsed their Brexit legislation, when actually the study raised major concerns.
Peers on the Constitution Committee said they had in fact called for a "number of key limitations" to be placed on the legislation.
The Independent has revealed how Ms May will allow more time for MPs to scrutinise the Bill to be debated by MPs in the Commons on Thursday amid fears it grants ministers sweeping powers to alter other laws.
The Constitution Committee's previous report published in March has been cited by Ms May and Brexit Secretary Mr Davis as backing for the powers granted to ministers in the EU (Withdrawal) Bill, previously called the Repeal Bill.
But Baroness Taylor of Bolton, Chairman of the Committee, said: "The EU (Withdrawal) Bill represents an extraordinary transfer of legal powers from Parliament to the Government, without the additional oversight we recommended.
"We believe this will create very real difficulties for Parliament in fulfilling its constitutional role to scrutinise this Bill.
"We acknowledge that the Government needs significant powers in order to deliver legal certainty after Brexit. However, we warned the Government that such powers must come with tougher parliamentary scrutiny mechanisms and we are disappointed that we have not only been misquoted by the Government, but that our key recommendations have been ignored."
Brexit: the deciders

Show all 8
A statement put out by the committee went further and said their report had "been selectively quoted" by ministers in relation to the powers proposed in the Bill.
The 'Henry VIII powers', so called because they allowed the Tudor monarch to rule by proclamation, are at the centre of concerns by both Tory and Labour MPs that the Bill will be exploited by Ms May's administration to make policy changes in other areas without consulting Parliament.
The Lords are demanding the Bill ensures greater legal certainty so that individuals, organisations and the Government know what exactly the law is post-exit, without having to resort to litigation.
It says there are currently "multiple uncertainties and ambiguities" in the legislation that raise fundamental concerns from a rule of law perspective.
The Lords go on to recommend that powers granted to ministers must only be used to make the necessary technical changes to adapt EU law to function in the UK after Brexit – not to implement Conservative policy decisions.
Mr Davis will say at the Bill's second reading on Thursday: "We have acted responsibly in leaving the EU by prioritising, first and foremost, a functioning statute book.
"In bringing forward this Bill, we are ensuring the smoothest possible exit from the EU – an exit that enables the continued stability of the UK's legal system, and maximises certainty for business, consumers and individuals across the UK."
Register for free to continue reading
Registration is a free and easy way to support our truly independent journalism
By registering, you will also enjoy limited access to Premium articles, exclusive newsletters, commenting, and virtual events with our leading journalists
Already have an account? sign in
Join our new commenting forum
Join thought-provoking conversations, follow other Independent readers and see their replies