Theresa May defies Israeli Prime Minister Benjamin Netanyahu with vow of support for Iran nuclear deal
In a visit to Downing Street just days after Iran test-fired a ballistic missile Mr Netanyahu said 'responsible' nations should follow President Donald Trump's lead to head of Iranian aggression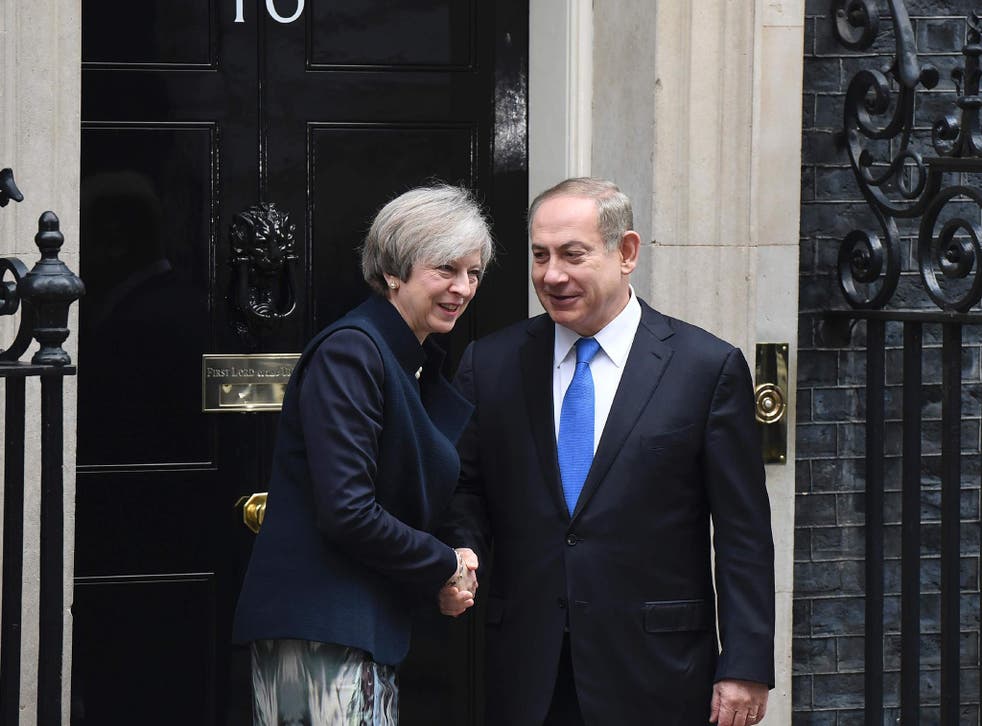 Theresa May has stood firm in her commitment to the Iranian nuclear deal despite pressure from the Israeli Prime Minister Benjamin Netanyahu for fresh sanctions on Tehran.
In a visit to Downing Street just days after Iran test-fired a ballistic missile Mr Netanyahu said "responsible" nations should follow Donald Trump's lead to head of Iranian aggression.
The President has recently described the deal – brokered by his predecessor Barack Obama – as the "worst deal ever negotiated".
But speaking in the Commons shortly after the two leaders met at Number 10 for their first bilateral meeting, Ms May made no mention of further sanctions against Tehran. "We continue to believe the Iran nuclear deal was an important step forward and important contribution to stability in the region and we continue to support it," she said.
In a briefing of the meeting a Downing Street spokesperson added: "On Iran, the Prime Minister was clear that the nuclear deal is vital and must be properly enforced and policed, while recognising concerns about Iran's pattern of destabilising activity in the region."
Speaking in front of TV cameras as they began talks at Number 10, the Israeli PM - who is due to meet Mr Trump in Washington next week - told Mrs May: "Iran seeks to annihilate Israel, it seeks to conquer the Middle East, it threatens Europe, it threatens the West, it threatens the world. And it offers provocation after provocation.
"That's why I welcome President Trump's insistence on new sanctions against Iran. I think other nations should follow suit, certainly responsible nations.
"And I'd like to talk to you about how we can ensure that Iran's aggression does not go unanswered."
Israeli PM Benjamin Netanyahu meets Theresa May
The international nuclear deal, under which sanctions were lifted in return for Tehran giving up its military nuclear ambitions, had "neutralised the possibility of the Iranians acquiring nuclear weapons for more than a decade", added the PM's spokeswoman.
Ms May made clear that her top priority for the talks was strengthening trade and investment links ahead of Brexit as well as exploring the potential for a deeper commercial relationship after the UK has left the EU.
She said she believed there was "much more we can do" and it was important to look at how "we can build that relationship".
They agreed to set up a new UK-Israel trade working group, with trade minister Lord Price to visit Israel soon to take discussions forward.
And the PM invited Mr Netanyahu to return to Britain later this year for events to mark the 100th anniversary of Foreign Secretary Arthur Balfour's 1917 declaration of UK support for the establishment of a Jewish homeland.
Last week Iran confirmed it carried out the ballistic test but insisted it did not violate the landmark nuclear deal reached with world powers. Hossein Dehghan, the Iranian defence minister, said at the time: "The recent test was in line with our plans and we will not allow foreigners to interfere in our defence affairs.
Join our new commenting forum
Join thought-provoking conversations, follow other Independent readers and see their replies