Theresa May refuses to rule out further disability benefits cuts
'I know there are some issues that people continue to raise about assessments that are made on those payments'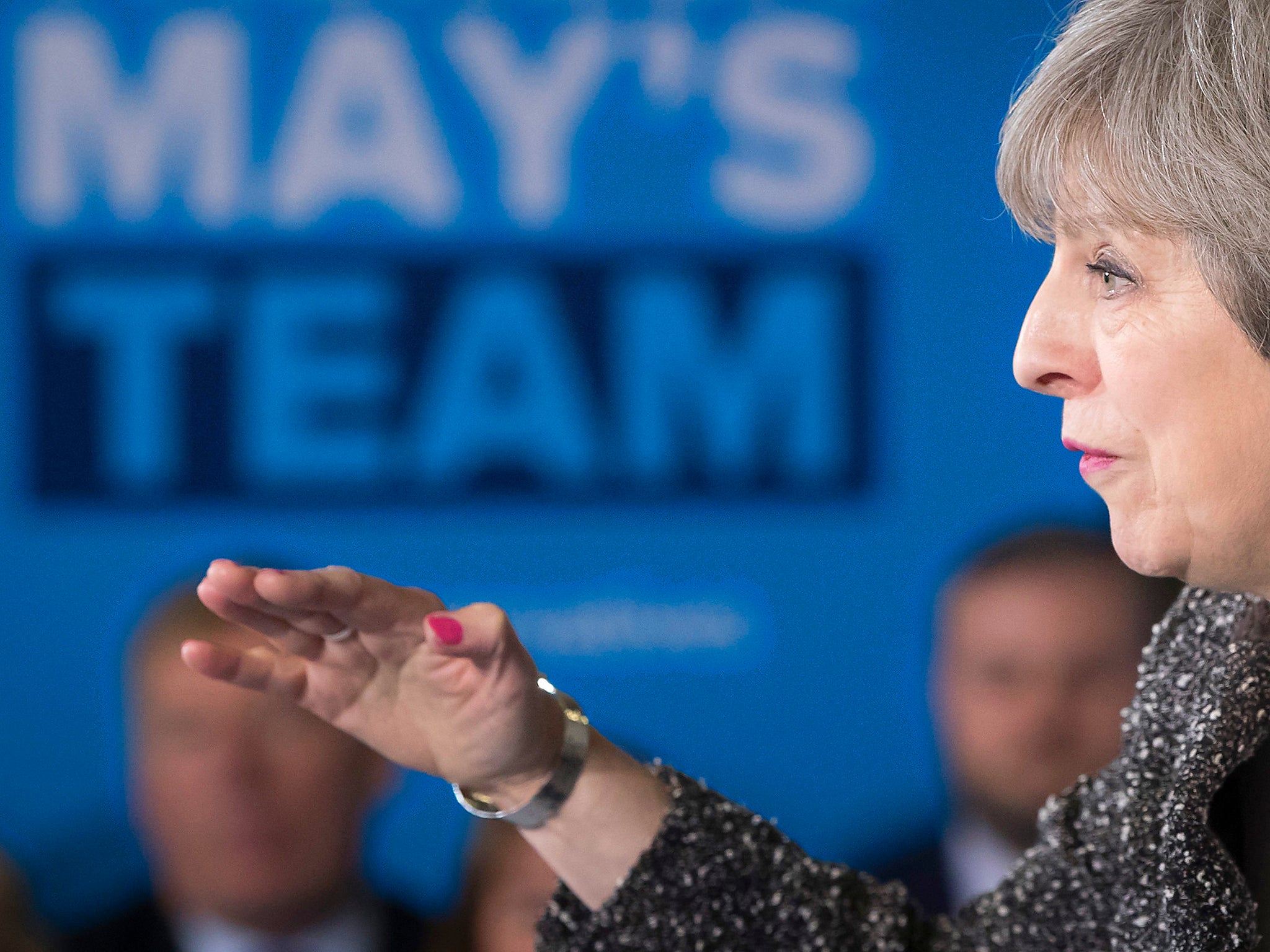 Theresa May has refused to rule out making further cuts to disability benefits in the next Parliament if the Conservatives are returned to government.
Asked by The Independent at a campaign event in Mansfield whether she would rule out any further cuts to support, the Prime Minister avoided giving a direct answer.
"If you look at what we've been doing on disability benefits, what we have done is look at focusing disability benefit payments on those who are most in need. In fact we are spending more on disability benefit payments than has been done by any government in the past," she replied.
"We have changed the way that disability benefits have been paid and I know there are some issues that people continue to raise about assessments that are made on those payments. But we will continue to be moving to a system that ensures we are supporting those most in need."
A £30-a-week cut to some new claimants of the Employment and Support Allowance came into effect last month despite opposition from more than 30 disability charities.
Disabled people put in the Work Related Activity Group will now receive £73 a week instead of £103 – the same rate as non-disabled people claiming jobseekers' allowance.
The Department for Work and Pensions says the lower rate of cash support will encourage disabled people to find work. Charities say the cuts do not incentivise work, make life harder for disabled people who face extra costs, and mean some people will be unable to afford basic necessities.
The Government was also forced to U-turn on a £4.4bn cut to the personal independence payment (PIP) in March last year after signs of a rebellion amongst its own backbenchers and the resignation of Work and Pensions Secretary Iain Duncan Smith, who said he could not back the policy.
But with polls showing the Conservatives likely to return to office with a larger majority than before, the threat of backbench rebellion would be unlikely to constrain the Government in the same way.
Labour slated Ms May's position on further cuts.
"It should come as no surprise to disabled people who have borne the brunt of Government cuts that the Prime Minister has refused to rule out further cuts to their support in the next Parliament," Debbie Abrahams, the shadow Work and Pensions Secretary, told The Independent.
"If the Prime Minister really cared about disabled people she wouldn't have supported punitive and unjust cut including for PIP affecting over 160,000 people with chronic mental health conditions and ESA WRAG affecting half a million sick and disabled people. Only Labour will stand up for disabled people."
7 ways the Tories have 'helped' disabled people
Show all 7
On Wednesday Ms May took questions from workers and journalists at a print shop on the outskirts of Mansfield in Nottinghamshire. She also took questions from the media earlier in the day at a gathering of Tory activists in Carlton, Nottinghamshire.
The events come a day after Tory campaign headquarters was accused by Channel 4 News of vetting questions asked to the Prime Minister and keeping her away from the press in a highly stage-managed campaign. No question vetting took place at the two events on Wednesday.
Join our commenting forum
Join thought-provoking conversations, follow other Independent readers and see their replies