Theresa May accused of 'grovelling' to Donald Trump amid torture row
'As you renew your nation, just as we renew ours', the Prime Minister will say - sparking strong criticism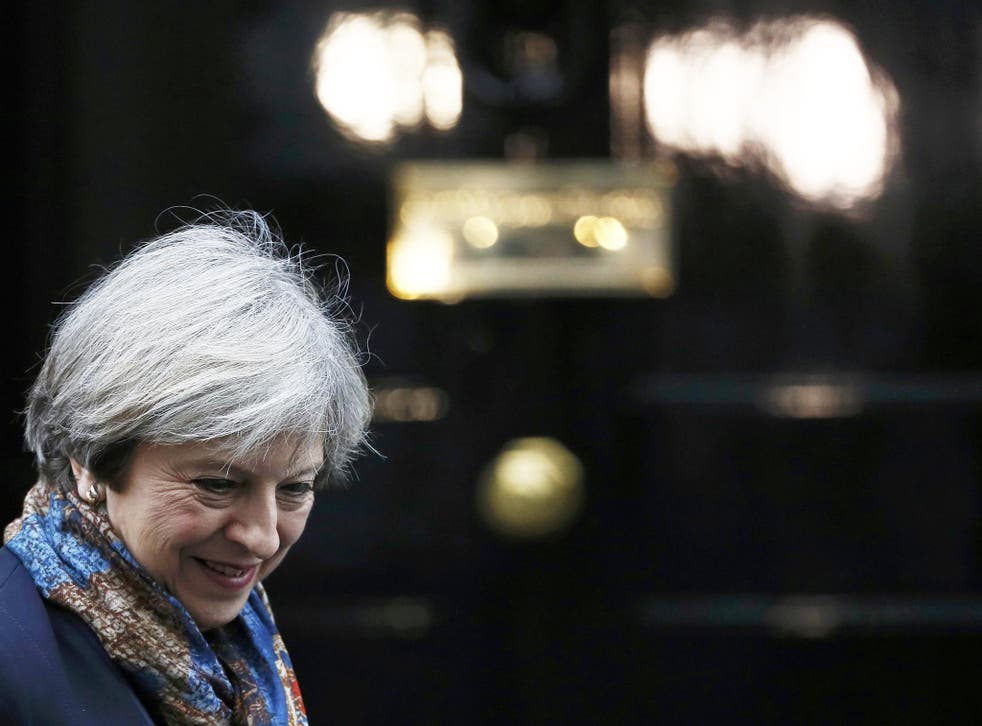 Theresa May has been accused of grovelling to Donald Trump as MPs and campaigners urge her to challenge the President over his widely condemned comments about torture after hailing his potential to "renew" the United States.
The Prime Minister ran into a storm of criticism after making warm comments about the President, even before landing in the US for her landmark visit.
Before she left London, No.10 set out how Ms May will heap praise on the President when she speaks to Republicans at a Congressional 'retreat' in Philadelphia saying Brexit will give Britain the opportunity to "build relationships with old friends and new allies alike".
They were issued as Mr Trump backed waterboarding, widely recognised as a form of torture, moved to ban Syrian refugees and vowed to make Mexico pay for a border wall.
Mr Trump was asked by ABC News about his campaign trail promises to bring back waterboarding "and tougher" methods of interrogation in the battle to defeat Isis. Mr Trump cited the group's atrocities against Christians and said "we have to fight fire with fire".
"When they're shooting, when they're chopping off the heads of our people and other people, when they're chopping off the heads of people because they happen to be a Christian in the Middle East, when Isis is doing things that nobody has ever heard of since Medieval times, would I feel strongly about waterboarding?" he said.
"I have spoken with people at the highest level of intelligence and I asked them the question 'Does it work? Does torture work?' and the answer was 'Yes, absolutely'.
"They chop them off and they put them on camera and send them all over the world. So we have that and we're not allowed to do anything?" he added.
The Prime Minister's warm words about Mr Trump sparked an immediate backlash from MPs.
Andrew Tyrie, the Conservative MP who challenged the Prime Minister in the Commons yesterday over torture, said Mr Trump's fresh comments made her approach in the US even more important.
He told The Independent: "We can lead together on many, perhaps most, things, but we certainly can't lead together on torture.
"I have asked the Prime Minister to raise this with the President. His recent statement makes doing so even more important."
Senior Conservative Sarah Wollaston tweeted her criticism:
Yvette Cooper, the former Labour leadership contender, tweeted: "Please don't do this Theresa. UK can work with US without praising him. Really hoping you are better than this."
And Vince Cable, the former Liberal Democrat Cabinet minister, accused the Prime Minister of "grovelling":
Nick Clegg, the former Lib Dem leader, pointed to Ms May declining to speak to the Irish Parliament on a visit next month, apparently because of a lack of time.
He tweeted: "So, PM rushes to be photographed with Trump and Erdogan but won't find time to speak to Irish Dail. Has No.10 completely lost the plot?"
Meanwhile, an eight-page draft executive order emerged paving the way for Mr Trump to suspend the Syrian refugee programme and stop issuing visas for countries deemed to pose a threat to the US.
The President also said construction would start immediately on a wall which Mexico will be forced to pay for.
Mrs May's speech is designed to underline her determination to re-forge the "special relationship" between the two countries.
It will be delivered ahead of her visit to the White House on Friday, when she will become the first foreign leader to meet Mr Trump since his inauguration.
Join our new commenting forum
Join thought-provoking conversations, follow other Independent readers and see their replies