Theresa May faces fresh accusations of 'hiding' after Scotland rally publicly listed as child's birthday party
'It's quite pathetic really,' says voter who attempted to track down remote event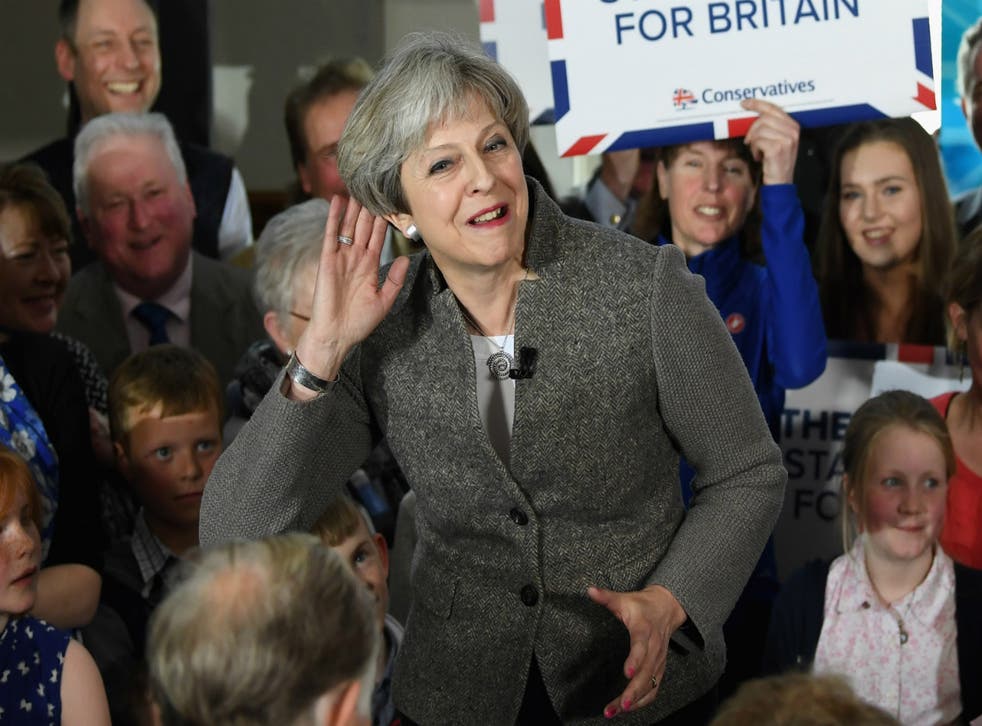 Theresa May is facing fresh accusations of "hiding" from voters after a campaign event held in Scotland was publicly listed as a children's birthday party.
Bemused locals in Aberdeenshire had been unable to find the location of the Prime Minister's visit, which was not advertised in advance.
It was only after Ms May spoke to assembled supporters at Crathes village hall that they discovered it had been booked out as a "child party" between 10am and 5pm.
Kevin Newell, 34, said he was shocked to find the listing on the venue's website hours after attempting to put "serious questions" to the Prime Minister.
"There were a whole load of us who wanted to go and question her on a lot of important policies and issues," he told The Independent.
"It's been so secretive, they are supposed to be holding these big rallies but all she's doing is hiding in little village halls, not saying they are going to be there.
"So there's no one apart from local Conservative activists standing there and boosting her ego even more.
"It's quite pathetic really – for the Prime Minister of the UK to be hiding in a village hall in rural Aberdeenshire."
On Sunday morning, the Prime Minister restated her position that she would not be taking part in TV debates, telling ITV's Robert Peston: "The sort of campaign I want to run is one that is about getting out and about getting across the whole country, meeting people from all sorts of communities, communities that have felt people have ignored them, and not taken their concerns seriously."
Asked specifically about concerns that local people in Crathes were ignored even when the Prime Minister had visited the community yesterday, a party spokesperson told The Independent: "The Prime Minister has visited cities, large and small towns and yesterday she visited a rural community. She has been in the three nations of Great Britain since the start of the campaign. In contrast Corbyn yesterday ventured all of two miles from his own house to give a speech about himself."
The event came just days after Jeremy Corbyn accused Ms May of "hiding from the public" at another engagement in Derbyshire, after it emerged that staff were barred from the workplace for the rally.
The Labour leader said Ms May's refusal to face real voters on the campaign trail was "showing contempt for the public" and suggested she was scared of them.
"Theresa May is hiding from the public – she won't take part in TV debates and she won't talk to voters," Mr Corbyn added.
"Refusing to debate Labour in this election isn't a sign of strength, it's a sign of weakness. What is she afraid of?"
The Prime Minister only faced questions from journalists at Clay Cross in Derbyshire, before she was taken to an event at a business centre in Leeds – after staff had left for the day.
Photos from Crathes showed the small village hall seemingly packed with supporters, including several holding placards bearing election slogans.
The Conservative Party's press office had hailed the event on Twitter, also saying the Prime Minister had managed to visit the "three nations of Great Britain" since calling the snap election.
Ms May told the crowd they were approaching the "most important election" of her lifetime, hitting out at the Scottish National Party (SNP) and Labour for "disrupting" Brexit negotiations.
Describing her leadership as "stable" eight times, the Prime Minister said the Tories would help Scotland "flourish" as much as other parts of the UK.
UK General Election 2017

Show all 47
"We want to ensure that we build a more secure and united nation," she added.
"That means taking action against the extremists who would divide us and standing up against the separatists who want to break up our country."
The location for the Prime Minister's pitch was so remote that television channels were unable to broadcast live and journalists complained of a lack of mobile signal.
Despite a surge led by Scottish Tory leader Ruth Davidson in the Scottish Parliament, there is still only one Conservative MP in Parliament – but Ms May is hoping to increase the number amid poor poll showings for Labour.
Nicola Sturgeon reacted to Ms May's foray north by urging voters not to allow the nation to be "dragged back" by an "increasingly hard-line right wing Tory Government" in Westminster.
Mr Corbyn accused the Prime Minister of slipping into a "presidential bunker mentality", reliant on sound bites and squeezing dissent while claiming her attitude could lead to "damaging mistakes" for the country.
The Conservative Party could not immediately be reached for comment.
Register for free to continue reading
Registration is a free and easy way to support our truly independent journalism
By registering, you will also enjoy limited access to Premium articles, exclusive newsletters, commenting, and virtual events with our leading journalists
Already have an account? sign in
Register for free to continue reading
Registration is a free and easy way to support our truly independent journalism
By registering, you will also enjoy limited access to Premium articles, exclusive newsletters, commenting, and virtual events with our leading journalists
Already have an account? sign in
Join our new commenting forum
Join thought-provoking conversations, follow other Independent readers and see their replies