Theresa May hits back at EU over bespoke Brexit deal
EU's lead negotiator Michel Barnier said trade deals involving financial services 'do not exist' anywhere in the world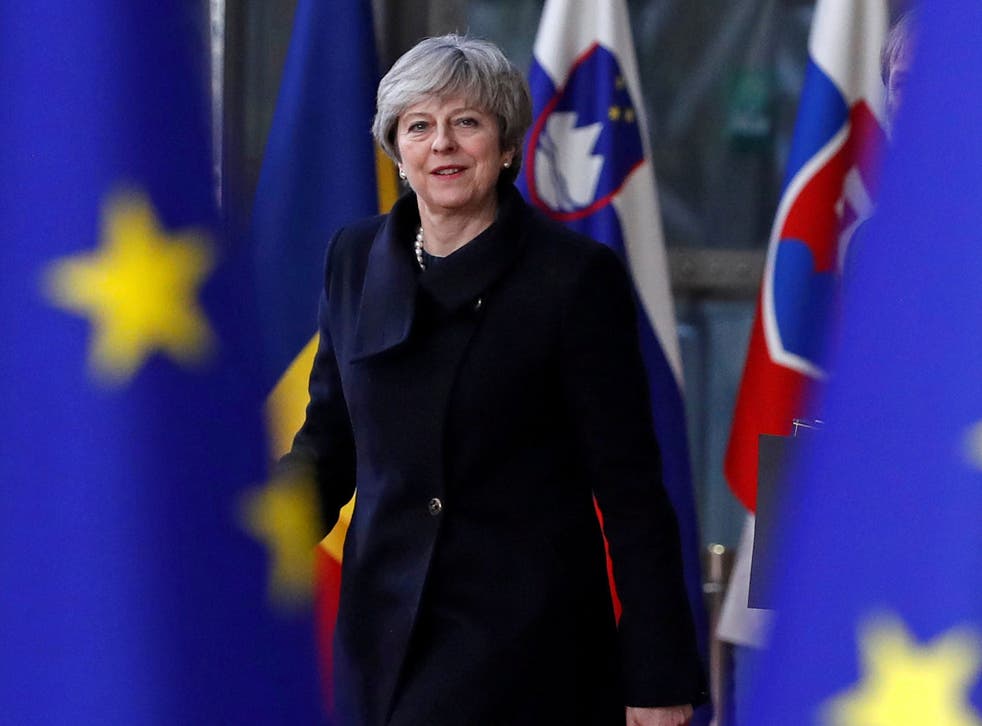 Downing Street has dismissed a warning from the EU's chief Brexit negotiator that there will be no special deal for the City during future trade talks.
Michel Barnier struck a blow to Theresa May's hopes of a bespoke deal with Brussels, when he said there was "no place" for financial services in any post-Brexit trade deal.
In a briefing after the first full Cabinet discussion of future relationship with the EU, her official spokesman hit back at the claims, saying the Government was "confident" of a good deal for financial services.
Asked about Mr Barnier's comments, the PM's spokesman said: "As we've said throughout, we are confident at negotiating a deep and special economic partnership that will include a good deal for financial services.
"As we've always been clear, that will be in the EU's best interests as well as ours."
The spokesman added that it was to be expected that the European Commission would set out its position at the start of the second phase of negotiations, which are now underway after EU leaders decided last week that sufficient progress had been made on issues related to the divorce bill, the Irish border and EU citizens rights.
During a key Cabinet meeting, both Brexit Secretary David Davis and the Prime Minister agreed that the UK was seeking a "bespoke deal".
Ms May ruled out replicating a European Economic Area (EEA) model or a Canada-style trade deal, her spokesman said.
Theresa May chairs meeting with cabinet on 'end state' with the EU
Ms May's top team was "unified" in its first set of discussions on the so-called "end state" of the Brexit negotiations, which lasted for over an hour and 45 minutes and featured contributions from 25 ministers, her spokesman said.
It comes after Mr Barnier told several newspapers that he was not open to an agreement which would allow financial services firms to trade freely if the UK left the single market.
"There is no place [for financial services]," he said.
"There is not a single trade agreement that is open to financial services. It doesn't exist."
In comments likely to anger Brexiteers, Mr Barnier said the UK would have to follow EU rules during the two-year transition period after official exit day – including laws introduced during that time without British input.
His words also prompted outrage from the Square Mile, with a major lobbying firm branding him a "Scrooge" for his lack of optimism.
Brexit: the deciders

Show all 8
Miles Celic, chief executive officer of trade body TheCityUK, said: "It might be Christmas, but Michel Barnier doesn't need to play Scrooge.
"Just because financial services have not been encompassed in free trade agreements to date is no reason to dismiss them from a future UK/EU free trade agreement.
"Services make up around 80 per cent of the UK's economy and around 70 per cent of the EU's, with financial services making up a significant component of that.
"It is vital for the future competitiveness of the UK, and Europe as a whole, that UK and EU negotiators work to secure an ambitious and comprehensive deal."
Register for free to continue reading
Registration is a free and easy way to support our truly independent journalism
By registering, you will also enjoy limited access to Premium articles, exclusive newsletters, commenting, and virtual events with our leading journalists
Already have an account? sign in
Register for free to continue reading
Registration is a free and easy way to support our truly independent journalism
By registering, you will also enjoy limited access to Premium articles, exclusive newsletters, commenting, and virtual events with our leading journalists
Already have an account? sign in
Join our new commenting forum
Join thought-provoking conversations, follow other Independent readers and see their replies