Theresa May forced to defend record on national security as she relaunches Tory election campaign
Prime Minister insists she is 'optimistic' even though she was accused of being a 'glumbucket'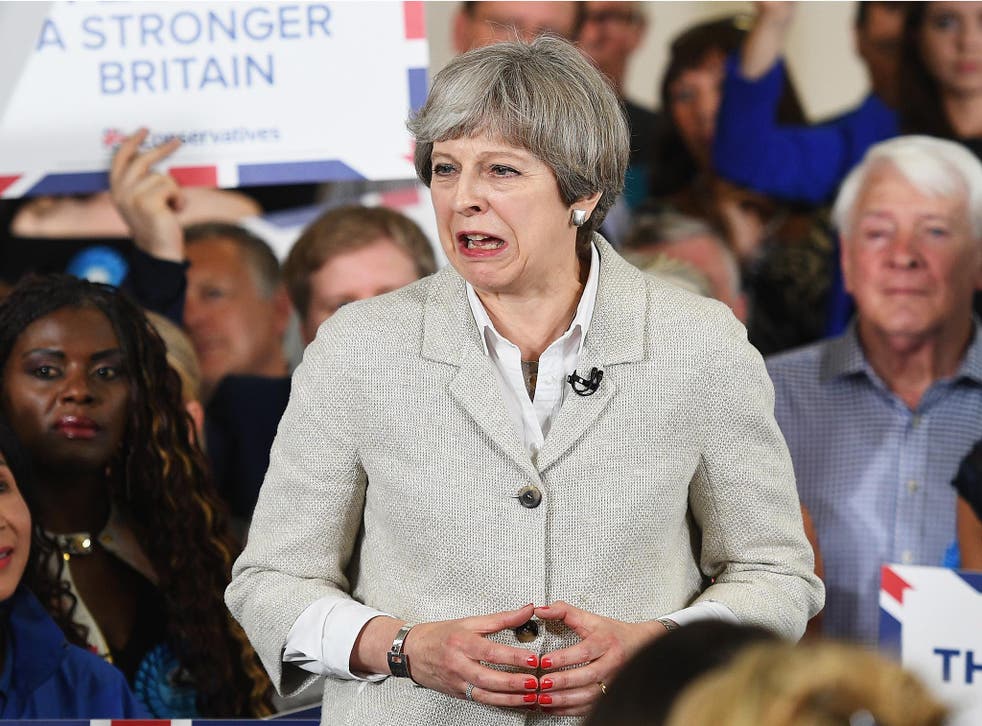 Theresa May has relaunched the Conservative's general election campaign after a six-day break in activity following the Manchester attack.
Addressing Tory activists at a school hall in Twickenham, south west London, the Prime Minister condemned the "appalling depravity of a cowardly and callous killer" after Salman Abedi to blew himself up outside an Ariana Grande concert killing 23 and injuring dozens more.
Defending the decision to resume campaigning, she said: "It is right that we carry on with our life and that we don't allow the terrorists to disrupt our way of life. And so I'm coming back into the election campaign."
Ms May was pressed by journalists on her record on security matters during her time as Home Secretary, when policing budgets were cut and a number of security service staff were made redundant.
It has also been revealed that temporary exclusion orders, introduced by Ms May in 2015, make it easier to block potential British terrorists from returning to the UK, but have been used on just one occasion.
Defending her record, she said: "Let's just look at what I did when I was Home Secretary for six years. First of all I excluded more hate preachers from coming to this country than any home secretary ever has. There were one or two who I booted out of the country as well.
"When I was Home Secretary we actually gave the police extra powers. We put through major legislation – the Investigatory Powers Act – to ensure that our police and security services have what they need to do the job they do on a day-to-day basis."
"In contrast, Jeremy Corbyn has voted against and opposed every single piece of anti-terror legislation in his time in Parliament. That's the contrast: I'm willing to stand up for our national security and do what is necessary in the British interest. He's not."
Ms May's speech marked a clear return to the Conservatives' core campaign messages, with the Prime Minister contrasting her "strong and stable" leadership with what she claimed was the prospect of a "coalition of chaos" led by Jeremy Corbyn and including the Liberal Democrats and Scottish National Party (SNP).
UK General Election 2017

Show all 47
"If you can't lead your own party, how can you possible lead the country through this very important, historical moment?" she said of Mr Corbyn.
The Prime Minister also attacked the Labour leader's shadow cabinet allies, claiming John McDonnell, the Shadow Chancellor, is a "Marxist who had to google the deficit and believes in abolishing MI5" and that Shadow Home Secretary Diane Abbott, who struggled to explain the costs of her party's policing policy earlier in the campaign, "can't add up".
Ms May repeatedly claimed only she has a clear plan for "Brexit and beyond".
"Brexit isn't just a process, Brexit is an opportunity", she said, promising to cut immigration, "lead the world" in fighting terrorism, build more affordable homes, raise wages and introduce better protections for workers.
"It's about standing up and dealing with the burning injustices that we see in this country because those injustices remain a scar on the soul of our nation", she said.
The Prime Minister confirmed that Brexit negotiations with the EU will begin on 19th June – eleven days after polling day.
"There won't be any putting it off; it won't be possible to stall it", she said. "The Europeans are ready, that's the timetable that's been set."
General Election polls and projections: May 29
In response to a Daily Mail journalist suggesting she was a "glumbucket" and was not enjoying the campaign, the Prime Minister insisted she was "optimistic about what can achieve for this country."
She said: "This is a crucial election and there is a very clear choice for people when they come to that poll on June 8, and it is that choice between a coalition of chaos led by Jeremy Corbyn and the strong and stable leadership of me and my team, going forward with not just a plan for Brexit but a clear vision for a better, stronger, more prosperous Britain in the future."
While the Prime Minister's speech was a return to her core campaign slogans, there was a noticeable shift in the messages displayed on banners held up by activists standing behind Ms May.
While Conservative Party branding had been all but removed and replaced with Ms May's name on earlier campaign materials, the placards used in Twickenham read "Vote Conservative" and "The Best Brexit Deal" - a reflection of the fact that, polls suggest, the Prime Minister has become less popular over the course of the campaign, while support for Mr Corbyn has grown.
Join our new commenting forum
Join thought-provoking conversations, follow other Independent readers and see their replies