Theresa May to urge cutting off terrorism funding at G20 despite her cosy relationship with Saudi Arabia
The Prime Minister is accused of being a 'hypocrite' by Liberal Democrat leader Tim Farron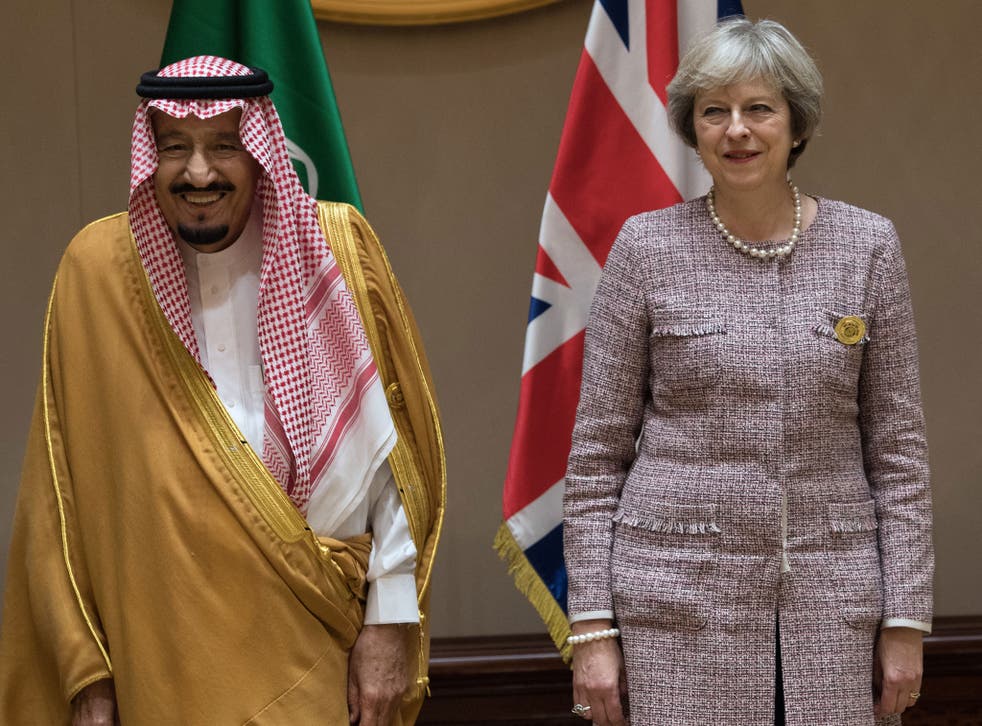 Theresa May is to make cutting off funding for terrorists the centrepiece of her G20 negotiating goals, despite sitting on a report about whether Britain's close ally Saudi Arabia funds terrorism.
The Prime Minister arrived in Hamburg for international talks with other leaders on Thursday night, where she will urge the international community to crack down on "permissive environments for terrorist financing".
But her push drew accusations of hypocrisy on the basis of her close links with Saudi Arabia and refusal to release a Home Office report into whether the country has been using its oil cash to fund terrorism and extremism abroad.
Saudi Arabia cuts ties with Qatar over terror links
On Monday Ms May phoned Crown Prince Mohammed bin Salman of Saudi Arabia and said she "looked forward to deepening our close bilateral ties", according to a Downing Street readout of their conversation.
Another report by the Henry Jackson Society think tank released on Wednesday said there was a "clear and growing link" between Islamist extremists and Saudi Arabian cash, although the country's embassy in London says its claims were "categorically false".
But Ms May's separate official Home Office report in to Saudi funding, commissioned in 2015 as a condition of Liberal Democrat support for supporting bombing in Syria, is yet to be released. The BBC has previously reported that the report is finished but may not ever be released because of its potentially embarrassing content.
The Home Office has previously admitted the contents of the report are "very sensitive". Saudi Arabia is also attending the G20 in Hamburg this weekend, where Theresa May is flying on Thursday night for talks beginning on Friday.
Jeremy Corbyn said: "If Theresa May is serious about cutting off financial and ideological support for terrorism, she should publish the suppressed report on foreign funding of UK-based extremism and have difficult conversations with Saudi Arabia, not hug Saudi and allied Gulf States even closer."
Liberal Democrat leader Tim Farron said Ms May should raise the issue of funding for extremism in direct bilateral talks with Saudi Arabia at the Hamburg conference. He criticised her for sitting on the report.
"If the Prime Minister was truly serious about this agenda she would release the report into foreign funding of UK based extremism and stop kowtowing to Saudi Arabia," he said.
"Nations like Saudi are key exporters of extremist ideology around the world and yet we look the other way in exchange for massive arms deals. The Prime Minister should use the G20 as a chance to raise it with the King of Saudi Arabia face to face.
"The Prime Minister can lecture banks or other leaders as much as she likes on what they should do, but she should get her own house in order first. She is a hypocrite."
"The Government should get off their high horse and start to hold nations like Saudi Arabia to account."
Commenting on the unpublished report, a Downing Street spokesman told The Independent: "It's currently being looked at to see what form the report can be published and when we have an update on that it will come to Parliament."
The Government's four main objectives for the talks are: a crackdown on terrorist financing; the global migration issue; modern slavery; and "making the global economy work for everyone". The Government has also been criticised for failing to include climate change in its objectives, though a senior UK government official has said that the issue will be raised in planned bilateral talks with US President Donald Trump.
The febrile situation in North Korea, whose government recently successfully tested an intercontinental ballistic missile, is also likely to be a hot topic at the talks.
World news in pictures

Show all 50
Speaking ahead of the G20 summit, the Prime Minister said: "We know that the terrorist threat is evolving. We have seen the threat spread out of Syria and Iraq – into other countries and online. As we deny physical space to terrorists to operate in theatre, we must outpace the terrorist methodology as it develops to attack other vulnerable targets and increases inspired attacks.
"We must therefore combat the threat from every angle. This includes taking measures against permissive environments for terrorist financing, and monitoring the dispersal of foreign fighters from battle.
"We can change the balance of the fight when we work together and I am confident that through these efforts we will defeat the scourge of terrorism and our collective values will prevail."