Theresa May admits her style is as dull as cricket legend Geoffrey Boycott but denies being 'robotic'
'He has very good advisers around him,' says Prime Minister – when asked about Donald Trump
Rob Merrick
Deputy Political Editor
Friday 08 September 2017 13:31 Comments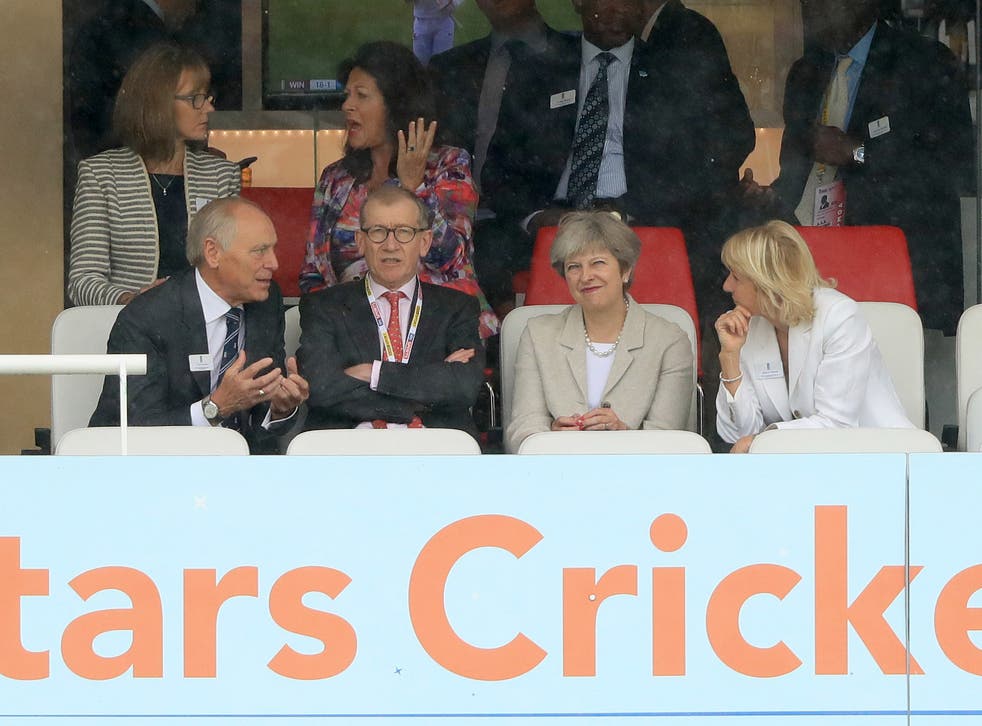 Theresa May has admitted her style can be as dull as that of cricket legend Geoffrey Boycott, but rejected allegations that she is "robotic".
In an interview from Lords, the cricket-loving Prime Minister was asked if she agreed her tactics in interviews were like a "Boycott defensive block".
"It suited Geoffrey well," she replied, to BBC Test Match commentator Jonathan Agnew.
However, Ms May denied she deliberately went out of her way to refuse to answer questions, to the frustration of voters – particularly on the campaign trail.
"That's not answer evasion, it's just giving a different answer than the one the interview wants," she insisted.
During the election campaign, the Prime Minister was nicknamed "Maybot", after a series of apparently robotic performances in front of the TV cameras.
But, asked if that tag was fair, Ms May replied: "I don't think I'm in the least robotic."
The Prime Minister delivered chocolate brownies to the Test Match Special commentating team, at a rainy Lords, but added: "Geoffrey Boycott has still got my Tupperware."
Ms May has previously described the notoriously defensive batsman as her childhood hero. In return, he heaped praise on her, predicting she will be "like Margaret Thatcher".
"She has views and she's strong. Life is about integrity and principles – it should be," Mr Boycott said last year. "We want politicians like that with integrity, with principles, with honesty."
However, in the interview, the Prime Minister rejected comparisons with the Iron Lady, saying: "I am Theresa May, I do things my way. The circumstances of the Government are different."
In a wide-ranging chat, she spoke of her worries about the implications for the mental health of younger people of behaviour on social media.
And she defended Donald Trump taking her hand when she visited the White House earlier this year, saying: "I think it was genuinely a moment of assistance."
As fears continue over the US President's bellicose threats to nuclear-armed North Korea, the Prime Minister noted: "He has very good advisers around him."
Register for free to continue reading
Registration is a free and easy way to support our truly independent journalism
By registering, you will also enjoy limited access to Premium articles, exclusive newsletters, commenting, and virtual events with our leading journalists
Already have an account? sign in
Join our new commenting forum
Join thought-provoking conversations, follow other Independent readers and see their replies