Theresa May's immigration pledge could have 'catastrophic consequences' for the UK economy
The report adds that politicians have 'failed to challenge the assumption that less immigration would be good for Britain'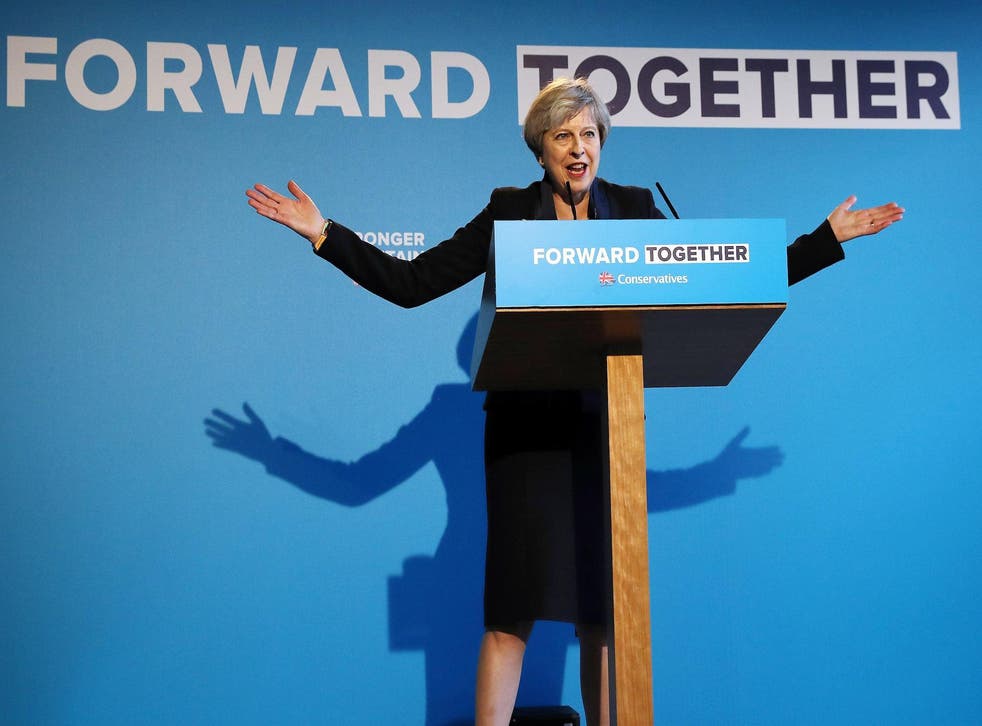 Reducing immigration to the tens of thousands could have "catastrophic consequences" for the British economy, according to a new report that derides Theresa May's policy as "backward looking".
It comes after the Prime Minister reiterated her commitment to the policy, which has never been met since being introduced by her predecessor David Cameron in 2009, as she published the party's manifesto for the general election on Thursday.
The report by the new think tank, Global Future, adds that a net migration figure in excess of 200,000 – double the Government's target – is required to "avoid collapse of whole sectors" and alleviate pressures on the NHS and social care.
It adds: "Our analysis shows that the previous and current Government's target of cutting net migration to the tens of thousands immediately or in the long-term is based on an outdated and backward looking view of policy in this area. It shows that making substantial cuts in immigration to these levels is not only very difficult but also overwhelming undesirable.
"The UK is close to full employment, has an ageing population and low productivity growth. These factors make immigration an essential ingredient of a successful economy looking ahead.
"Global Future's top-down economic view is that a net migration figure well in excess of 200,000 will be needed long into the future to avoid catastrophic consequences for the economy."
Gurnek Bains, the think-tank's founder, said political leaders have "failed to challenge the assumption that less immigration would be good for Britain" during the election campaign so far.
His report warns that the net number of workers coming from overseas will have to reach an absolute minimum of 200,000 a year in order to sustain economic growth and prevent staff shortages in the NHS.
Mr Bains continued: "It might help particular politicians win elections but voters and our national interests will be the losers.
"Fewer immigrations will bad for Britain's economy, businesses, finances and public services. There are now political leaders from across the spectrum who either pretend lower immigration will solve every problem or connive in this deceit. These politicians are not only selling voters short – they are selling our country short too."
UK General Election 2017

Show all 47
But it emerged on Thursday that no timetable has been set to achieve the "tens of thousands" pledge and rather it was an "ambition" to bring the number of migrants down. Sir Michael Fallon, the Defence Secretary, told BBC Two's Newsnight that the economic cost of the policy had not been calculated because there was no fixed deadline.
The Independent and the Open Britain group are running the Drop the Target campaign urging the Government to abandon the "tens of thousands" goal.
If you agree, please sign our petition to call on the Government to Drop The Target:
Register for free to continue reading
Registration is a free and easy way to support our truly independent journalism
By registering, you will also enjoy limited access to Premium articles, exclusive newsletters, commenting, and virtual events with our leading journalists
Already have an account? sign in
Register for free to continue reading
Registration is a free and easy way to support our truly independent journalism
By registering, you will also enjoy limited access to Premium articles, exclusive newsletters, commenting, and virtual events with our leading journalists
Already have an account? sign in
Join our new commenting forum
Join thought-provoking conversations, follow other Independent readers and see their replies