'Three minutes of nothing': Local reporter shares experience of Theresa May interview
'I couldn't pick anything out of her answers which would have made for an interesting story,' Sam Blackledge tells The Independent
Lucy Pasha-Robinson
Thursday 01 June 2017 17:02 Comments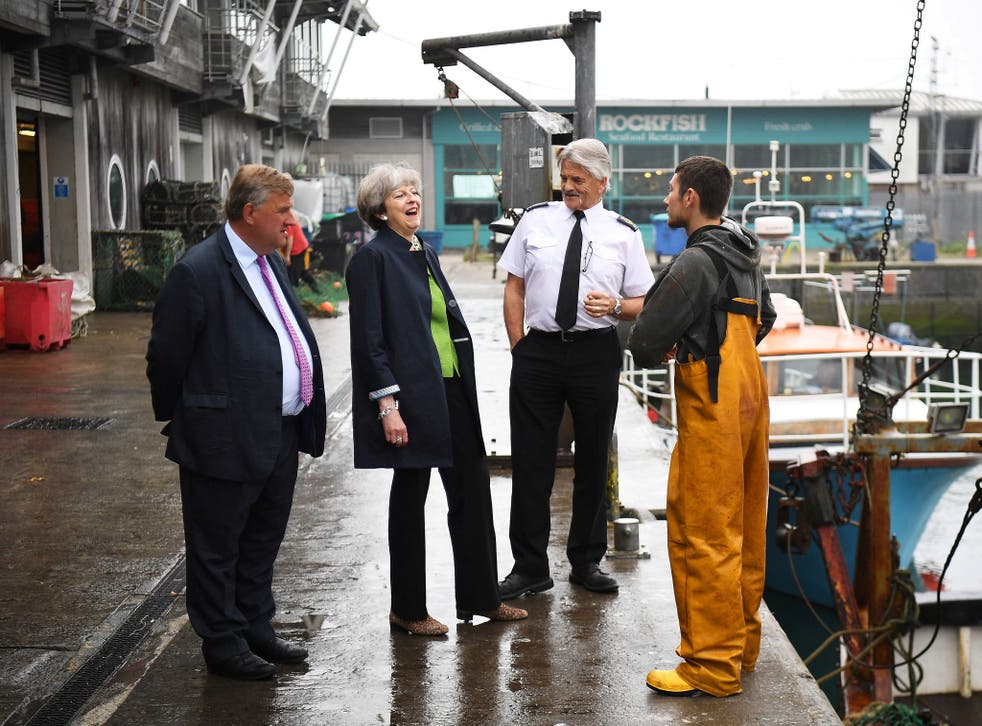 A local reporter who interviewed Theresa May has told of the moment he realised he had come away with "absolutely nothing."
Sam Blackledge had hoped to get a "good local line" from the Prime Minister on Brexit and transport links for The Plymouth Herald.
However, he said Ms May rebuffed all of his questions with "non-answers" and "soundbites".
"I couldn't pick anything out of her answers which would have made for an interesting story," he told The Independent.
"It wasn't until afterwards, driving back to the office, that I realised I had nothing. She hadn't addressed any of my questions directly, and I actually thought it had been a disaster."
He added: "If the job of a journalist is to get answers, I had failed. But then we realised we could make a story out of the non-answers."
The interview has since gone viral after the paper published an excerpt of Ms May's "soundbite" responses, titled "Three minutes of nothing".
Mr Blackledge said he thought he had been in the "right place at the right time to capture the mood", as political campaigning reaches a fever pitch just seven days ahead of the general election.
He wrote: "Before 8.30am today, I had never interviewed a Prime Minister. Heading back to the office to transcribe my encounter with Theresa May at Plymouth's fish market, I couldn't be certain that had changed."
UK General Election 2017

Show all 47
The reporter asked just four questions during the encounter on Sutton Harbour:
Plymouth Herald: "Two visits in six weeks to one of the country's most marginal constituencies – is she getting worried?"
Ms May: "I'm very clear that this is a crucial election for this country."
Plymouth Herald: "Plymouth is feeling the effects of military cuts. Will she guarantee to protect the city from further pain?"
Ms May: "I'm very clear that Plymouth has a proud record of connection with the armed forces."
Plymouth Herald:"How will your Brexit plan make Plymouth better off?"
Ms May: "I think there is a better future ahead for Plymouth and for the whole of the UK."
Plymouth Herald: "Will you promise to sort out our transport links?"
Ms May: "I'm very clear that connectivity is hugely important for Plymouth and the south-west generally."
The interview garnered widespread criticism on social media, with commentators accusing Ms May of having "contempt for the democratic process" and being "robotic".
It came on the same day Ms May was accused of dodging a televised leaders debate, attended by her opposition rival Jeremy Corbyn.
"I hope that next time we get a ministerial visit, they will provide proper answers and not just soundbites," Mr Blackledge said.
It is not the first time Ms May has been accused of reeling off stock answers.
Her overuse of soundbites during the election campaign, including "strong and stable" and "coalition of chaos", has attracted heavy criticism from some Westminster commentators.
Register for free to continue reading
Registration is a free and easy way to support our truly independent journalism
By registering, you will also enjoy limited access to Premium articles, exclusive newsletters, commenting, and virtual events with our leading journalists
Already have an account? sign in
Join our new commenting forum
Join thought-provoking conversations, follow other Independent readers and see their replies