Theresa May's speech: All the policies she stole from Jeremy Corbyn
If many of the Prime Minister's announcements sounded familiar, that's because they were
Benjamin Kentish
Wednesday 04 October 2017 21:06 Comments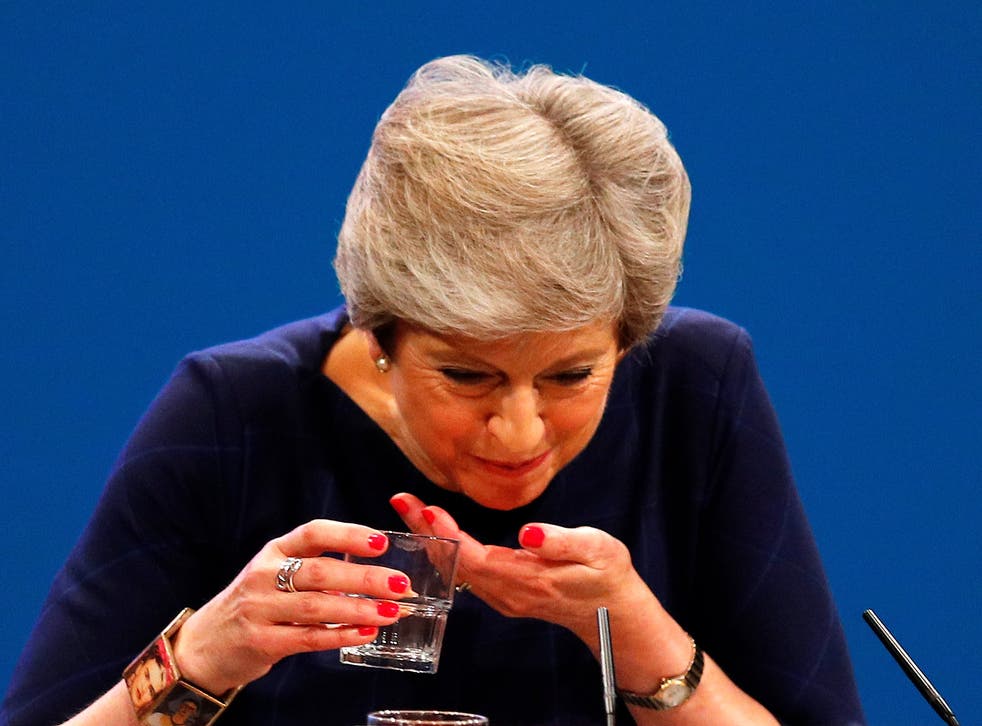 Theresa May's speech to the Conservatives' annual conference could not have gone much worse. She lost her voice, was confronted by a protester waving a P45 form and had to continue speaking as the scenery around her quite literally fell apart.
However, in between coughs, the Prime Minister used the speech to announce a raft of new policies, on issues ranging from housing to health and energy.
If many of the announcements sounded familiar, though, that's because they were. On several major issues, the Prime Minister effectively adopted Labour's policies and announced them as her own. In other areas, she moved the Government's agenda in a direction that Jeremy Corbyn and his team have long been demanding.
Here are the areas where Theresa May followed Labour's lead.
Organ donations
Mr Corbyn announced during his conference speech last week that a Labour government would change the law to make everyone automatically an organ donor. People would then be able to opt out of donating, whereas under the current system they have to opt in.
Ms May confirmed in her own address that the Government will introduce the same policy, and her language was almost identical to the Labour leader's.
Here's Mr Corbyn:
And here's Ms May:
Student debt
Mr Corbyn has made tuition fees one of his flagship issues. He has pledged to scrap fees entirely and to look into the possibility of eradicating existing student debt.
Now Ms May has also adopted the issue as part of her attempt to win back younger voters, although she is going nowhere near as far in reforming the system as Labour – and most students – would like.
Addressing Tory activists in Manchester, she said: "Young people take on a huge amount of debt and, if we're honest, some don't know what they get from it in return.
"We have listened and we have learned. We will undertake a major review of university funding and student financing."
She said the Government will also scrap plans to raise tuition fees further next year, and will freeze the maximum price universities can charge until the review concludes.
The income threshold at which graduates have to start paying back their loans will also be raised, to £25,000 from the current £21,000.
Theresa May's 'disastrous' conference speech – in pictures

Show all 8
Housing
Labour has spent the last seven years calling on the Conservatives to invest in social housing.
Under the Tories, the number of new social homes being built has fallen by 97 per cent and funding grants to help councils build have been slashed. Instead, ministers have prioritised "affordable" homes, which tend to cost up to 30 per cent more than those for social rent.
Labour, on the other hand, has pledged to build 100,000 new "genuinely affordable" homes within its first term in office.
Ms May's announcement fell a long way short of that – but it takes the Tories' housing policy in a direction more akin to Labour's and marks a major U-turn when compared to the last seven years.
The Prime Minister said the Government will invest a further £2bn in affordable housing and, crucially, will allow some of the new properties being built to be social homes. That is a huge shift after seven years in which the Tories have been accused of trying to phase out social housing through a range of measures, including extending the Right to Buy, forcing councils to sell off their properties and ordering housebuilders to build "affordable" homes instead of social ones.
Here's the policy announcement from Ms May:
It has major echoes of Labour's housing manifesto for the 2017 general election, which read:
Energy prices
Labour went into the 2015 election promising to introduce a cap on energy prices. At the time, the Conservatives called the policy "a con", "a gimmick", "Marxist" and "a total joke".
However, Ms May confirmed during her conference speech that her Government will be legislating for exactly that policy.
She said: "The energy market punishes loyalty with higher prices, and the most loyal customers are often those with lower incomes: the elderly, people with lower qualifications and people who rent their homes.
"Those who for whatever reason, are unable to find the time to shop around. That's why, next week, this Government will publish a draft bill to put a price cap on energy bills."
The policy had previously been included in the Conservatives' 2017 manifesto.
Labour under Mr Corbyn remains committed to a price freeze – it wants an "an immediate emergency price cap to ensure that the average dual-fuel household energy bill remains below £1,000 per year". The party has also pledged to nationalise energy companies in an effort, it says, to cut costs for consumers.
Mental health
Labour has consistently attacked the Conservatives for not giving enough of a priority to mental health, despite ministers' promises to place it on par with physical health.
Mr Corbyn has made the issue one of his priorities. Labour wants all mental health budgets ringfenced, an end to mentally unwell patients being treated miles away from their homes, and increases in access to counselling services in secondary schools.
Responding to growing pressure over the state of NHS mental health services, Ms May has now promised to launch a review of the Mental Health Act "so that we can tackle the longstanding injustices of discrimination in our mental health system once and for all".
In her speech, the Prime Minister said the law, which allows people to be sectioned if they pose a threat to themselves or others, was "leading to shortfalls in services and is open to misuse", adding that detention rates under the Act are "too high".
Professor Sir Simon Wessely, President of the Royal College of Psychiatrists, will lead the review. Mental health professionals and campaigners will welcome the focus on improving services but they, and Labour, say it is increased funding that is desperately needed.
The Conservatives' 2017 manifesto pledged to scrap the Mental Health Act entirely – raising questions about what the review is designed to achieve.
Register for free to continue reading
Registration is a free and easy way to support our truly independent journalism
By registering, you will also enjoy limited access to Premium articles, exclusive newsletters, commenting, and virtual events with our leading journalists
Already have an account? sign in
Join our new commenting forum
Join thought-provoking conversations, follow other Independent readers and see their replies