Conservative party conference: Theresa May fights for survival as another cabinet minister refuses to back her
Communities Secretary Sajid Javid fails to back Prime Minister and attacks 'cult of personality' election campaign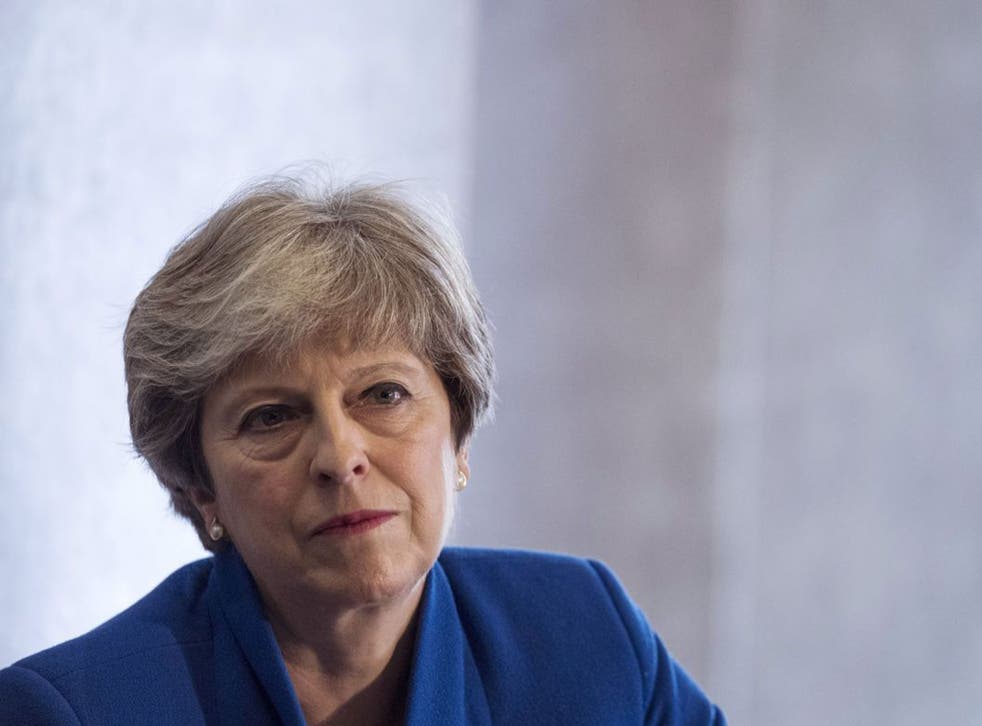 Theresa May was fighting for survival at the start of Tory conference after another cabinet minister refused to back her leading the party into the next election.
Communities Secretary Sajid Javid pointedly refused to give his support to the Prime Minister in an interview where he also condemned the "cult of personality" election campaign that saw the Tory majority wiped out.
It comes as speculation continues over Boris Johnson's leadership ambitions with new reports that the Foreign Secretary's allies believe Ms May's premiership will be over within a year.
Splits in the party emerged at the weekend over Mr Johnson's behaviour, with several senior figures speaking out including Scottish Tory leader Ruth Davidson, ex-cabinet minister Nicky Morgan and pro-EU backbencher Anna Soubry.
The Conservatives were gathering in Manchester for the first day of the annual conference when Mr Javid said the party had spent too much time "banging on about Brexit" rather than focusing on housing, transport and the NHS.
In an interview with The Observer, Mr Javid said: "In the local elections, for example, we left many of our local councillors and campaigners to come up with their local manifestos and focus on the core message of what you could expect from a Conservative council – costing you less, giving you more, backing their community and businesses. That worked well.
"When it got to the general election, in some ways we almost went off message. For example, looking back, we should have talked much more about the economic change we've seen in the country in the past seven years – record number of jobs, lowest claimant count in over 40 years, record number of businesses.
"While we were banging on about Brexit, a lot of people were saying, 'OK, I get that, I know you are going to deliver on Brexit, I know it is not straightforward, but what about housing? What about education? What about transport? What about the health service?'"
He also attacked Tory strategists for focusing too much on Ms May during the general election and keeping most of the cabinet away from the campaign.
Mr Javid said: "When people go to vote still in Britain, they will look at their local representatives, but I don't think there is a sort of cult of personality politics.
"Obviously, they want to know who the leader is for each party, but I think there is a lot of identification with their local candidates."
UK news in pictures

Show all 50
Pressed on whether he would back Ms May, he said the interview had run out of time.
However Mr Javid later insisted he backed the Prime Minister to lead the Tories into the next election, despite dodging the question in his earlier interview.
He told Radio 5 Live's Pienaar's Politics: "The answer is yes. If she, Theresa May, decides to, as she has said, if it's her view she wants to keep leading the party, and that would be, I think, welcomed by many people, if that is what she decides to do, I will back her. I would support her.
"And I think that is the view of many people that she is the right person to be leading this country forward."
It comes as an ally of Mr Johnson told The Sunday Times that a coup to overthrow Ms May could "take off fast" and her tenure could be over in a year.
The Prime Minister is set to announce a series of policies at conference including promises that tuition fees will be frozen at £9,250 and an extension of the Help to Buy scheme, as part of efforts to regain younger voters who have deserted the Tories in droves.
Join our new commenting forum
Join thought-provoking conversations, follow other Independent readers and see their replies